Last Updated on August 6, 2021 by Chef
Indian food is a treat for all the senses, this food is there to be enjoyed with both fingers and taste buds, inhaled as you stroll through villages and past restaurants and observed, there is often a degree of showmanship in its production. Vendors shout out their wears, a call to eat or enjoy a cup of foaming chai is an auditory invitation any traveller in India looks forward to. But on to dosa. Dosa or dosai are one of the staples of Southern India and good dosa with the traditional accompaniments of vegetable sambar and fresh coconut chutney is a treat to be enjoyed if you can make it to India.
You'll also find these Indian dishes anywhere there is a strong South Indian community, Malaysia is a particularly good spot to try a dosa if you can't get to India.
Dosa are often eaten for breakfast and rank, along with Sri Lankan breakfasts, as one of my favourite breakfast dishes in the world.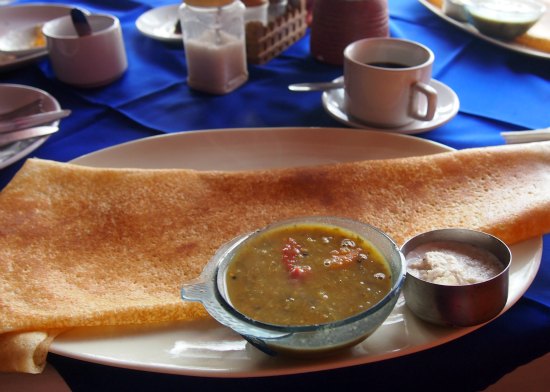 Dosa with Sambar and Coconut Chutney
The thin, crispy dosa is made from a thin batter of fermented rice and lentil flour. As such it contains protein, and should be vegan friendly if vegetable or coconut oil is used in cooking. The fermentation process actually increases it's nutritional value, boosting levels of vitamin B and C.
The dosa batter is easy to make, but you can also buy sachets of dosa mix, as we have done on occasion.
You can find a recipe for plain dosa here
You can buy dosa (dosai) mix here.
Accompaniments for Dosa
Dosa come in many varieties, stuffed, sweet or plain, the usual accompaniments are the classical South Indian sambar ( or sambhar), a light, thin stew of spiced vegetables and lentils and cold, fresh coconut chutney.
You can find a sambar recipe here.
You can find a coconut chutney recipe here.
These two dishes are also served with vada and idli, two more delicious south Indian dishes that you absolutely must try on your India vacation.
Happy eating!