A dosa is a thin, flat, fermented gram flour pancake cooked on a griddle, skillet or tawa. This Indian food is common in the South of India but also popular in Malaysia, Singapore, Sri Lanka, and beyond. You'll all find various types of dosa at most good (authentic) Indian restaurants. This post is about dosa, how to make dosa, how to eat dosa, and what to serve with dosa. Dosas are one of my favourite foods in the world!
Indian food is a treat for all the senses, this food is there to be enjoyed with both fingers and taste buds, inhaled as you stroll through villages and past restaurants and observed, there is often a degree of showmanship in its production.
Vendors shout out their wears, and a call to eat or enjoy a cup of foaming chai is an auditory invitation any traveller in India looks forward to. But on to dosa.
Dosa or dosai or thosai are one of the staples of Southern India and good dosa with the traditional accompaniments of vegetable sambar and fresh coconut chutney is a treat to be enjoyed if you can make it to India or any Little India in Asia.
You'll also find these Indian dishes anywhere there is a strong South Indian community, Malaysia is a particularly good spot to try a dosa if you can't get to India. Our travels in Malaysia are often an excuse to eat Indian food!
Dosa Sambar
Dosa are often eaten for breakfast and rank, along with Sri Lankan breakfasts, as one of my favourite breakfast dishes in the world. The sambar in dosa sambar is a thin, sour lentil and vegetable curry. The sambar is normally identical to the sambar served with another Indian favourite, idli.
Dosa sambar is the classic way to serve dosa, but there are many variations and varieties of Indian dosa.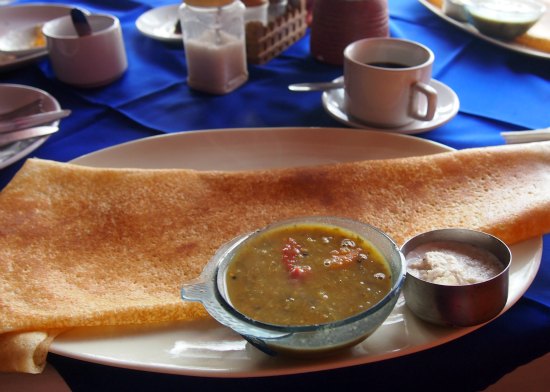 A sambar or sambhar has to be one of the most delicious light curry soups in the world. It's an Indian staple and served with many carbohydrates, like dosa, vada, and idli, as well as appam and uthappam. Find a simple vegetarian or vegan (omit ghee) sambar recipe here. The "drumsticks" in the recipe are the seed pods of the moringa tree. This tropical tree grows in our garden in Australia so we're lucky to be able to make an authentic south Indian sambar at home.
We also grow coconuts in our tropical garden, fresh grated coconut is absolutely essential to make a fresh coconut chutney to serve with dosa. Coconut chutney recipe here.
What is a Dosa?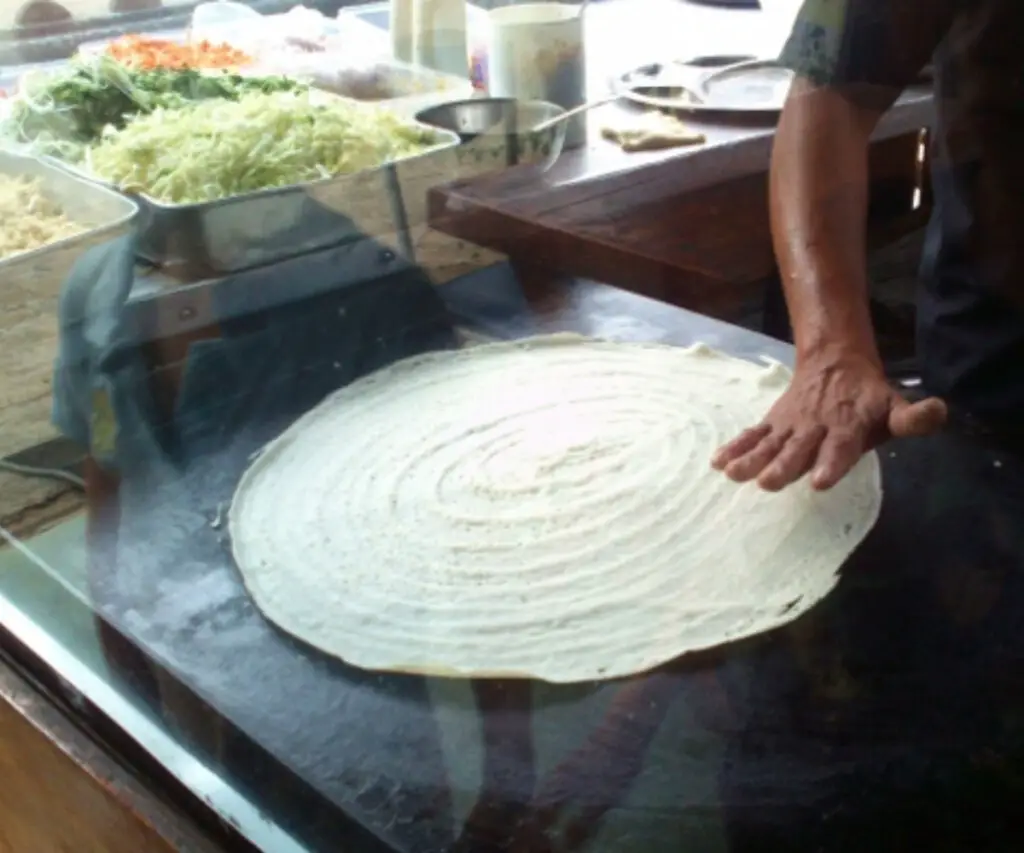 The thin, crispy dosa is made from a thin batter of fermented rice and lentil flour. As such it contains protein and should be vegan friendly if vegetable or coconut oil is used in cooking instead of ghee.
The fermentation process actually increases the flour's nutritional value, boosting levels of vitamin B and C.
The dosa batter is easy to make, but you can also buy sachets of dosa mix, as we have done on occasion.
You can find a recipe for plain dosa here
You can buy dosa (dosai) mix here.
Dosa Variations
You can eat dosa in many ways. There is egg dosa, cheese dosa, masala dosa, ghee dosa (clarified butter), even sweet dosa. The photo above is from an restaurant in Sri Lanka (or maybe India), but we've seen many more variations of dosa found around the world.
Pesarattu Dosa and thattil kutti dosa are further variations using different types of gram flour.
Dosa with Sambar and Coconut Chutney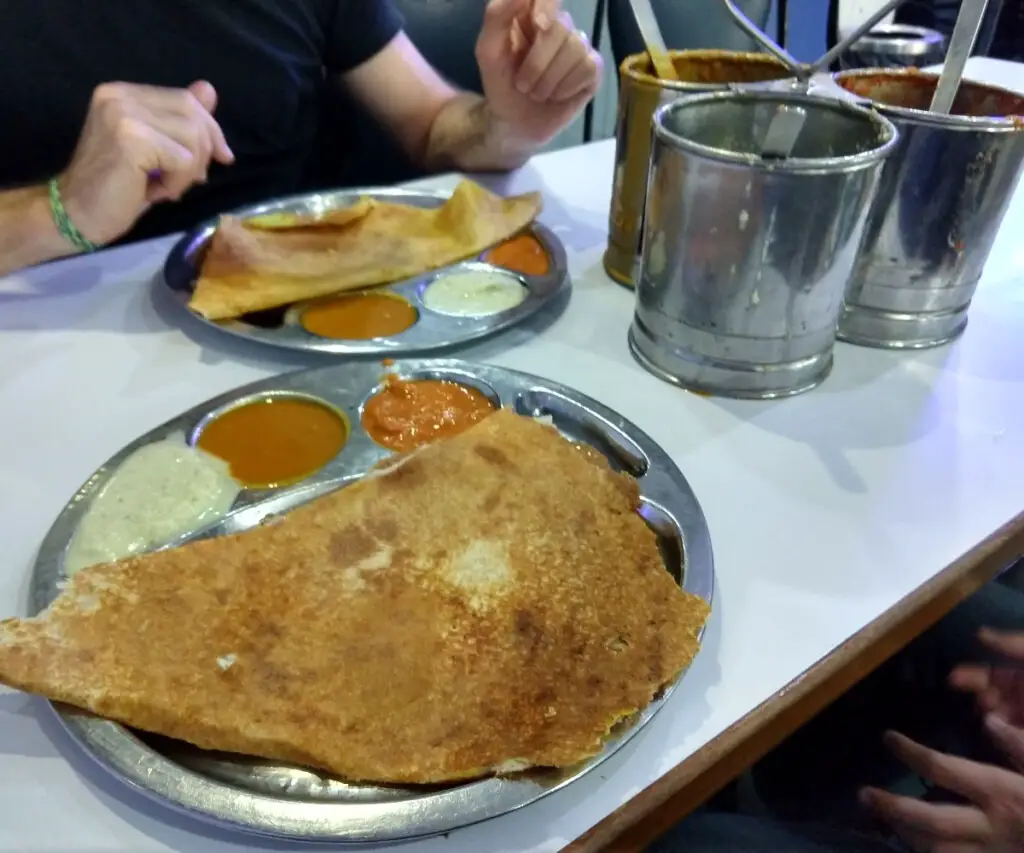 This is the classic way to serve dosa, with coconut chutney and sambar on the side. Sometimes these two accompaniments will be ladled onto your banana leaf or thali plate by your server, other times they will be served in individual small dishes, but they are never poured over the dosa. The dosa is eaten with your hands and each mouthful is individually mixed with curry and/or chutney.
What is Neer Dosa
Neer dosa is an Indian pancake or crepe, similar to regular dosa, but made with just water, salt and rice. Regular dosa includes gram flour or wheat flour, neer dosa does not have these ingredients so it is gluten free.
Neer dosa originate in the Indian state of Karnataka, south of Mumbai, north of Goa, where neer means water. Neer dosa are a water dosa.
In neer dosa the rice is not fermented, it is simply soaked for 4-5 hours and then ground to prepare a thin batter.
Serve neer dosa with coconut chutney for breakfast or with any curry dish. Coconut can be added to the thin neer dosa batter if desired. Cook neer dosa on a well seasoned skillet or tawa.
Dosa or Dosai
Is Dosai the plural of dosa? No, dosai is actually an alternative spelling of dosa. The spelling of dosa, or the name of this fermented rice and gram flour pancake varies between Indian states because language in India is so diverse.
Outside India, the spelling of "dosa" will vary depending on where the local Indian population originated.
"Dosa" is more common in Kerala, dosai in Tamil Nadu (Tamil language). In Karnataka you may see "Dosé". The recipe and preparation will also change slightly between Indian states.
"Dosa" ( plural "dosas" is the most common spelling we've encountered around the world, other than in Malaysia.
Dosa or Thosai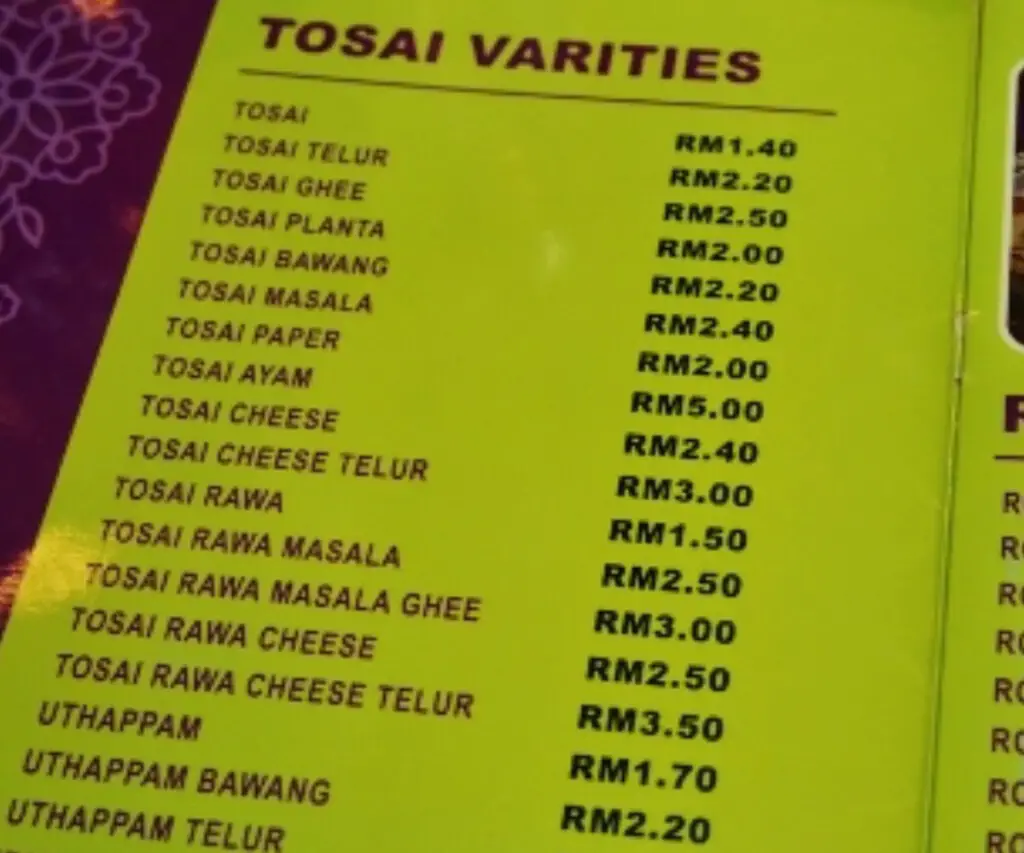 In Malaysia, dosa is often called "thosai" or "tosai" , as above, on menus. Tosai come in a huge variety of flavours. Tosai telur is egg tosai, tosai ayam is chicken tosai, rava or rawa is a different grain ingredient, rather like semolina.
There is some argument over how thosai or tosai should be spelled in the Malay language, apparently tose is correct.
You can find a Malaysian Indian massala tosai recipe here. Tosai tend to often contain fennel seeds.
Thattil Kutti Dosa
Thattil kutti dosa and smaller round pancakes made with lentil and rice flour plus fenugreek seeds and salt. This south Indian recipe serves thattil kutti dosa with a tomato chutney which I've never seen in restaurants, but it's next on my list to make at home. See it here.
Toor Dal Dosa
Because we grow pigeon peas (toor dal) at home, I was curious to see if you can make dosa from toor dal and indeed you can. This is a toor dal dosa recipe.
Pesarattu Dosa
Pesarattu dosa is a dosa, an Indian thin crispy pancake, made with moong dal. See a pesarattu dosa recipe here.
How To Make Dosas
To make dosa at home, first make your dosa batter. You can use any of the dosa batter recipes on this page, there is quite a variety of different pulses and grains used in the various dosa batters. Some need to be fermented overnight, others soaked.
Next you need to cook your dosa batter on a tawa, flat griddle or solid top cooker. (a bake stone would work if you happen to have this Welsh cooking item on hand.) If you don't have special equipment for cooking dosa you can use a cast iron skillet or non stick frying pan, but your dosa will be smaller than those served in restaurants.
How To Make a More Crispy Dosa
To make your dosa more crispy it has to be more fried and dehydrated, so add more oil ofr ghee and fry it on both sides, for longer on a lower heat. You need to dry it not burn it, so the lower heat will help you achieve this. Dosa is often only cooked on one side, making one side crisp, the other moist.
Personally, I prefer dosa cooked on one side.
How To Eat Dosa
Dosa is traditionally eaten with your hands and most south Indian restaurants will have a sink, soap and water, for diners to wash their hands (right hand only for eating, your left hand is the hand for dirty jobs) before eating and after eating.
Mixing the dosa with the sambar and chutney and flicking it into your mouth can be a messy process.
Nobody will mind if westerners, not used to this style of eating, ask for a spoon and fork or knife and fork, it does take some skill to eat like this correctly.
I've never seen dosa served or eaten with chopsticks.
How To Make a Rava Dosa
Rava dosa batter isn't fermented overnight so is quicker to make. Rava dosa is made from rava (or rawa or sooji, a wheat semolina) plus rice flour, maida (all purpose flour or plain flour) spices and salt.
Spices used in rava dosa include cumin, curry leaf, green onion, green chili, and ginger.
Serve in the same way as regular dosa, usually for breakfast.
How To Make Masala Dosa
Masala dosa is a south Indian dosa pancake prepared in the normal way, and then filled with the masala, normally a potato bhaji or potato curry. Masala simply means a mixture, usually a mixture of spices used in Indian cooking (for instance garam masala). A masala dosa almost always contains a potato curry (bhaji) folded or rolled inside the dosa.
Masala dosa is then served with the usual sambar and coconut chutney. This is the dosa to order if you are very hungry and masala dosa is usually absolutely delicious and spicy.
Find a masala dosa recipe here.
How To Make Potato Bhaji For Masala Dosa
If you simply need a potato bhaji (aloo bhaji) recipe for your masala dosa, use this one!
Accompaniments for Dosa
Dosa come in many varieties, stuffed, sweet or plain, the usual accompaniments are the classical South Indian sambar (or sambhar), a light, thin stew of spiced vegetables and lentils and cold, fresh coconut chutney.
You can find a sambar recipe here.
You can find a coconut chutney recipe here.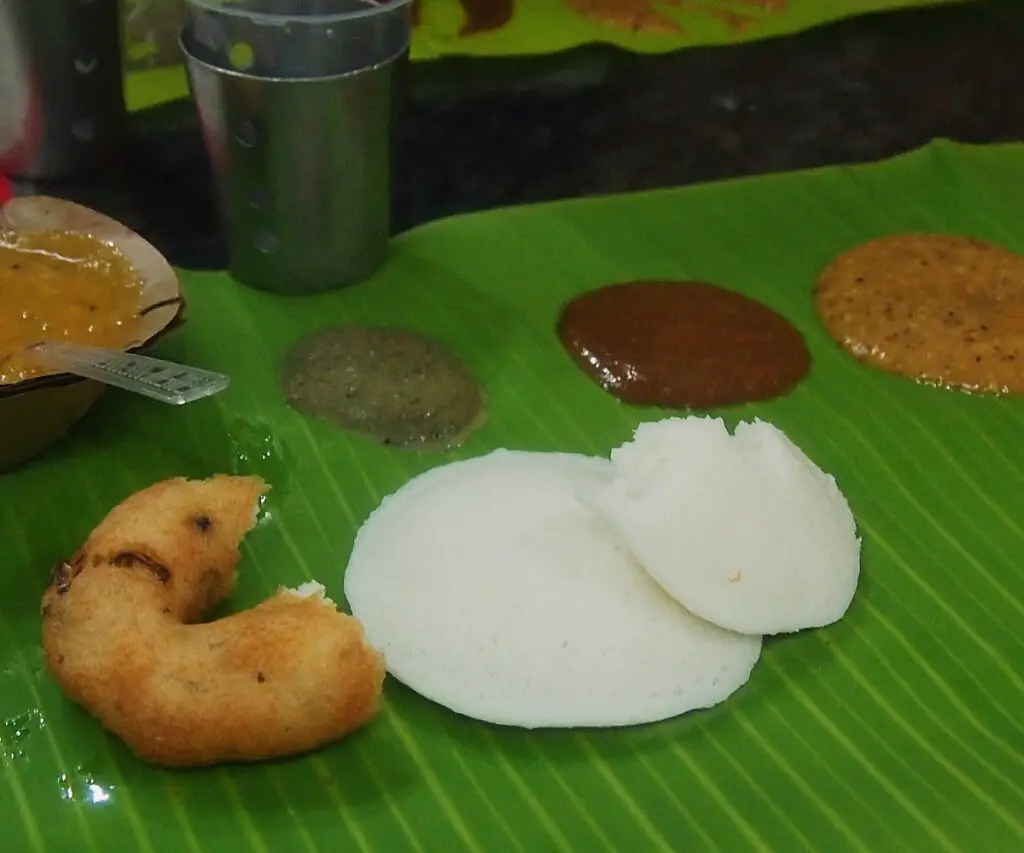 These two dishes are also served with vada and idli, two more delicious south Indian dishes that you absolutely must try on your Indian vacation.
Happy eating!
If you'd like to hire a car during your stay, use this car rental comparison tool to find the best deal!
Please check out our Pinterest account for loads of food and recipes from around the world!