This post may contain affiliate links.
Romanian food can be superb, it's one of my favourite European cuisines, so Romania must be a great place to take a food tour! In this post, I'll share with you some of the best food tours in Romania, which one you should pick must depend on the type of Romanian food you like best, and your location in Romania, along with the duration of your visit. Romania food tours for you to learn more about Romanian food, by a chef living in Romania.
---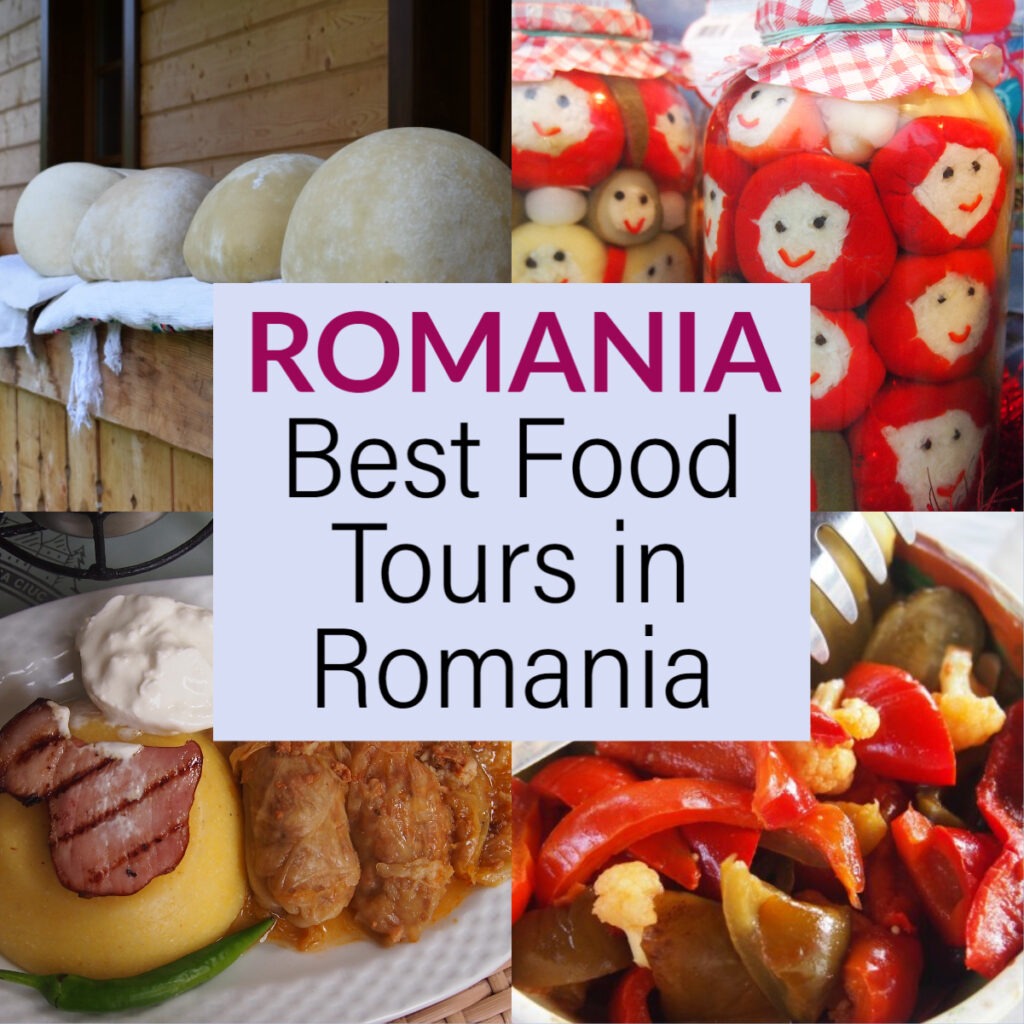 Romania Food Tours
In Romania the best foods come from the farms, dairies, barns and kitchens where food is raised cooked and preserved as it has been for centuries. Enjoy local cheeses, often made with sheep or goat milk, jams and preserves, cured meats and the bevereages Romanians are so proud of. Be certain to try the flavoured lemonades and syrops as well as the adult refreshments.
Home cooked traditional meals include sarmale, tocitura, ciorbas, other soups and strews plus amazing breads and pastries. We love Romanian food (we lived there for 3 years) and we hope you do too.
It's great to explore the historical influences that shaped the foods of the region. Romanian food is an interesting blend of Roman, Hungarian, Turkish (Middle Eastern) and Slavic. The border changes and military struggles down the centuries really show in the food of modern Romania.
Bucharest Walking Food Tour Visiting Markets and Small Neighbourhoods
This Romania food tour is a great way to really experience Bucharest. You'll escape the busy pavement dining districs so loved by tourists, and take a look at the beautiful older districs of the city. Taste Romanian peasant food and regional <div>, these are what Romanian food is all about. Highlights include artisan cheeses, cured local meats and sausages, cheeses from goat sheep and cow, and fresh produce. Typically most meals come with traditionally-made excellent bread. Also get the chance to try Romania's excellent craft beers and palinca, a fruit brandy speciality from Romania.
This small group tour departs Bucharest. In Romanian, these neighbourhoods are called "mahallas."
---
Sibiu Romania, Gastronomical Walking Tour
Sibiu was named the European Region of Gastronomy in 2019. That's high praise indeed, so where better to take a Romanian food tour?
On this tour you will explore Sibiu on foot for just 2 hours, really getting to know this historical city. Along the way you will have the chance to taste local specialities, such as artisan cheeses, bready, wild flower honey and typical Romanian preserved meats.
---
Tasting Tour of the Wider Sibiu Area
This is a longer tour from Sibiu, but still only 5 hours or half a day. Once you've explored Sibiu itself, you really must get out into the surrounding countryside to see the fortified churches and villages of Transylvania. Again, you will be given oportunity to taste local foods along the way.
---
Brasov, Wine Tasting and Snacks
Brasov is a fabulous city and a perfect base for your time in Transylvania. If you'd love to discover the wines of Romania, this is the tour for you. Here you will experience a guided tasting from a wine expert, all in the heart of Brasov. The tasting takes about 2 hours and is very affordable.
---
Brasov, Cooking and Dining With a Romanian Mama
This is the gold of Romanian food, traditional home cooking! We've enjoyed dining experiences like this in Romania many times and the food on offer has always been superb. If you can, do this, get into a Romanian home to cook and eat together. You'll learn a lot!
---
We hope you find the food and maybe wine tour you're looking for in Romania. Food tours are always a cool thing to do, a way to have fun while you learn about your destination and meet local people, enjoy Romania and Romanian food!
If you'd like to hire a car during your stay, use this car rental comparison tool to find the best deal!

Please check out our Pinterest account for loads of food and recipes from around the world!