This post may contain affiliate links.
This is a recipe for Mititei or Mici (pronounced Meech), Romanian skinless sausages. They are an iconic and popular authentic Romanian food, often found as street food or even as part of a Romanian breakfast.  Mititei or Mici are small, short sausages without casings (which makes them very easy to make) containing ground meat (usually pork and beef, plus a few spices. Mici are always served with plenty of good mustard and country-style rustic bread. You can cook them on the grill or barbecue, bake them in the oven or cook them in a pan.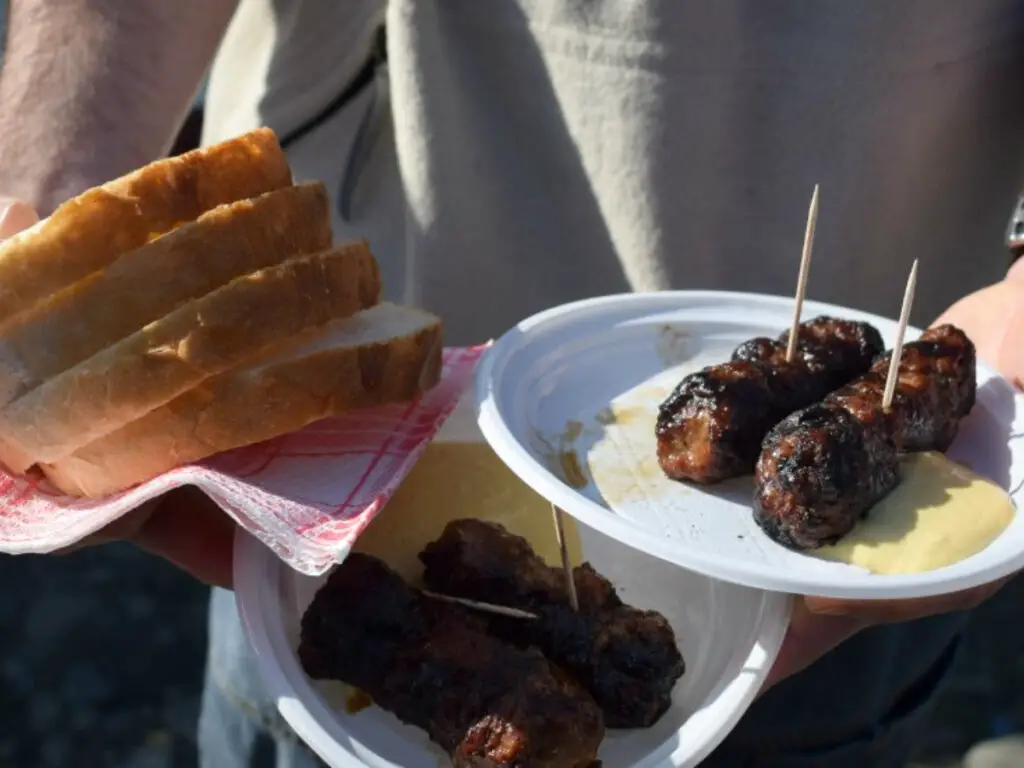 Mititei (Mici)
Mici are an everlasting memory of our time living in Romania and of Romanian food. We'd buy them at the local farmers' market or hot off the grill outside Kaufland supermarket.
Mititei are not a fancy food and are much less time-consuming to make than Romania's national dish, sarmale. You will see Mititei served for breakfast lunch and dinner in Romanian restaurants, as you can see from our photos.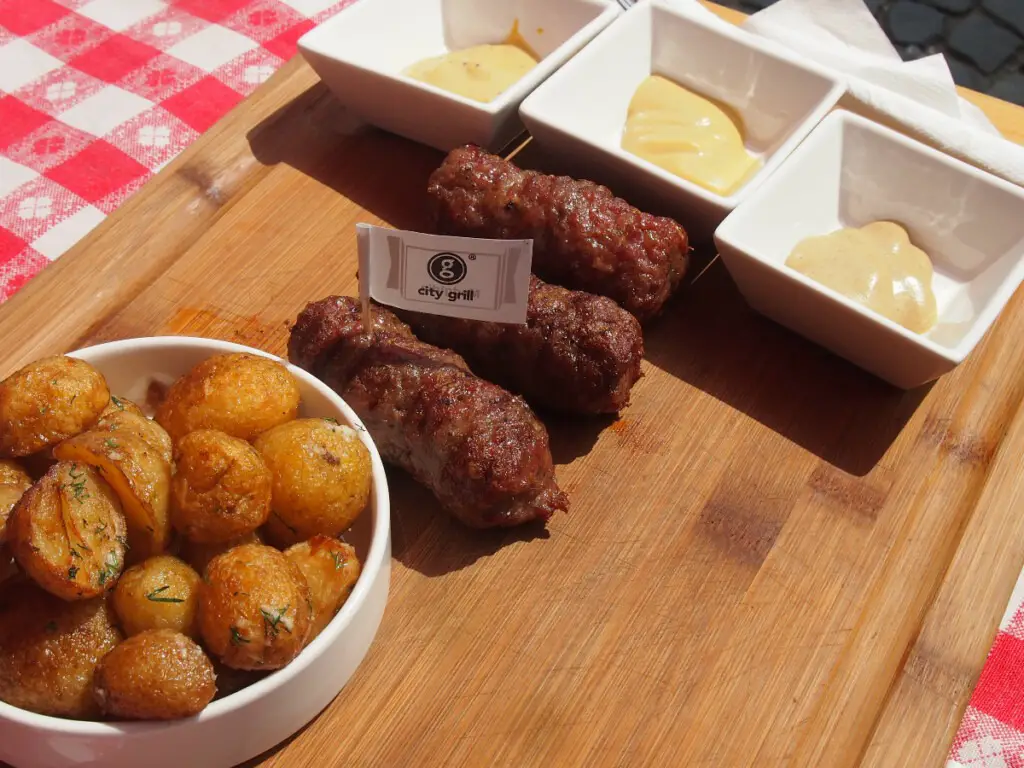 We've also been served mici as a breakfast sausage as part of a Romanian breakfast. I must say that Romania does have one of the best traditional breakfasts from around the world!
If you book a food tour in Romania, choose one that takes you to a good place for mici! We had excellent mici with a selection of mustards at a restaurant in Bucharest and seen them served as part of a Romanian "mixed grill" of meats at another Transylvanian restaurant.
For Pinterest!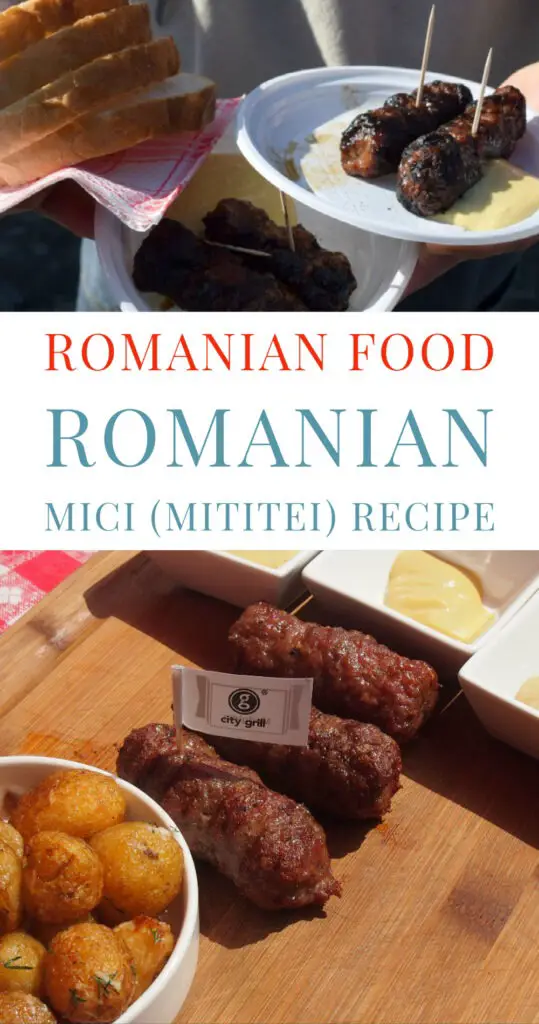 What Are Mititei
Mititei or Mici are Romanian mixed meat skinless sausages. They are common street food in Romania and we've also been served mici for a delicious savoury breakfast in rural Romania.
The meat in mititei or mici can be lamb, pork, or beef, with fatty ground meat being the best to use.
When Romanian farmers slaughter an animal, nothing is wasted and the fatty cuts go into cured sausages and these delicious and easy skinless fresh sausages.
How To Serve Mititei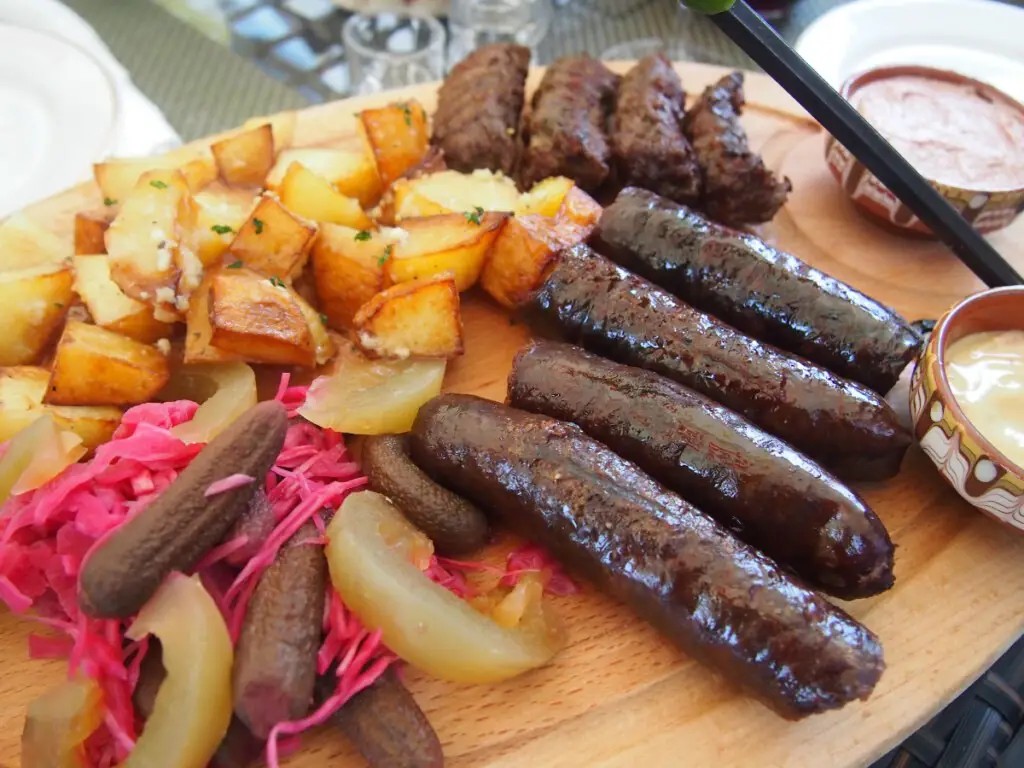 Mititei are always served with plenty of mustard and as a street food, they come with thick country bread. You can of course serve them with fried potatoes, fries or mamaligia (Romanian polenta) with a dollop of sour cream (smantana). Ketchup is optional as is a pickled pepper on the side.
The Romanian word for mustard is muştar and Romanian mustards include sweet mustard (dulce) and spicy mustard (picante). Brands include Olympia and Bunica.
Use whatever country-style or rustic bread (paine or tara paine) you can find. White bread, not wholemeal is typical. In Romania you may also see potato bread sometimes.
Mititei may also be served for breakfast with eggs, peppers, cucumber, cheeses and cured meats, or as part of a Romanian mixed grill.
These little skinless sausages would also be great on your summer BBQ, for a Romanian touch.
What Meat Are Mititei Made of?
Mititei are mixed meat skinless sausages. In this recipe, we use minced beef and minced pork, but they can also contain lamb or mutton so long as the meats contain enough fat. You don't want to use extra lean minced meat to make mici (for instance turkey mince). You can use whatever combination of minced or ground meats you have available.
Mititei Ingredients
In this recipe, we use a 2:1 ratio of minced (ground) beef to ground pork. So if we use 2 kg of minced beef, we use 1kg of pork. You can adjust the proportion of meat to taste, it's not critical.
Because I buy my grass-fed organic beef from the butcher in 1/2 Kg bags, we'll use 0.5 Kg of beef to 0.25 kg of pork. This will make enough mici to feed a family of 4 well.
The secret to keeping the mici moist is adding liquid. This can be stock, or water if you have none. You could experiment with wine or tomato juice even. Beef stock is traditional, but it's fine to use chicken or vegetable stock.
Bicarbonate of soda is the other secret ingredient in making moist, light mici.
You then need to add herbs and spices, ground if you have whole spices. We like to use thyme, ground caraway seed, freshly ground black pepper, and sweet paprika.
You'll often see allspice and star anise in recipes for mici too, but really, spice them to your taste. Of course, you will need salt and pepper. Sea salt or ground rock salt is best, never table salt.
You can add finely ground garlic or garlic powder if you'd like your mici to be garlicky.
How To Make Mititei
Making mititei or mici is easy, it's simply a matter of combining the meat and spices and leaving them in the fridge for a few hours for the flavours to infuse. The best way to combine the meat and spices is to use your hands, combine the meat as thoroughly as possible until it looks like a fine paste.
You are breaking down the structure of the ground or minced meat with the mixing action of your hands.
You can also do this in a food processor, of course.
To make the little sausage shapes you can pipe the mici onto baking paper using a piping bag and a large nozzle, or simply shape them with your hands. Your mici should be about 3 inches or 9 cm long approximately.
You must then leave your mici in the fridge for 20 mins or longer to firm up and for the flavours to fully combine.
You can then grill your mici on a grill or BBQ, cooking them on a high to medium heat until the centre is just cooked and the outside has some char. They should be springy to the touch when ready.
Could making mici be any easier?
These skinless sausages are so easy to make if you have any ground meat on hand, that they've become a regular feature in our home. We hope you enjoy them too.
Mititei Recipe
Yield: 12 Mici
Mici (Romanian Skinless Sausages)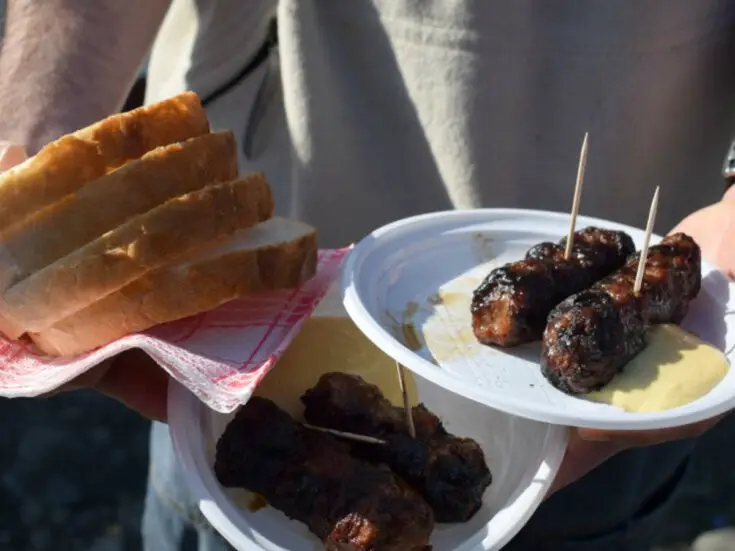 Total Time
1 hour
15 minutes
Ingredients
Ground beef, 500 grams
Ground Pork, 250 grams
Bicarbonate of soda, 1 Teaspoon
Stock, broth or water, 1/4 cup
Ground caraway seed, 1 Teaspoon
Ground Allspice berries, 1 Teaspoon
Thyme, 1 Teaspoon
Pepper,1 Teaspoon
Instructions
1. Thoroughly mix together your, ground beef, ground pork, bicarbonate of soda, stock, broth or water, ground caraway seed, ground allspice berries, thyme and pepper, in a large mixing bowl. You can mix together the ingredients by hand, or use a stand mixer or food processor.
2. Once the mixture is thoroughly combined into a thick paste, form the small sausage shapes by either using your hands, or a large nozzle on a piping bag.
3. Place the sausages onto a tray layered with baking paper, then put them in the fridge so that the meat can infuse with the spices and the skinless sausages will firm up. You should leave them in the fridge for at least ten minutes, but you can let them chill overnight as preferred.
4. When the sausages are chilled, place them onto a hot grill, griddle or barbeque and cook until the inside is just done and the outside is lightly charred. The mici should be springy to the touch and juicy when done.
Nutrition Information:
Yield:
4
Serving Size:
1
Amount Per Serving:
Calories:

588
Total Fat:

36g
Saturated Fat:

13g
Trans Fat:

1g
Unsaturated Fat:

18g
Cholesterol:

174mg
Sodium:

649mg
Carbohydrates:

9g
Fiber:

2g
Sugar:

4g
Protein:

53g
Dietary information is computer generated and only approximate.
If you'd like to hire a car during your stay, use this car rental comparison tool to find the best deal!

Please check out our Pinterest account for loads of food and recipes from around the world!