This post may contain affiliate links.
Dining in Port Douglas is made all the better if you can find a restaurant with a good view and the majority of those are at Port Douglas Marina. The Port Douglas marina restaurants can serve a delicious dinner of local seafood, a light lunch, bar food or a tasty breakfast with views of the water. We have a few Port Douglas restaurants to share with you, where you can look at the boats in the Port Douglas Crystalbrook Superyacht Marina, or to the adjacent inlet. Our reviews are honest and first-hand, by a Port Douglas local. Dining options in Port Douglas are limited by availability in high season, if you can, book everything months in advance. Port Douglas is quiet currently (Jan-Feb 2023) and will likely stay quiet through to the Easter school holidays.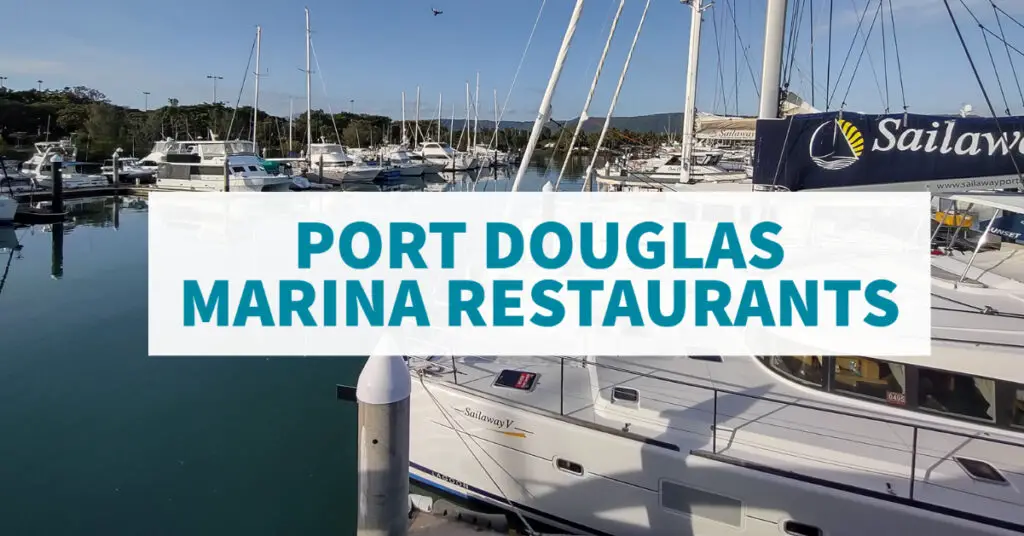 A lot of restaurants in Port Douglas are on the main street, Macrossan Street. Macrossan does not have marina views, but it does have pretty, fairy-light-strung trees.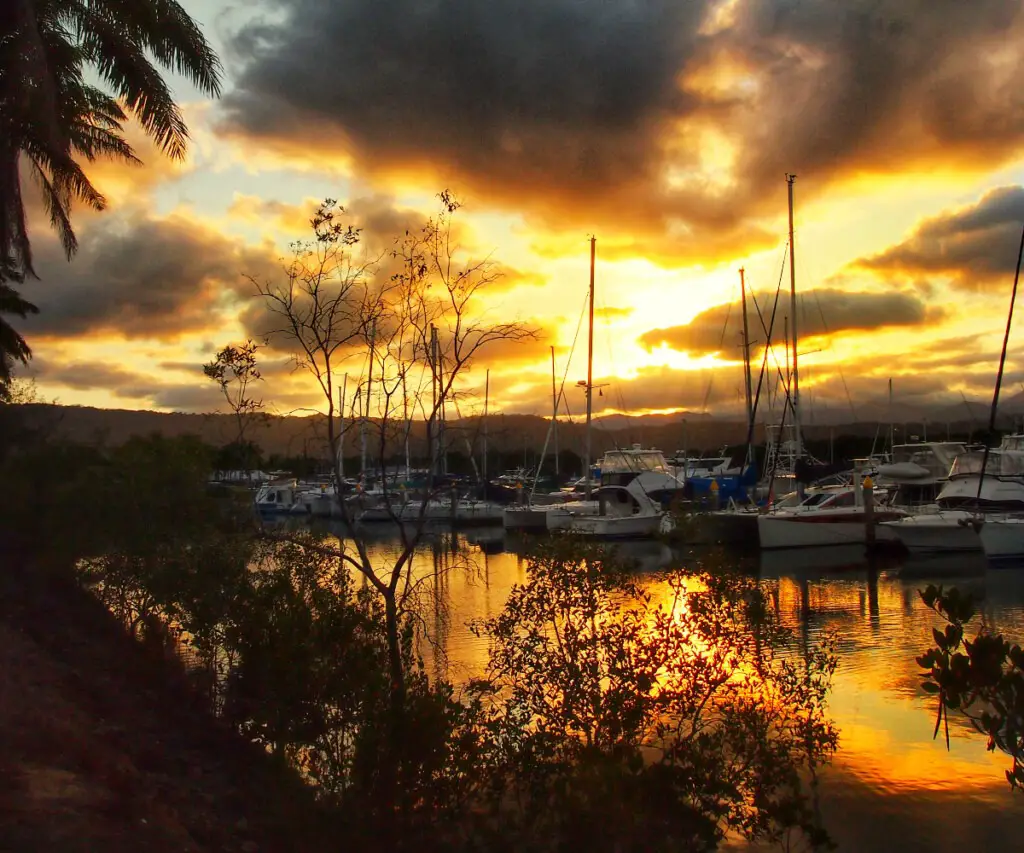 Local regulations prevent all beach-front development, there are no restaurants directly overlooking the beach in Port Douglas, but some food outlets are close to the beach and you'll be able to hear the waves and see the palm trees from a short distance away.
But this post is about restaurants on the marina!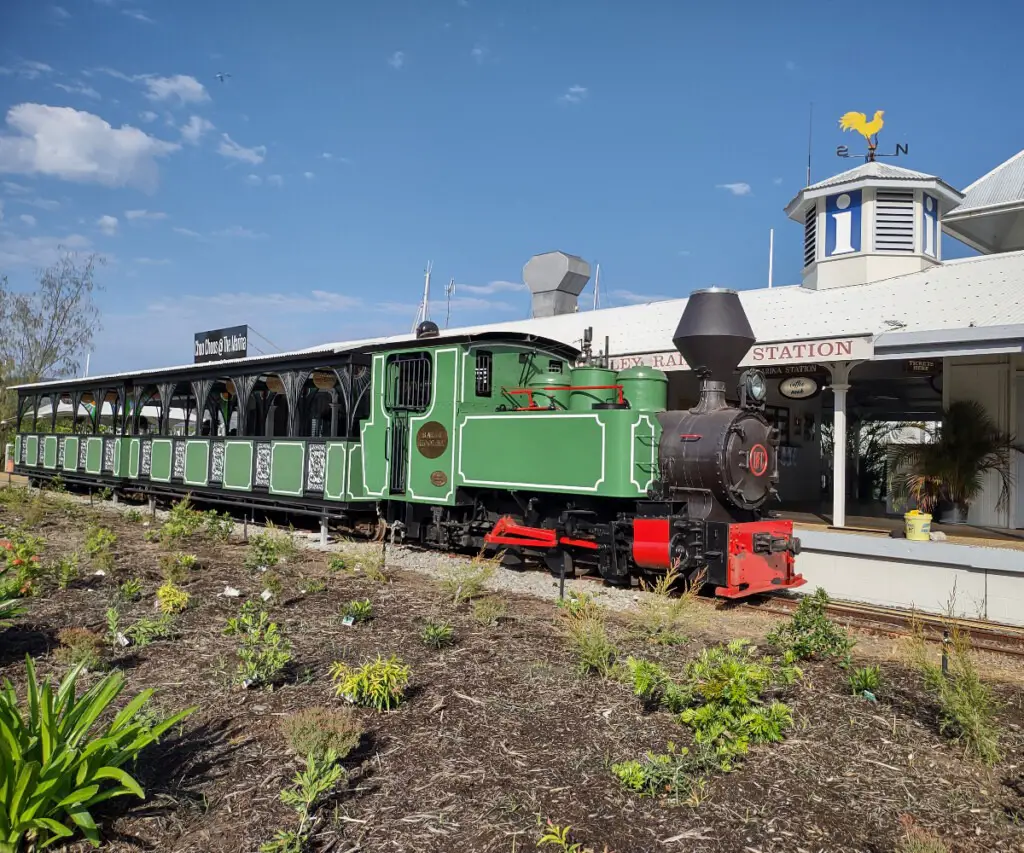 We think the Port Douglas Marina restaurants with a view, or a Dickson's Inlet view (from the Combined Club or Tin Shed, which is not on the Marina) is probably your best option.
However, the "best" restaurants in Port Douglas are not on the marina.
Port Douglas Marina Restaurants With a View
Your budget, the time of day and your food preferences will determine which is the best Port Douglas restaurant with a view for you. We live in Port Douglas, we've eaten at them all.
All of the restaurants on the Marina in Port Douglas do have a view, but you'll probably want to reserve a table near the water's edge.
We can present you with your options and, of course, we do try to keep this post up-to-date, but restaurants come and go, and since opening times and days have been shorter of late. You will probably need to book a table.
These restaurants on the marina serve Australian food or mixed, eclectic cuisine. There is no dedicated Asian restaurant on the marina and no speciality seafood restaurant at Port Douglas Marina, although most do serve seafood. You can also usually find steaks, burgers, pizzas etc.
As tourists return to Port Douglas we're expecting our staffing situation to be quite troublesome. Please be kind, we're all doing our best in a tricky situation.
Outdoor Restaurants in Port Douglas
Most restaurants in Port Douglas are outdoors or partially outdoors. This is lovely, but it does mean it's warm. If you're visiting in summer or the wet season, finding an enclosed restaurant that is fully air-conditioned could be tricky.
Some of the hotels can provide this. You may want to take precautions to avoid mosquitos and sandflies at certain times of day.
We know that N17 and Epicurean have indoor, air-conditioned dining areas, but no views to speak of.
Marina Restaurants May be Closed During Wet Season in Port Douglas
The 'wet' season kicks in around December but by the end of January, after Australia Day, tourist numbers dwindle. February and March are the quiet months in Port Douglas due to the tropical wet season. In February some restaurants may be closed for annual holidays.
It's best to check if you have a particular restaurant you'd like to visit. Since borders shut in 2020 opening times seem to have become shorter and shorter. This is mostly due to lack of staff along with lack of customers.
As the tourists return to Port Douglas, we're not expecting staff shortages to improve straight away. There will still be a lack of chefs and front-of-house staff. Businesses will be doing their best under difficult circumstances.
Lure Restaurant On the Port Douglas Marina
Lure has a prime position overlooking the Port Douglas Crystalbrooke Superyacht Marina. This, and the other handful of Port Douglas Marina restaurants even have a few tables on the water's edge.
We've recently ordered prawn sandwiches and salads at Lure.
If you'd like a water's edge table at Lure, we'd recommend you book.
Lure is open for breakfast from 7am.
Super Yacht Marina, Port Douglas, 07 40995201
Hemingway's Brewery on The Marina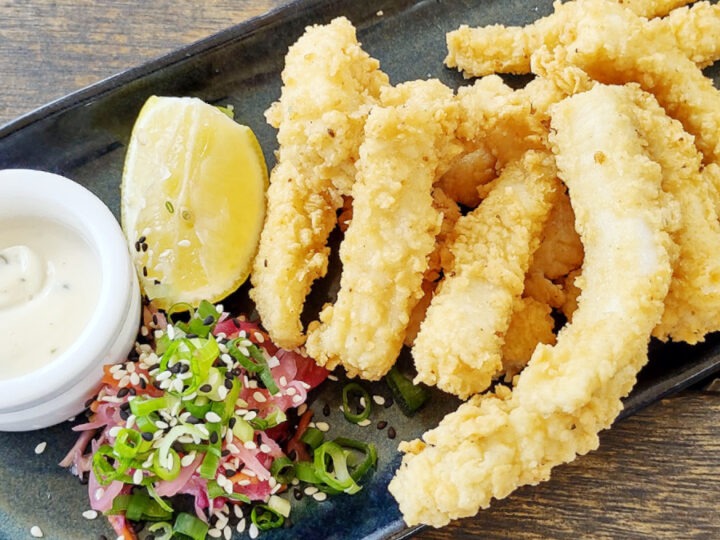 Port Douglas's own mini brewery is again, located on the marina's waterfront and serves Australian and international modern pub food.
Hemmingway's is a microbrewery pub with an interesting selection of tropical beers but they do also have a kitchen and serve a lot of food. This is a very popular spot after a day on the reef.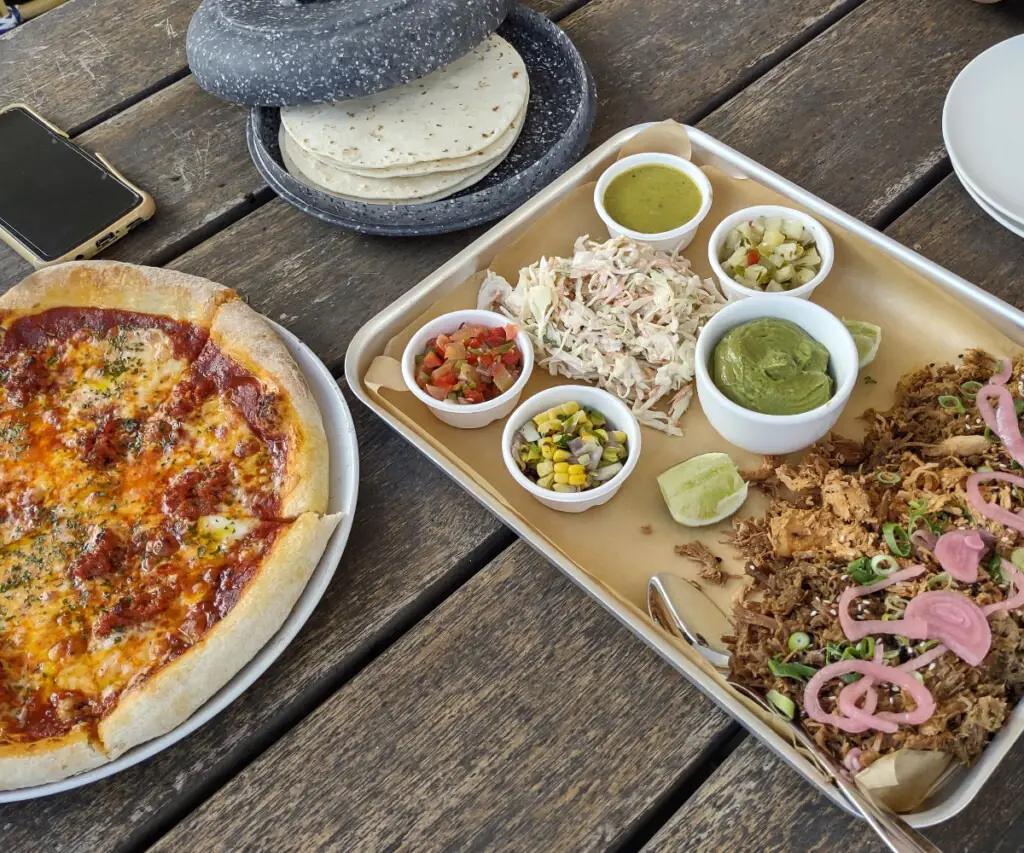 For American visitors, I should mention that pubs and bars in Port Douglas (and Australia) are usually absolutely fine to eat in with a family or kids. We have taken our kids to all of these places many times. In our experience of food and travel, this isn't always normal in the US. It is in just about every country we've visited.
Hemmingway's has been closing in the afternoons lately due to staff shortages but hopefully soon everything in the Port Douglas dining scene will be back to normal as workers and visitors return.
The school holidays, right up to Australia Day 2022, saw some very busy days at the marina restaurants. 2023 is much quieter so far.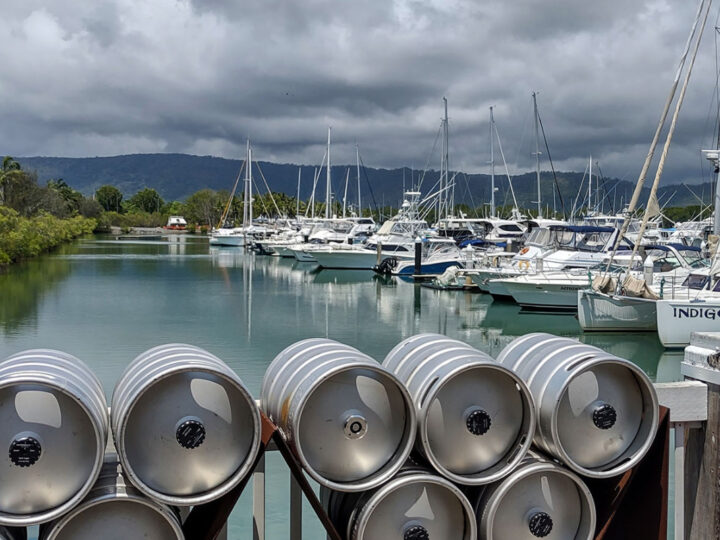 Hemmingways probably has the best-unobstructed views out over the marina and the lush green hills. We like their salt and pepper squid. Sometimes Hemmingways has live entertainment upstairs.
Super Yacht Marina, Port Douglas, 07 40996663 Or visit their website. Hemmingways does take online bookings here, but you can usually find a table here without booking. Order your food at the counter.
Where are the best burgers near Port Douglas Marina?
The best burgers in Port Douglas are at N17 on Macrossan St. N17 serves burgers, loaded fries, cocktails, and milkshakes. The burgers here are made with top-quality meat from Port Douglas's premium butcher, Malone's Butchery. Walk from the marina to N17 in under 10 minutes.
Choo Choo's on The Marina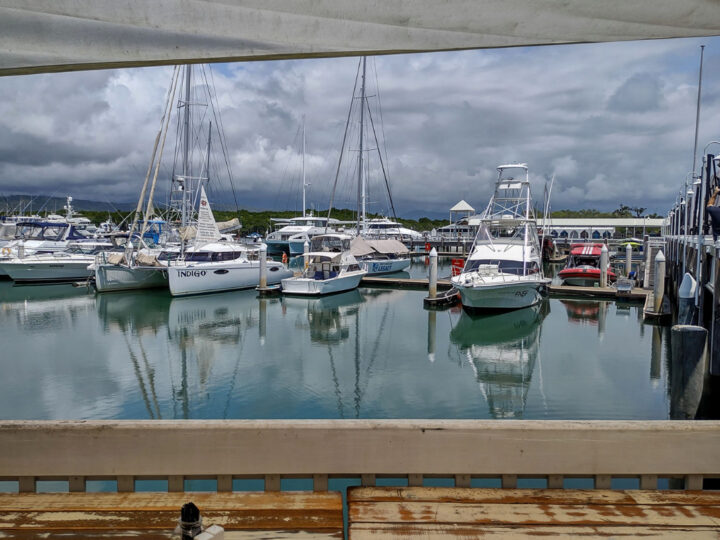 Not only does Choo Choo's Port Douglas have some tables directly adjacent to the water of the marina, it also has the old Ballyhooley steam train carriages converted into lovely dining cars.
If you're a train buff you'll want to eat here.
They've done a great job on the conversion.
Choo Choos are open for breakfast (from 7am), lunch, and dinner normally. Last time we visited they were offering tapas and cocktails at sunset too. Adjacent to Choo Choos, within the old station building and platform on the marina, there is now also an ice cream shop.
The ice cream parlour is away from the water's edge so has no views to speak of.
Barbados on The Marina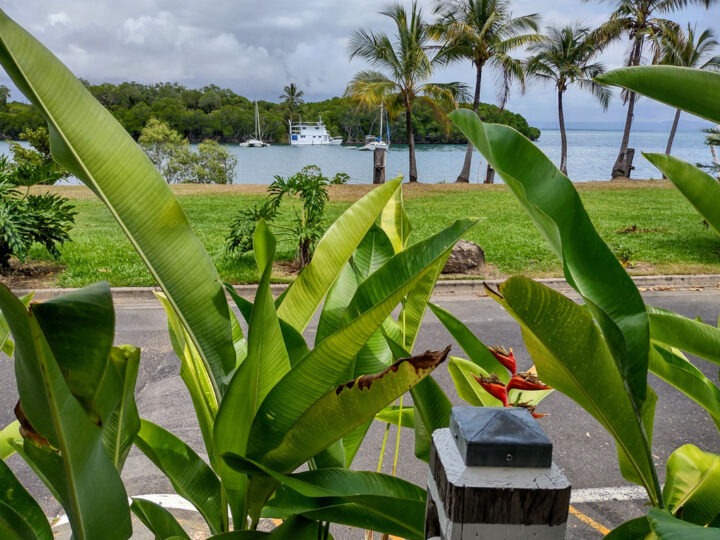 Barbados is really a rum or cocktail bar that serves food, although we visit to dine too. It's a beautiful spot to relax and has views of the inlet and marina. Arguably, Barbados has the best cocktails in Port Douglas.
Dishes you can enjoy at Barbados include ceviche, sharing platters, tuna tataki, brisket burgers and light snacks. The food was very good here, as are the cocktails and wine list. However, the chef has now changed.
In 2023 Barbados changed their menu quite dramatically and they now have more of an Asian influence. The dishes in the food photos that we use here may no longer be available.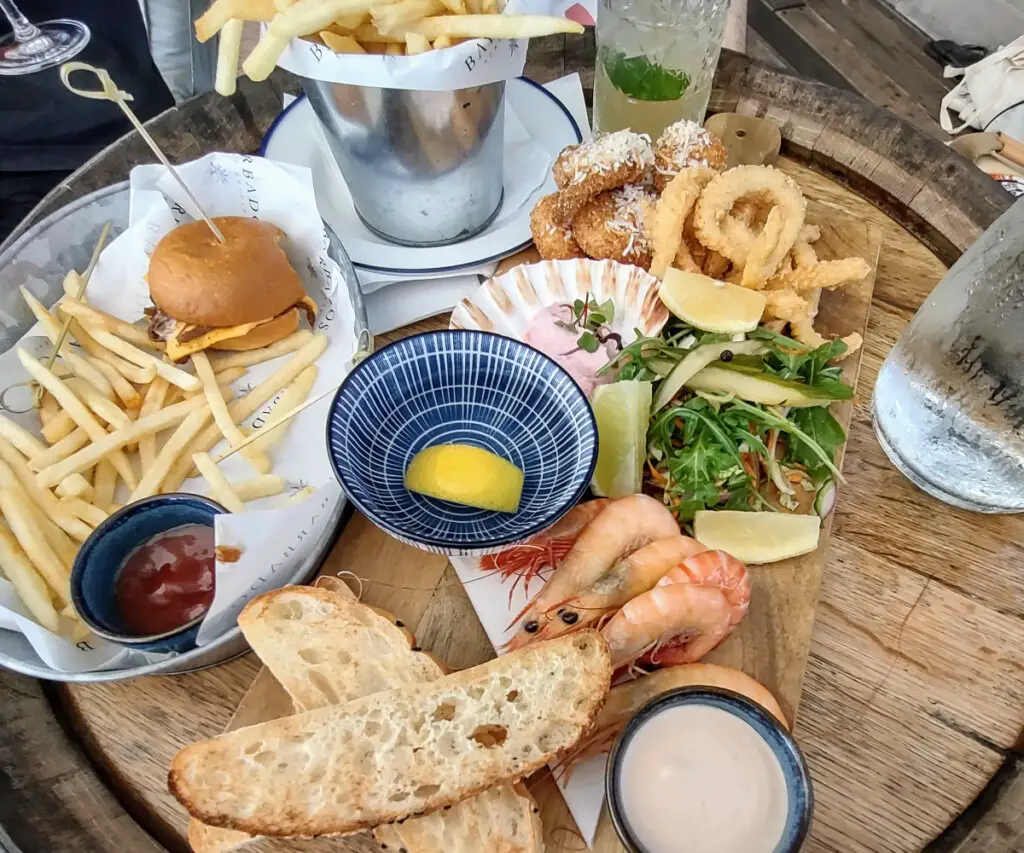 The views aren't direct, there is a very quiet road and a strip of grass between the seating area and the inlet, but you certainly can see the marina, water, mangroves, mountains and sunsets from Barbados. This spot has a very nice atmosphere and ambience usually.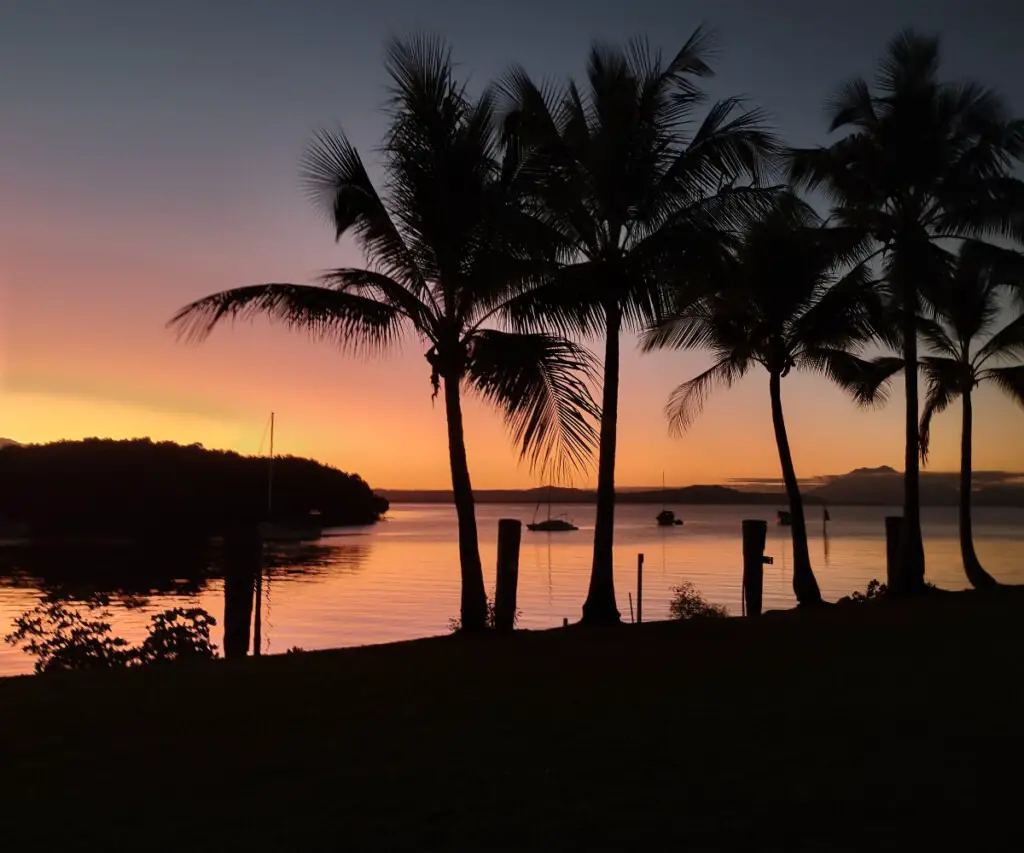 On a good day sunset views from here can be stunning, certainly the best sunset views from any restaurant at the marina Port Douglas.
You usually need to book, please check opening hours. Book using their online booking system here.
Customers can reserve different seating options including luxurious, yet informal, lounge-style booths using the online booking platform.
Once seated, guests can order food or drinks directly from their phones, which is super convenient!
At the time of writing (winter) Barbados is only open Wednesday to Saturday, opening at 12 noon, closing at 6.30pm. On Sundays Barbados is only open 12 to 4 pm. Opening hours change often due to the current staffing crisis and private functions. Always check with the venue.
On the Barbados menu, you are (were) likely to find such things as seafood sharing plates, oysters, ceviche, coconut prawns, brisket sliders, truffle fries and most excellent cocktails.
We know this menu very well indeed, I was the chef here for a while.
Barbados are available as a wedding venue and for private functions.
Where is the best seafood near Port Douglas Marina?
We recommend the seafood sharing plate at Sassi La Cucina and Bar on the end of Port Douglas's Macrossan Street for seafood, including oysters and mussels. Sassi is under 10 minutes walk from the Crystalbrooke marina, you may need to make a reservation as this Italian restaurant is very popular.
Where is the best seafood buffet in Port Douglas?
As far as we know the Sheraton Hotel is the only place in Port Douglas still serving a seafood buffet.
What Else Is There at Port Douglas Crystalbrooke Marina?
The Crystalbrooke Marina, Port Douglas is home to most of the Port Douglas reef fleet, your trip to the great Barrier Reef will likely start and end here, as will your crocodile spotting cruise on Lady Douglas. Sunset sailing cruises also berth at the marina. There are a few shops selling souvenirs, sunglasses, hats, and basic beach equipment. Small boats are also available to rent, for fishing or exploring Dickson's Inlet. You will also find some of the booking offices for the various reef operators here, others are on Macrossan Street. There are no hotels at the marina. We recommend you book your day on the reef well in advance, online. Look at your options here.
---
We have a dedicated Port Douglas Pinterest board and we would be extremely grateful if you could go there and pin some stuff, it helps us a lot. Thanks. Other useful information about Port Douglas:
---
Port Douglas Dining With a Marina View
We hope you enjoy Port Douglas and get a chance to try some of the Port Douglas Marina restaurants while you're here. I have worked as a chef at one of these restaurants. I was formerly executive chef at one of Port Douglas's top 5 star resorts. If you need more information on things to do in Port Douglas, Port Douglas activities or accommodation, what to do in Cairns, or more content on alternative Port Douglas restaurants with a view, with some delicious photos, we've got you covered.
If you'd like to hire a car during your stay, use this car rental comparison tool to find the best deal!

Please check out our Pinterest account for loads of food and recipes from around the world!