This post may contain affiliate links.
I love wandering around markets and Antigua market, Guatemala certainly doesn't disappoint.  Located on the west side of Antigua it covers a vast outside and undercover area selling fruit and veg and nearly everything you could imagine. After visiting Antigua Guatemala we decided to stay for a month. Local restaurants are a little expensive in this tourist town, so we decided to self-cater and shopped in the Antigua Market daily for food and supplies.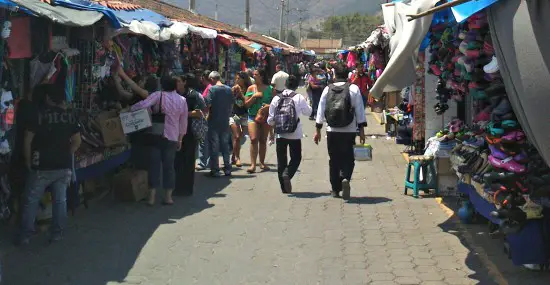 Antigua Market Guatemala
Yes Antigua market has it all. If you're after jeans, shoes or bulk buy toilet paper you've come to the right place. Wandering into the undercover maze you are confronted by all and sundry. Like most markets, the stalls are packed in tightly and you are constantly weaving and bobbing. I've not tried to buy anything other than food, so don't know what the quality is like but if you look hard enough you may spot a bargain that lasts. Word to the wise, watch out for pickpockets as this must be heaven for them with the constant bumping and close contact.
 Fruit and Vegetables in Antigua Market
This is what I love about the markets, food, all on display and tempting you to buy. Antigua does it well. As you start moving through the designer jeans you notice that a few stalls have fruit and vegetables. The closer you get to the main hall the more the fruit and vegetables take over. Located near the equator but 1500m above sea level, the diverse range of foods on offer is awesome. From great varieties of  potatoes, tomatoes and avocados all the way to papaya, pineapple and even the best strawberries and blackberries I've seen. For a foodie this is paradise.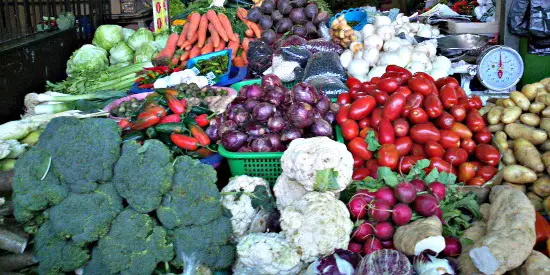 Meat and Fish is Covered Too
Walking further afield brings you toward the meat and fish area. Fish is a bit light, being up and away from the oceans and 50kms away from lake Atitlan (to boost tourism they introduced black bass to the lake which wiped out 2/3rd's of the local population and caused the Atitlan Grebe's extinction) you expect that.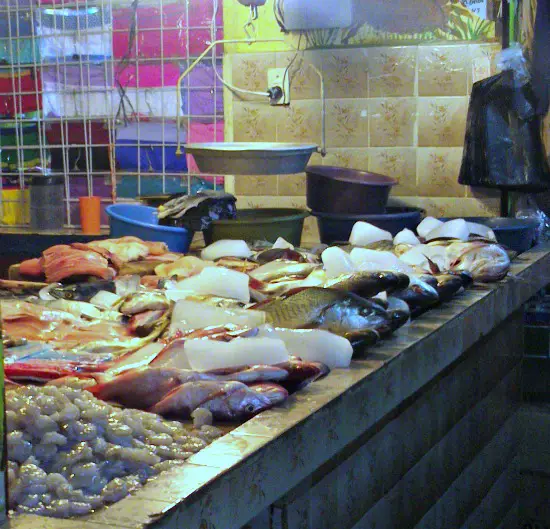 Beef and chicken are in plentiful supply and any part of the animals you need you can get, including fresh tripe. It is all hung up in the traditional ways of the butcher and was all excellent quality. I quite happily wander around this part for a while but convincing my wife and the boys isn't easy. Best I do this part on my own, working in kitchens I'm used to all those smells. Antigua market actually didn't have much of a smell at all.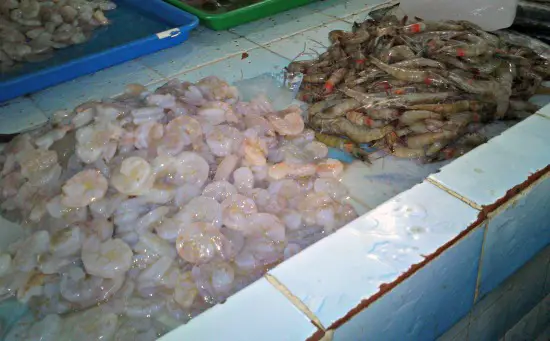 Making You Hungry?
They have hot meals covered too with a large food court. This caters mainly for locals but that didn't stop us having lunch there, nor the vendors from trying to persuade us to eat at their stalls. Our limited Spanish didn't help us escape the vendors nor choose our lunch. We settled on fried chicken and rice and a bean soup with tortillas. All of it was delicious although I guess I shouldn't have eaten so much of the salad. Cholera is apparently a risk here and isn't on my to-do list in the near future. No worries 2 days later and I appear unscathed.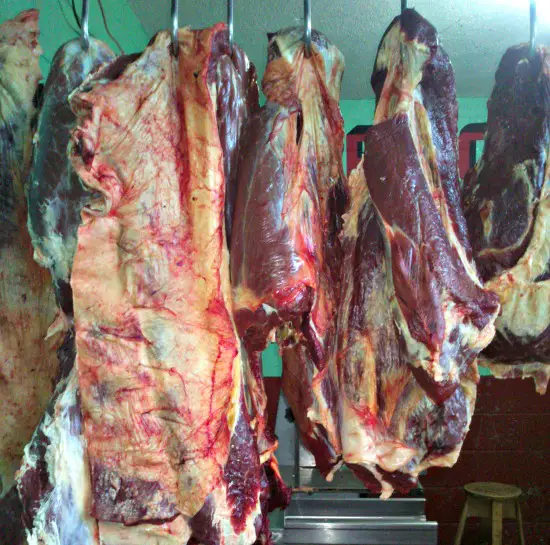 Antigua Market is Cheap
We haven't really found Central America any cheaper than the US in terms of accommodation but when it comes to food it is both cheaper and much better quality. Processed foods are gone, replaced by fresh food that hasn't been altered in any way shape or form. For a mere $5 us you can fill your backpack with almost everything. I should know, I did, then had to walk the mile back to our rented apartment carrying it all. In fact the big issue for me is making sure that I don't actually buy everything and struggle to use it before it goes off. With two growing boys, we haven't had that issue yet.
What is your favourite market around the world and more importantly why?
If you'd like to hire a car during your stay, use this car rental comparison tool to find the best deal!

Please check out our Pinterest account for loads of food and recipes from around the world!