This post may contain affiliate links.
Guatemala is a beautiful, fascinating, and historic country in Central America. In this post we bring you the best places to visit in Guatemala, our list is, of course, from personal experience and is partly based on tourist numbers. We spent a lot of time in Guatemala, a month just in Antigua, before touring more of the country. Our best places to visit in Guatemala are as follows.
---
Best Places to Visit in Guatemala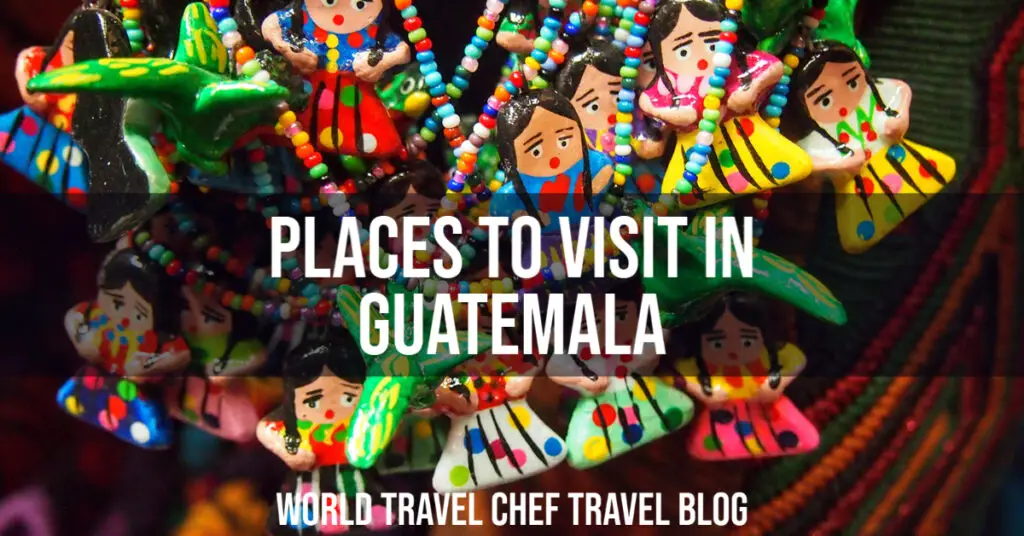 We can start with a list of the best places to visit in Guatemala. You'll find more detailed descriptions and photos further down the page.
Tikal
Chichicastenango
Antigua Guatemala
Flores
Lake Atitlan
San Pedro
San Marcos
Guatemala City
Semuc Champey
Todos Santos Cuchumatan
Livingston
Quetzaltenango
Monterrico
Panajachel
Tikal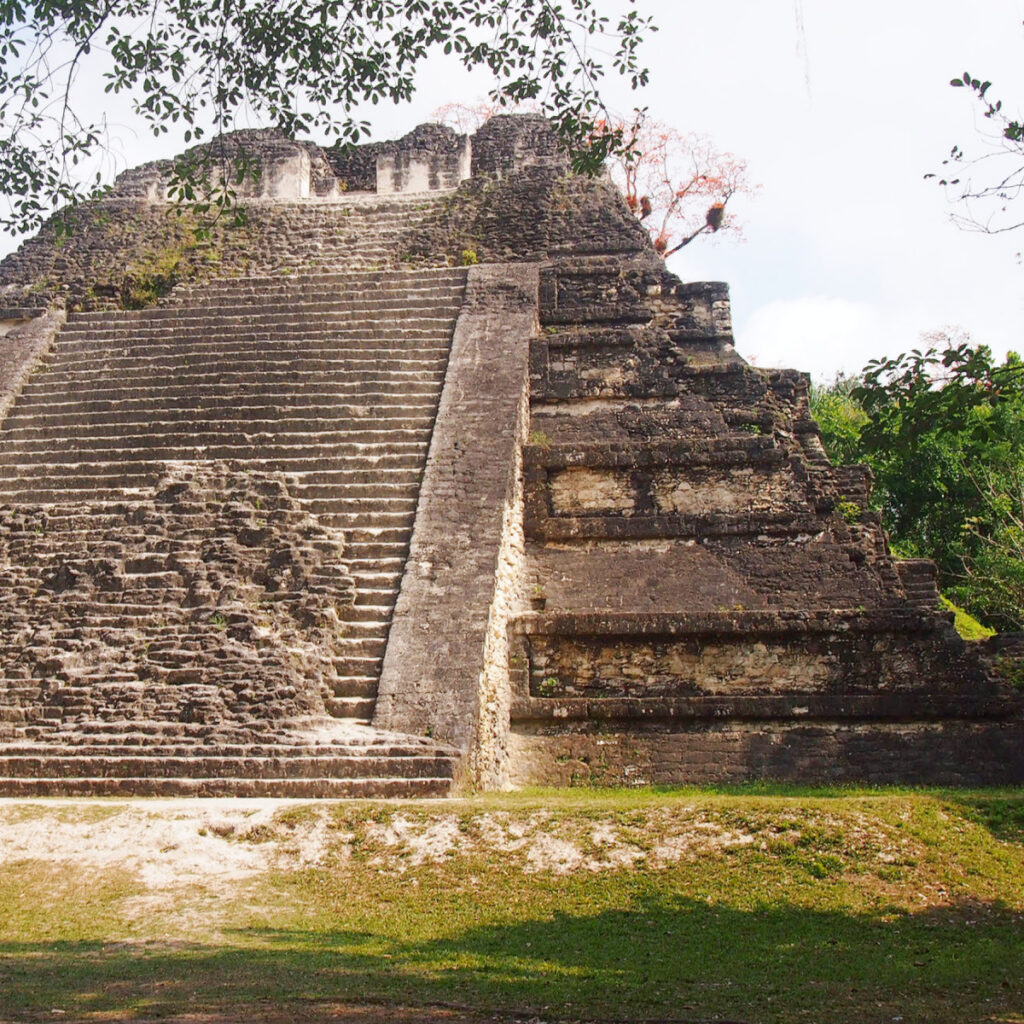 The vastness of the Tikal site is hard to comprehend. Much of the ruins are still smothered by jungle but there's plenty to give you a very full day of exploring pyramids in a temperate rainforest setting. Little coatis scuttle through the undergrowth and birds squalk in the treetops. This is an incredible place to visit, the must-see of Guatemala and a world-leading historic site. If you're visiting Tikal with kids be ready for a long hot day and a lot of walking and climbing for little legs.
Tikal is fairly close to Flores, a great place to stay with plenty of accommodation options and restaurants. Travel from Flores to Tikal is easy, there are even shuttle buses. Flores is another great place to see flower carpets and Holy Week processions, should you happen to be in Guatemala for Easter. You can travel from Flores to Guatemala City and vice versa by overnight bus.
Chichicastenango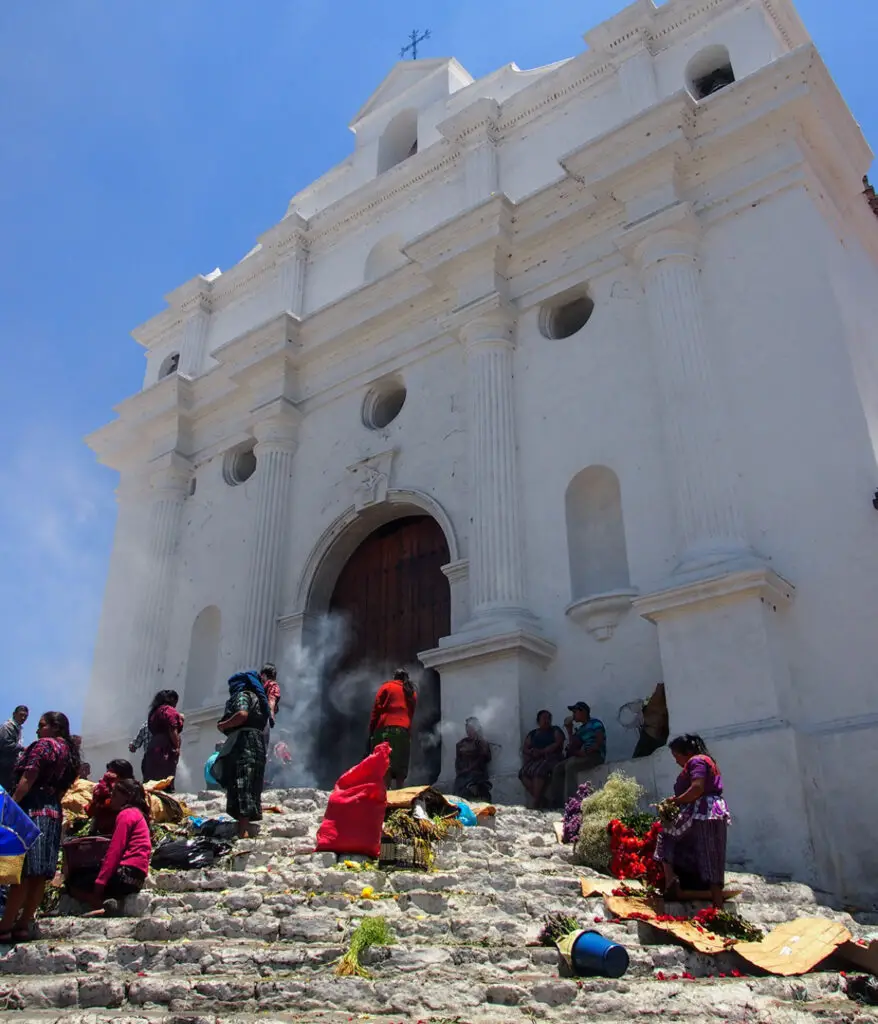 Chichicastenango is also known as "Chi Chi" and most tourists visit for Chi Chi markets. The markets (Thursday and Sunday usually) are fantastic. Outside there are stalls overflowing with colourful clothes, pottery, and trinkets. You'll also find an under-cover food market with hues just as bright. Explore more, find this ancient church. This is the church of Santo Thomas and it was built atop a pre-Hispanic Mayan platform. The steps leading to the church are still a sacred place for the local Mayan people and when we were there Mayan ceremonies were taking place inside and outside the church. You can visit Chichicastenango as a day trip from Lake Atitlan, Antigua or Guatemala City. Chichicastenango is at quite a high altitude and the roads are winding, beward car-sickness.
Antigua Guatemala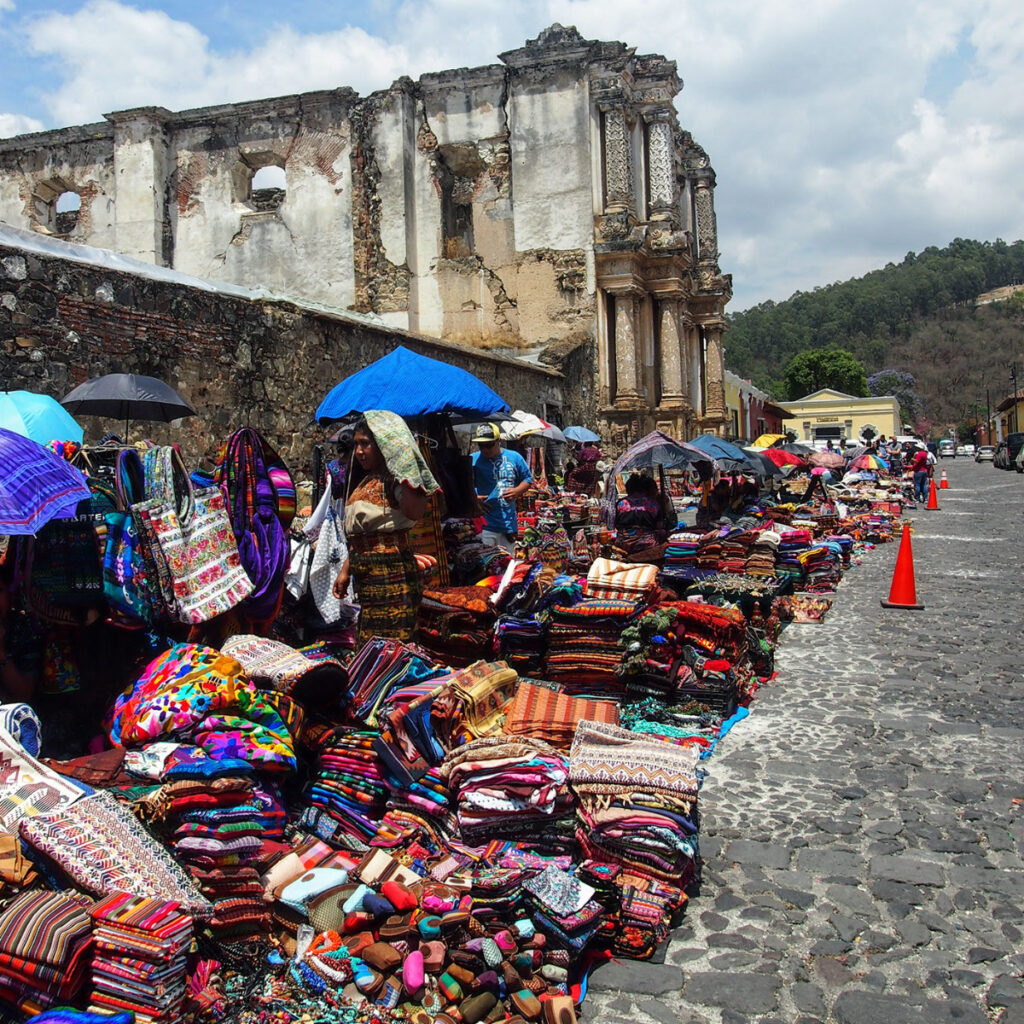 Antigua is such a pleasant place, we stayed there a month. It's quite a refined sort of place and was expensive compared to Flores or the towns on Lake Atitlan. Food in Antigua was quite pricey for us so we shopped at the market and self-catered here sometimes. Antigua Guatemala is dominated by the smoking summit of Pacaya Volcano. At over 2,550 meters this continuously active (since 1975) volcano gives visitors the chance to see the power of nature first-hand. We experienced quite a few earth tremors in Guatemala and neighbouring El Salvador, along with intermittent wisps of smoke over Antigua.
Antigua is an ancient city and a tourist hot-spot. We were here for Easter and watched the flower carpets being constructed and destroyed by the processions. If you possibly can, come here for Easter.
At the end of our stay in Antigua we travelled to San Pedro La Leguna, on Lake Atitlan, by minibus.
Flores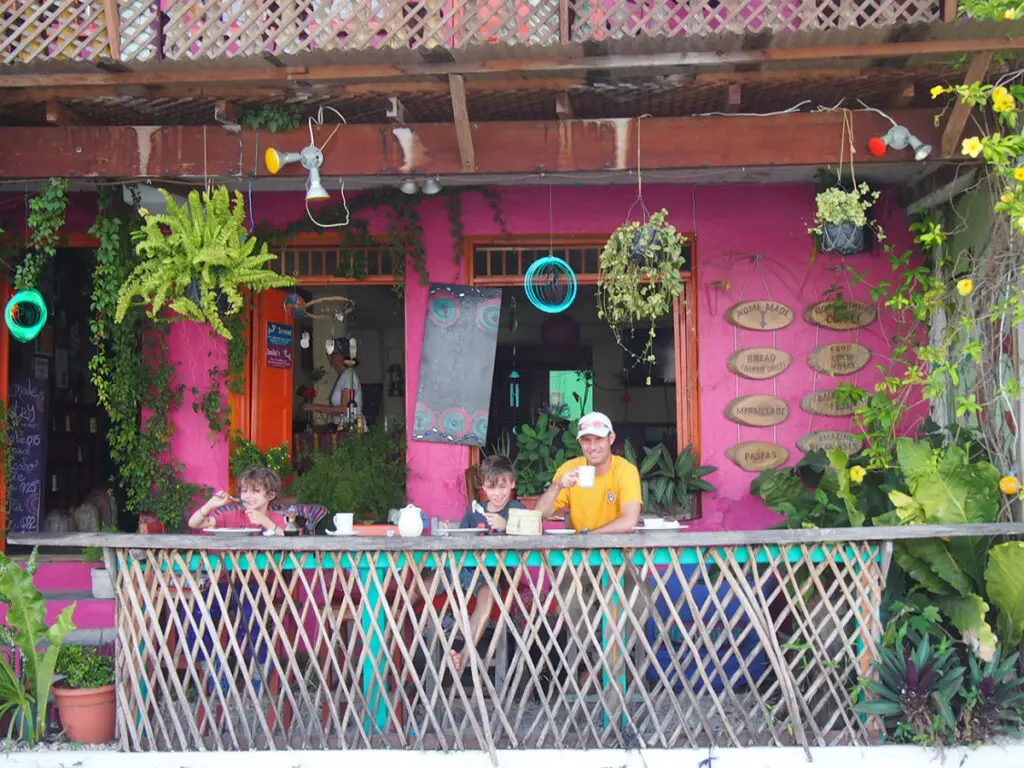 Old Town Flores is on an island, connected by a causeway, in Lake Peten Itza in Peten Department. This Department is the most northerly in Guatemala and is land-locked. Old-town Flores is stunning and most tourists will probably want to stay on the island. We stayed here, catching the shuttle from Flores to Tikal, which is fairly nearby. It was on Flores that I developed toothache, forcing me to cross that causeway on foot to find a dentist. It went well, he was a great dentist and pulled that rotten tooth for me. My son also visited a doctor while we were living in Antigua Guatemala. It was an eventful trip. Be certain to see Tikal, and if you have a family, Tikal with kids was a great experience for them.
We happened to be in Flores around Easter and the Holy Week flower carpets and processions here were really spectacular. Antigua's celebrations were far bigger and the crowds were a bit intense, Flores was more sleepy.
Lake Atitlan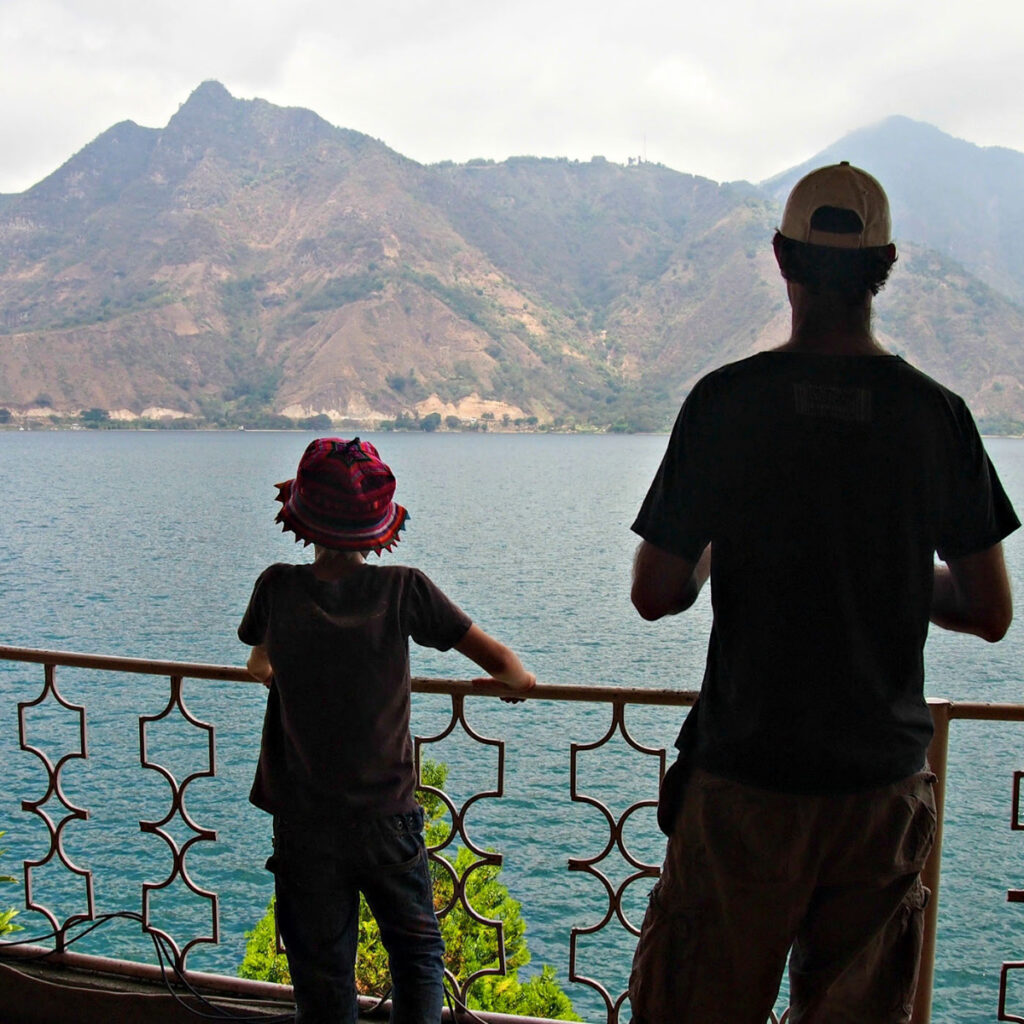 Lake Atitlan (Lage de Atitlan) is in Guatemala's Sierra Madre mountain range. The range makes up the Guatemalan south western highlands and this lake has the honour of being the deepest in Central America at 340m maximum. Various towns lie on the shores of Lake Atitlan and many are popular with tourists. We chose to stay quite a long time in San Pedro La Leguna and really fell in love with this town and its sleepy vibe.
Throughout history this lake has been described as one of the most beautiful in the world, if not the most beautiful. It is of volcanic origin and is flanked by multiple volcanoes. The lake is only about 50Km from Antigua but the road is steep and winding. You can easily get a bus from Antigua to Lake Atitlan. Swimming and cliff jumping are popular with daredevils at the lake. It wasn't for us as a family with fairly small kids at that time, although now I'm sure they'd be jumping straight in there. If you were to ask us for best places to visit in Guatemala, this would be top of our list.
San Pedro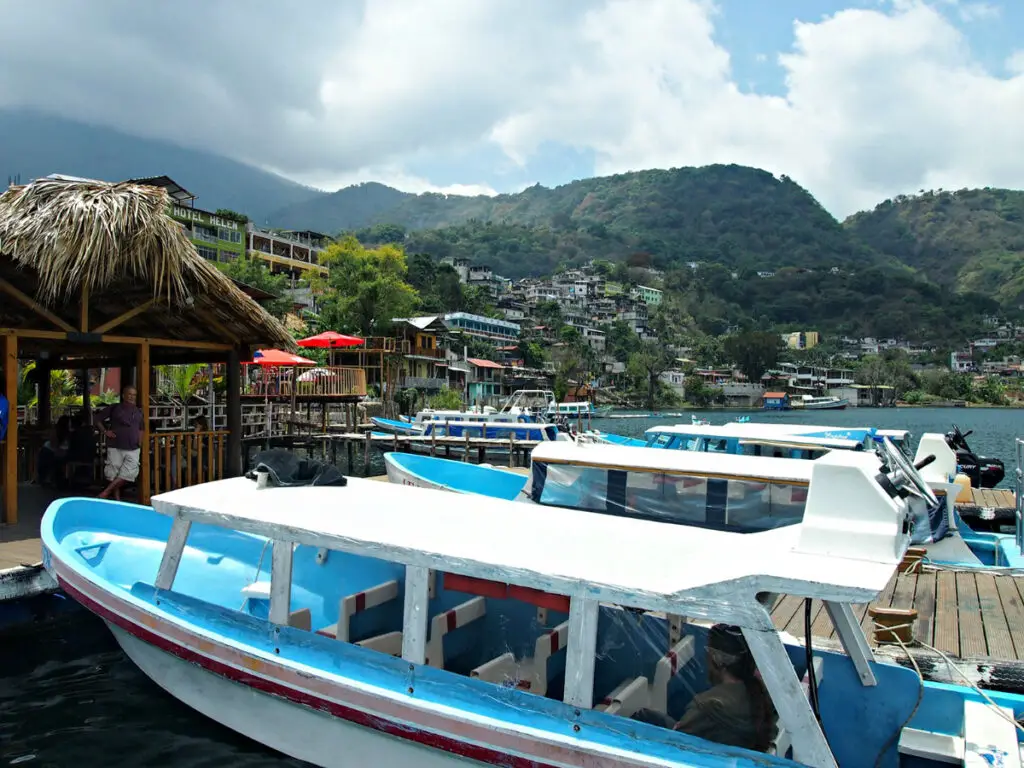 San Pedro La Leguna is a lovely spot on the shores of Lake Atitlan.
San Marcos
San Marcos is a very small town on the other side of Lake Atitlan from San Pedro La Leguna. You can travel between the two by small boat. Some toursist and long-term travellers opt to stay here but it's much more low-key than San Pedro. There were some excellent coffee shops here when we visited.
Guatemala City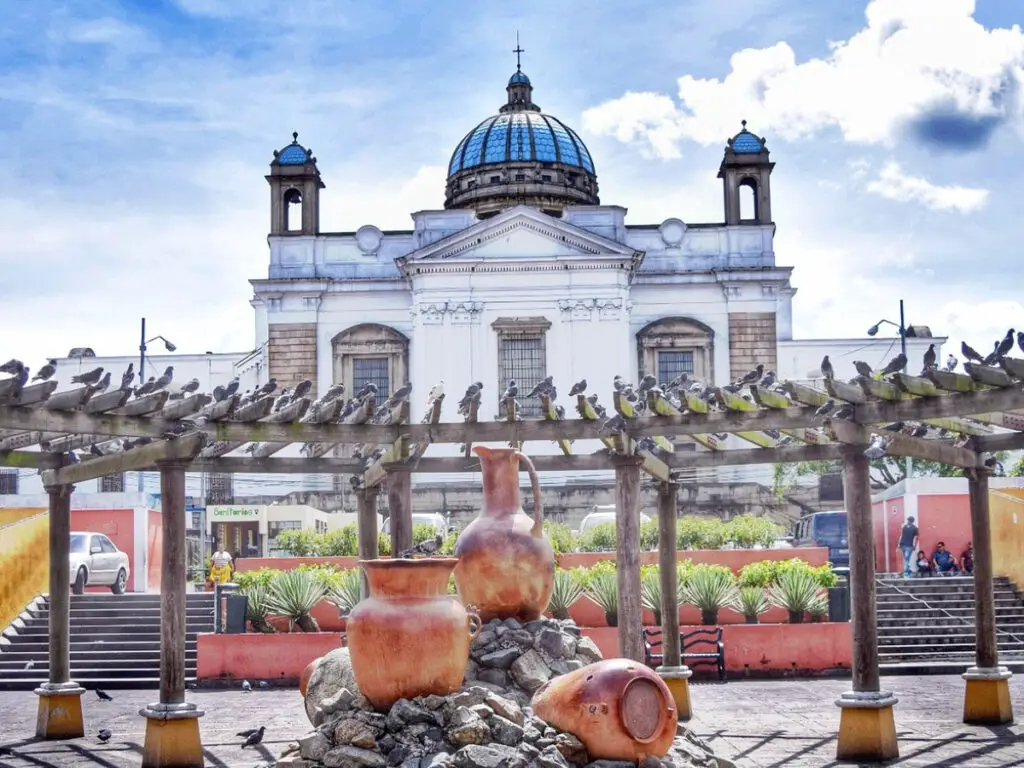 Guatemala City is likely where you'll land if you fly into Guatemala. We actually entered by land, from El Salvador, flying out of Guatemala City (La Aurora International Airport) to the US after taking the bus to and from Flores to Guatemala City. The capital of Guatemala is in the southern part of Central Guatemala and is the biggest city in the region.
Things to see and do in Guatemala City include the Cathedral, La Aurora Zoo, and the Placio Nacional de la Cultura.
Semuc Champey
Semuc Chmpey is designated a Guatemalan National Monument and translates to "where the river hides under the stones". The "El Mirador" viewpoint is the best way to see the series of natural pools and river making up this natural landscape. Come prepared for a short hike to reach this viewpoint of the valley. People come here to swim in the rock pools.
Todos Santos Cuchumatan
This area is popular because tradition has been maintained. Local people still wear traditional dress and the population is largely indigenous. You'll see women it traditional dress elsewhere, but it's rarer to see men, you'll likely find them here. The Mayan people still mostly speak Mam, the Mayan language.
"Todos Santos" of course means All Saints, and there is a festival of the same name here in late October- early November. It's worth trying to get here to see traditional dancing, singing and horse racing. But beware, the horse racing can be dangerous and bloody.
Livingston
Livingston is on the coast of eastern Guatemala, infact, it is on the mouth of the Rio Dulce on the Gulf of Honduras.
This port town has a good tourist industry and an interesting mix of cultures. Expect Afro-Carribean, Mayan, Garifuna, and Ladino influences.
Quetzaltenango
The Quetzal is of course Guatemala's national bird and also gives its name to Guatemalan currency. Quetzaltenango, is a beautiful city which retains much of it's Neoclassical architecture. Like Antigua, it has a stunning backdrop of volcanic mountains.
Monterrico
Monterrico is on the Pacific Coast of Guatemala. In Santa Rosa departament. Monterrico is often described as the best beach in Guatemala and is a laid-back kind of place with a sufy vibe. The Pacific Ocean crashes on volcanic black sand beaches in Monterrico and this place is becoming increasingly popular with locals and tourists.
Panajachel
Panajachel is also on the shores of Lake Atitlan, but at the oposite end from San Marco and San Pedro La Leguna. You can reach Panajachel by boat if you choose to. It's under 200 Km from Guatemala City.
We hope you found our round-up on the best places to visit in Guatemala useful. When we first arrived in Guatemala City we had no plan, we didn't know what we wanted to see, nor should see. Content like ours should be useful in helping you plan out your Guatemalan vacation or backpacking trip.
If you'd like to hire a car during your stay, use this car rental comparison tool to find the best deal!

Please check out our Pinterest account for loads of food and recipes from around the world!