This post may contain affiliate links.
Street food in Bangkok is everywhere but in this post we'll cover some of the night market food in Bangkok, including Michelin Guide and Michelin Star street food stalls. On our last trip to Bangkok we made a point of finding some of the best night market and street food stalls in Bangkok Thailand.
Here we share some of the dishes we tried and how you can have this experience too.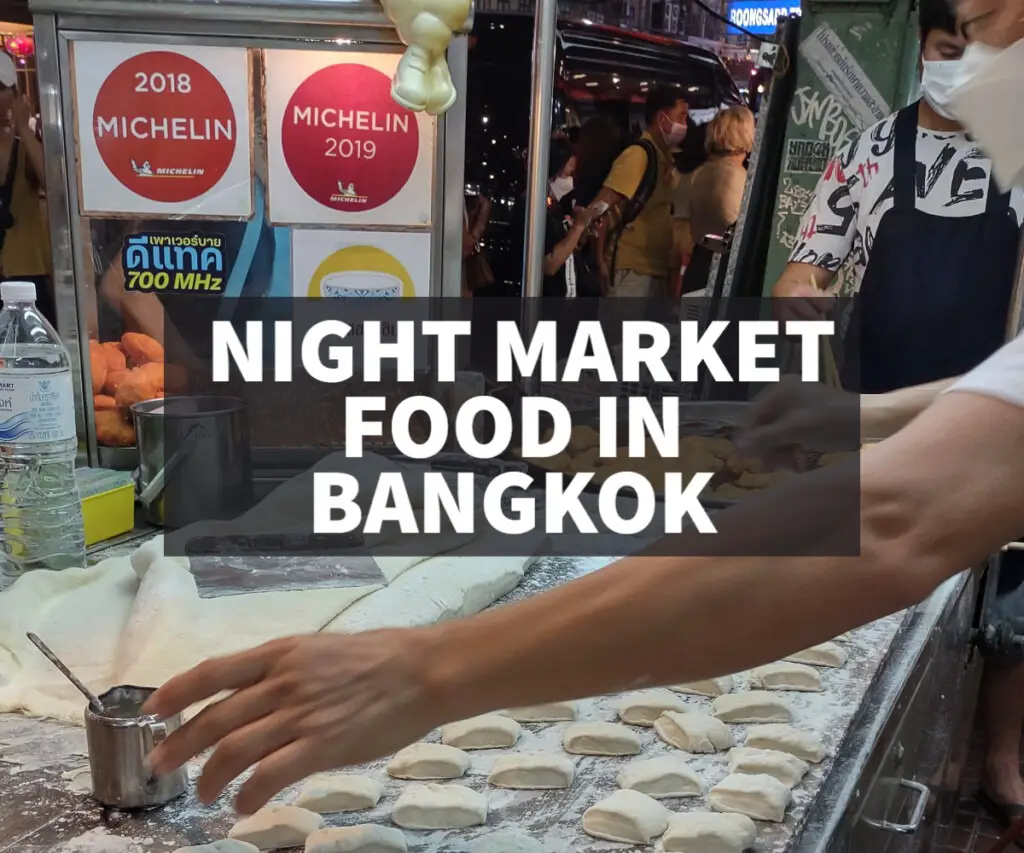 If you're wondering where to eat in Thailand, street food and night market stalls are usually a good choice. Just beware the street food stalls that are there purely for tourists, we'll share some photos of the street food stalls selling bugs and spiders in Bangkok's night markets.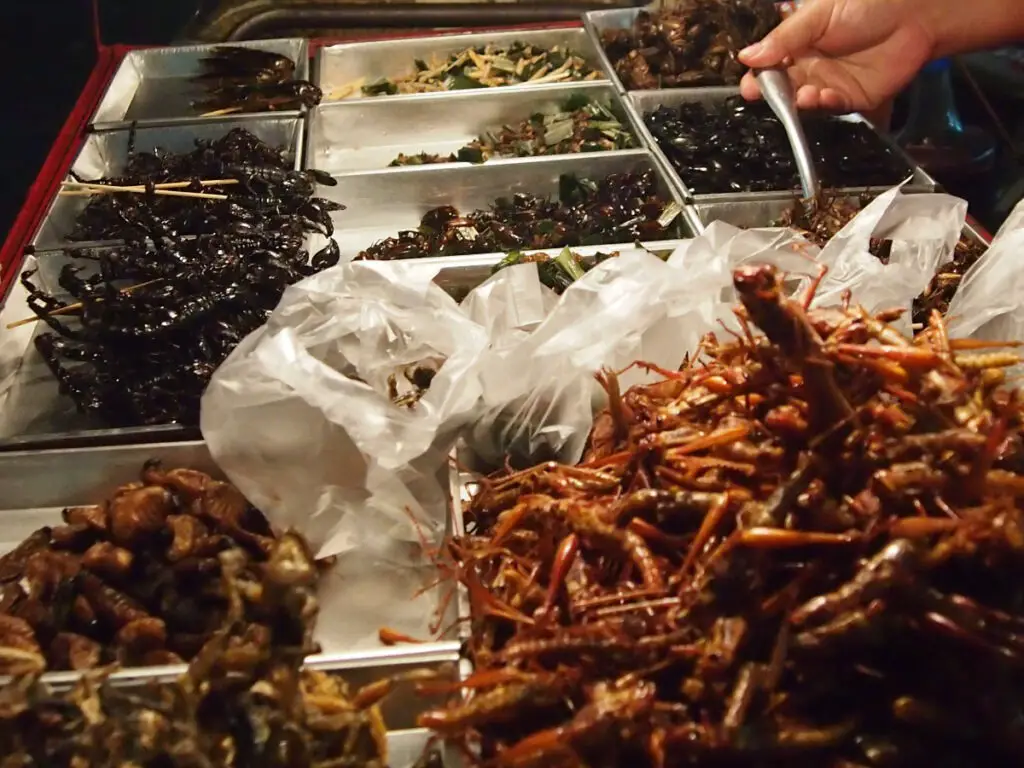 Some street food and night market food is spicy. What makes Thai food spicy is often the condiments, so some dishes are very mild unit you add chilies and sauces to taste. Don't be afraid that every Thai dish with be too spicy for you.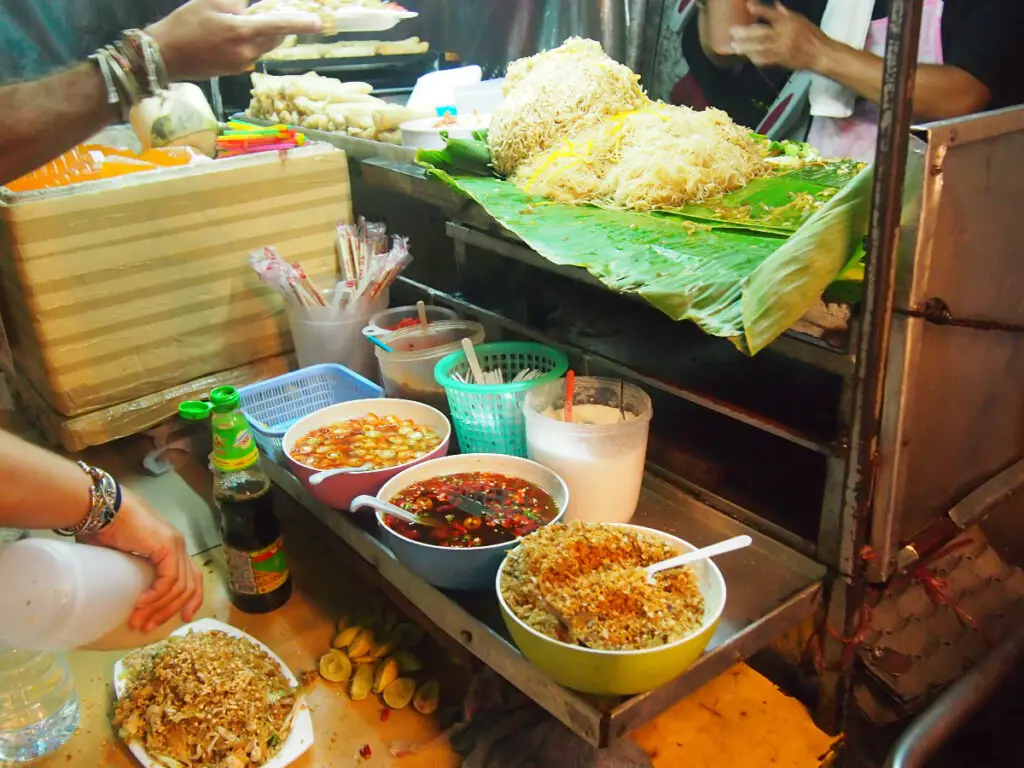 The night market food tour by tuk-tuk that we took recently included the Michelin Guide street food stalls we mention in this post. Book the Bangkok by night temples market and food by tuk tuk tour here. It's a very good introduction to Bangkok, we recommend you do this on your first night as it will help you get orientated. You will never find, or be served a,t these Michelin Guide places without a guide.
We often had to queue even with our guide.
Night Market Food in Bangkok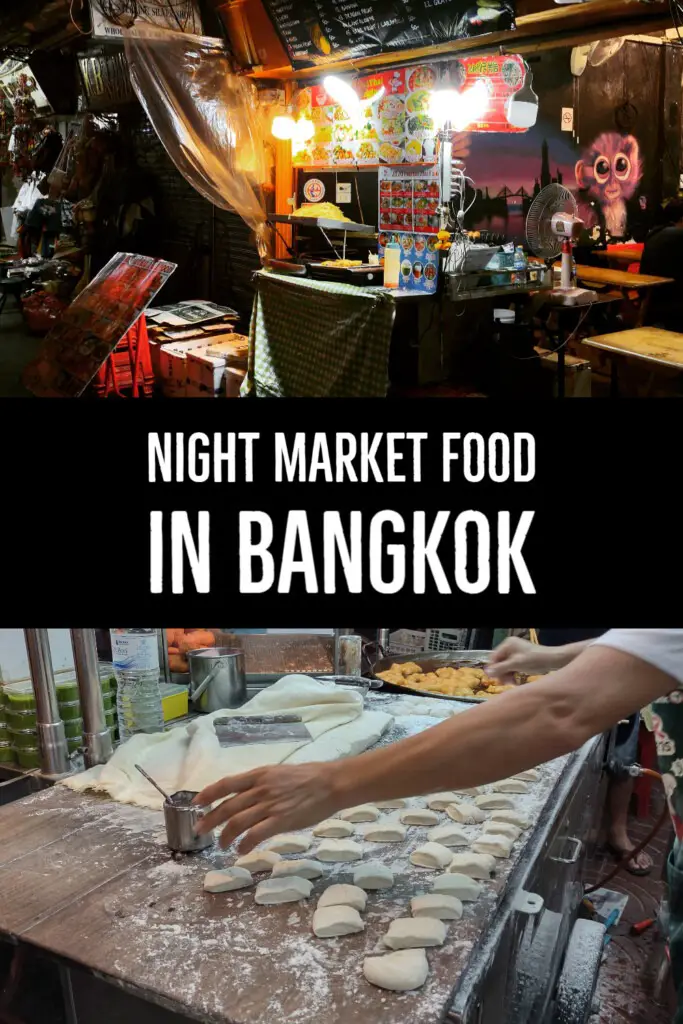 We have a large Pinterest board about Thai food with photos, recipes, and Thai dishes. You can open this here in a new tab, and please do pin some stuff, it helps us a lot. Thanks.
Night Market Michelin Guide Food in Bangkok
There are quite a few street food stalls in the night markets of Bangkok that are in the Michelin Guide and have been for years. Getting in the guide and staying there comes down to consistency.
Even Thai Royalty will come to these street food stalls to eat, they are considered that good.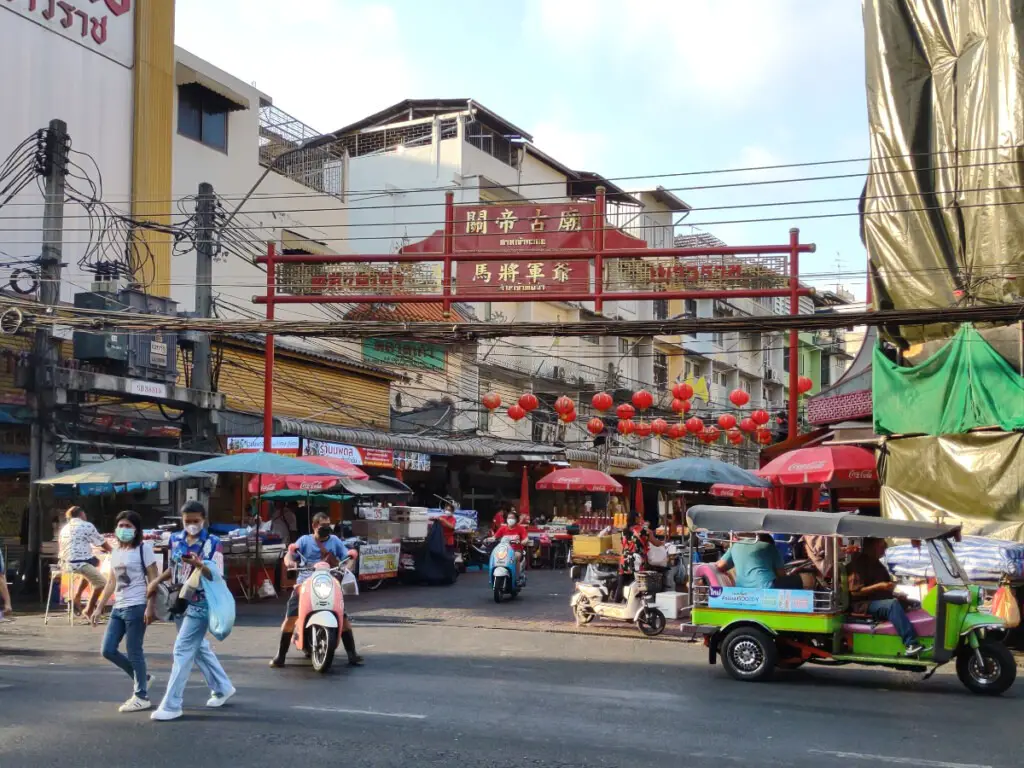 Michelin Star Night Market Food in Bangkok
We planned this trip to Bangkok around visiting a very special street food restaurant. This lady has a Michelin star and we even booked a hotel to be close to her restaurant.
Can you imagine how disappointed we were to find her shop shut? We did get a glimpse of her working the night before in her trademark Goggles, but then she shut shop, and we only had a few days in Bangkok. But we will be back!
We consoled ourselves with the Michelin guide night market tout instead (book it here). We've marked her restaurant on the map for you here. We stayed near her shop and the Golden Mount at Here Hostel, it was a great place to stay and within walking distance of most tourist attractions in Old Bangkok. Chinatown was quite a walk though! Take a look at this hostel here, it has private rooms and family rooms, and good food downstairs in its restaurant. It's in a nice quiet area too, we liked it a lot.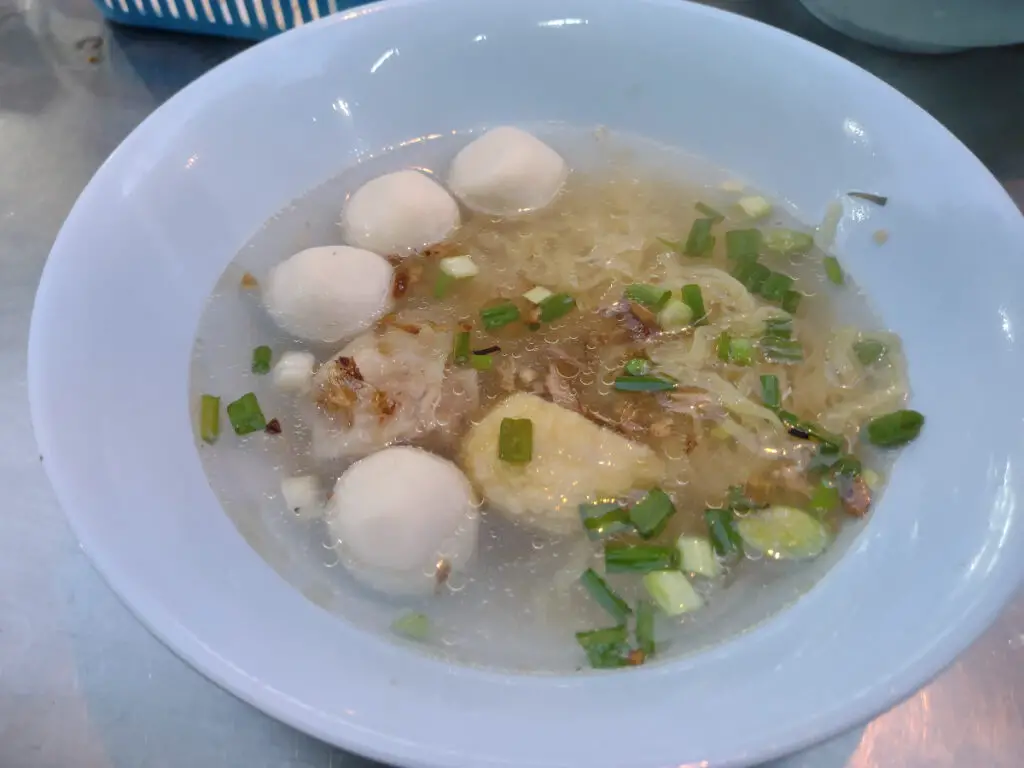 I actually don't like this Chinese-style Thai street food very much. It's not what I usually eat in Thailand, I love the usual Thai food that I've written about before. Our Thai food guide is here on World Travel Family. There is also a Thai food section on World Travel Chef.
I knew this was going to be a different dining experience in Bangkok and I was intrigued to find out what Chinese Thai food was all about. The kids love a good food tour, so we went.
It was an interesting evening, we ate a lot and tried some new things but there was nothing we ate in Yaowarat Chinatown Bangkok that I'd make a point of eating again. There was also one delicacy that I couldn't eat at all.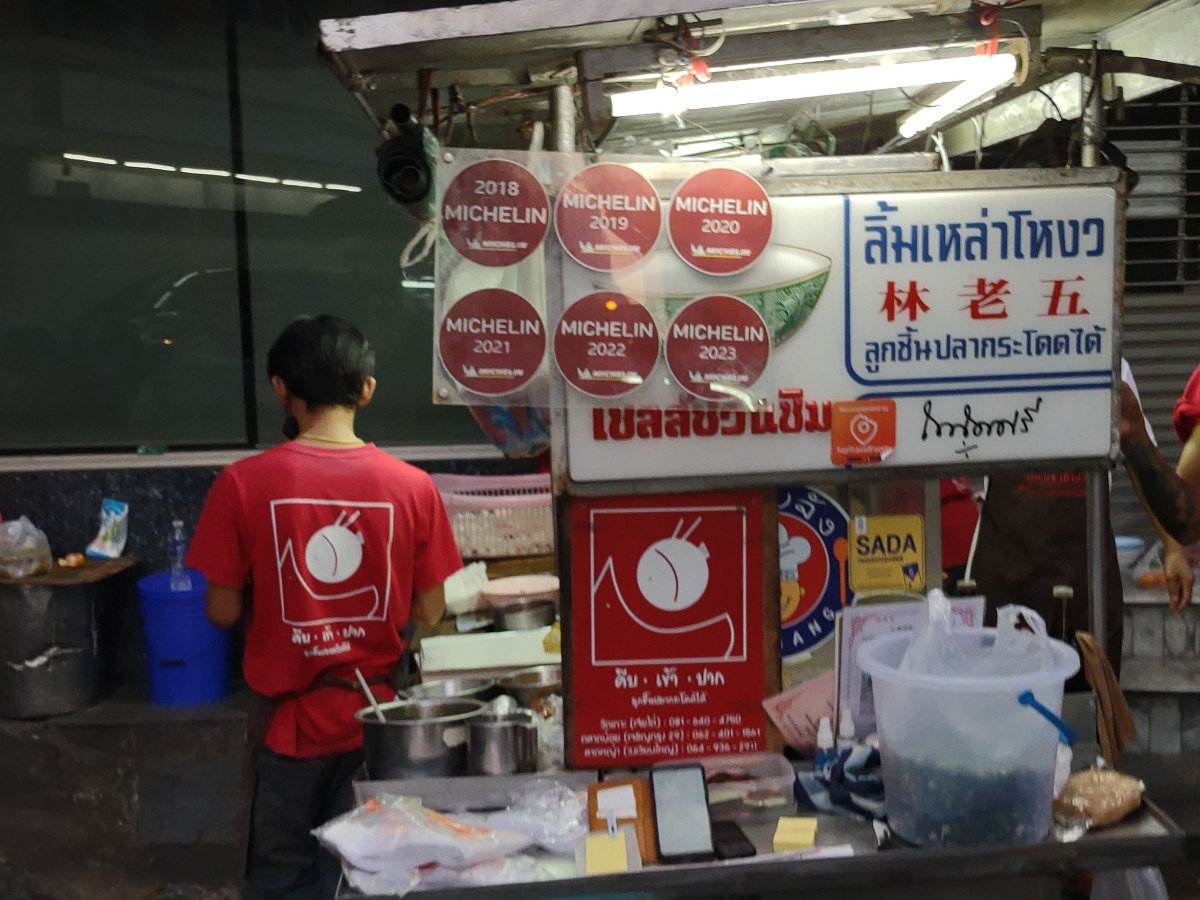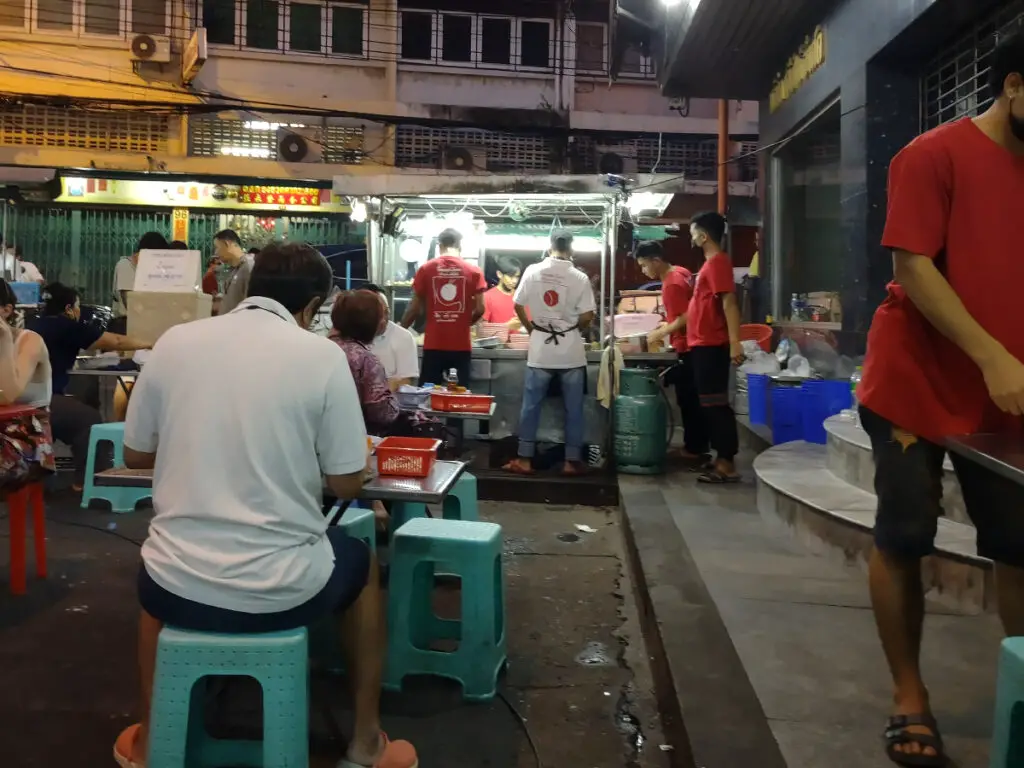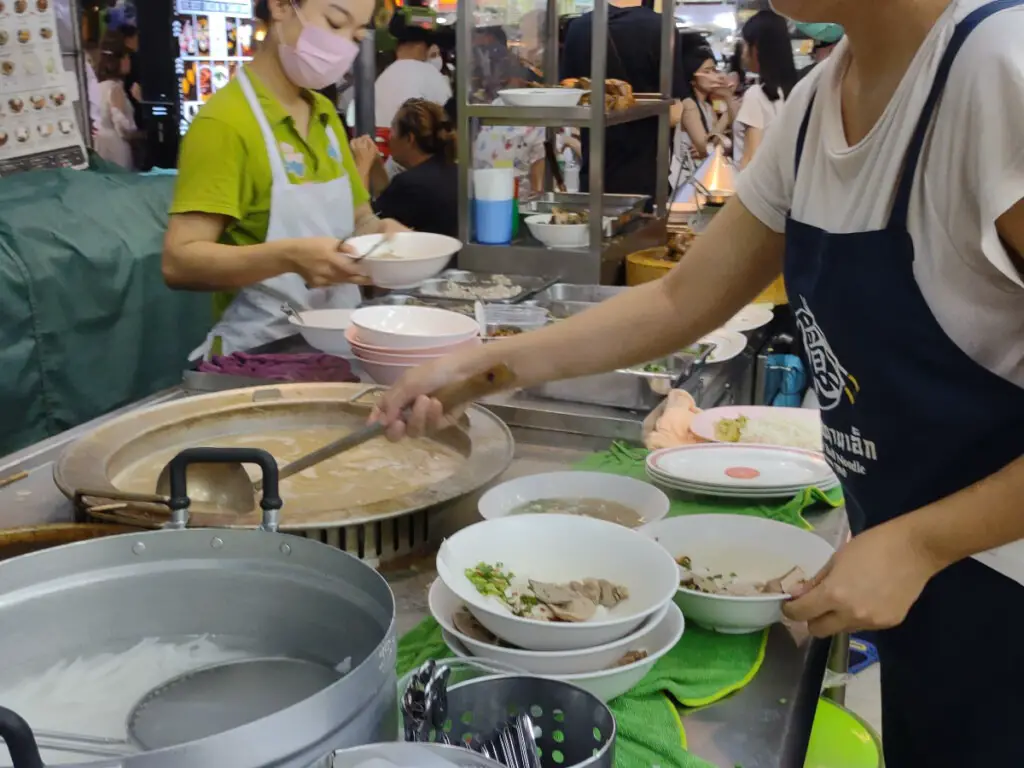 These hand-rolled rice noodles are called Guay Jub or Kway Chap and the pork broth is light but peppery. This soup either comes with pieces of crisp pork belly or minced pork balls. We ordered both.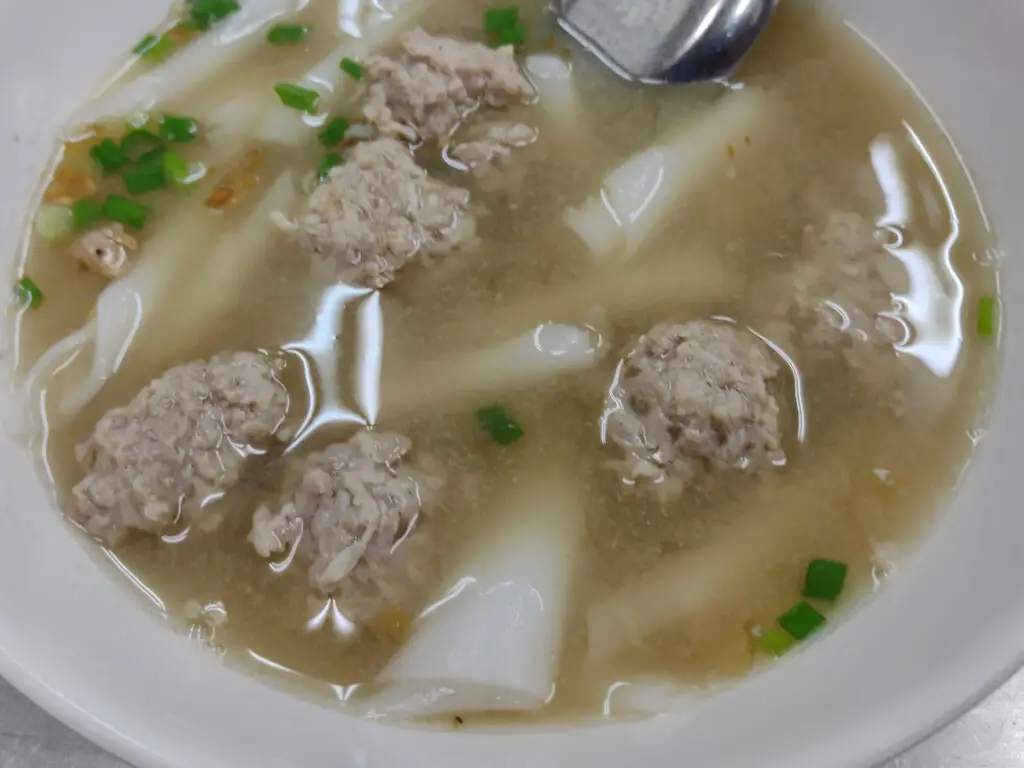 Again, this soup was pretty bland but there were plenty of condiments and fresh chillies on each stainless steel table to perk it up a bit. The kids really liked the pork belly and claimed that was the best of the two.
There was a queue to be seated at this street food restaurant in the night market and crowds of people bustling outside. Chinatown is possibly the busiest part of Bangkok that I've ever seen. Just walking on the street was quite a scrum and yes, I would be anxious about pickpockets and security here.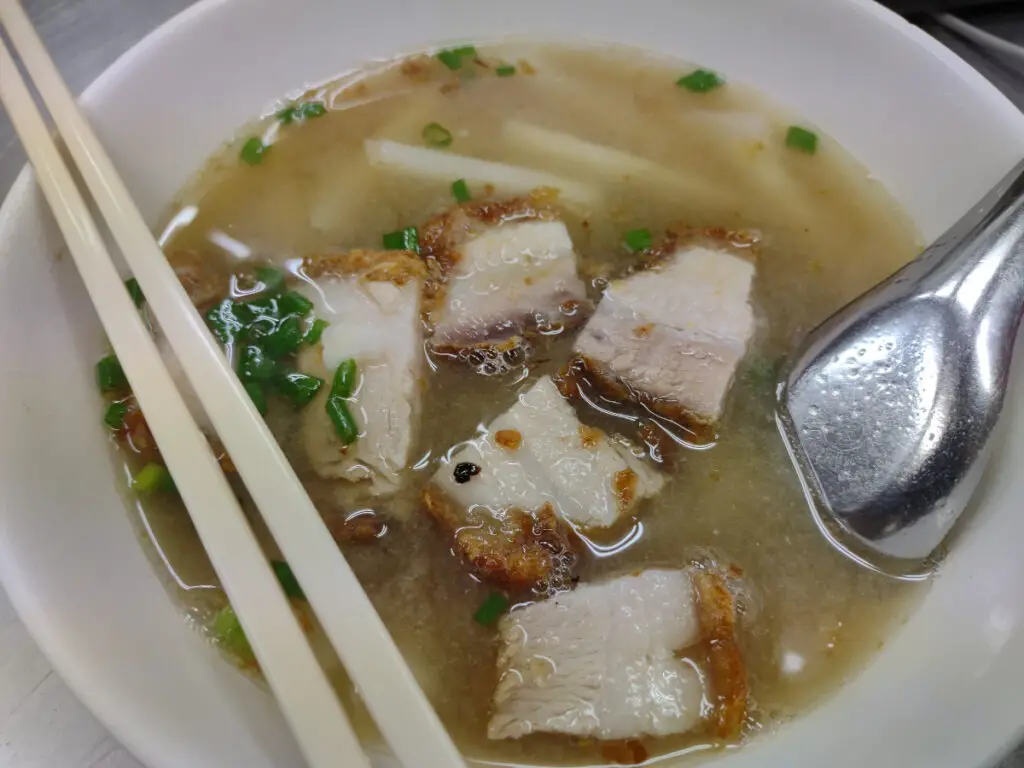 Our next dish was the deep fried dough, famous in Bangkok. These Thai donuts aren't really sweet but they are crispy, my kids have eaten them before, we've also eaten them in Malaysia and Laos. You'll see these in street food markets all over Thailand.
You can see a photo of the Michelin guide deep fried dough stall at the top of the page. The end product looks like the ponuts, with kaya jam, in the photo below.
What's not to like about a donut? The dipping sauce or jam that comes with it, kaya jam, made with pandan, or Thai vanilla. I really can't eat it, the smell, the texture, and the flavour affect me really badly. Of course, the kids loved it. We were served these as part of a Thai breakfast at a boutique hotel so I know they are an any time of day street food.
Finally we headed away from the crowds in Chinatown to a tiny street food cart selling crab fried rice. The chunks of crab were huge, generous, and delicious. If you like fried rice, I'm sure its very good fried rice.
Where Are The Best Night Markets For Food in Bangkok
Night markets and street food outlets are all over Bangkok. Many people will tell you that Yaowarat Chinatown Bangkok has the best night market for street food. This is down to personal taste. If you enjoy Chinese Thai food I'm sure it is great, but for me, I prefer a green curry or a tom yum goong, Chinatown wasn't for me.
Jay Fai's shop is at 457 ถ. เยาวราช Samphanthawong, Bangkok 10100, Thailand. I've been told that the best pad Thai in Thailand is also to be found in this area of night time street food outlets
Jay Fai specialises in crab omelettes and drunken noodles and her food is very expensive by Thai standards. Jay Fai's dishes cost between 500 THB ($14 US) and 1,500 Thai Bah( $41 US) and to us that would have been well worth the price.
As I already said, we will be back to eat at Jay Fai.
Bangkok's huge night markets, The One Ratchada Night Market, Talad Rot Fai (Train Market), Jodd Fairs and Green Vintage Ratchada may be worth a look if you plan to shop, but I'm going to tell you to just eat what you fancy, wherever that happens to be.
The Khao San Rd has changed a lot recently, there isn't nearly as much street food and most of the market stalls have gone. Neighbouring Rambuttri road isn't much changed but there are fewer dining options now. This is still the area of Bangkok that we enjoy staying in the most as it's close to everything. The hotel we mention above near the Golden Mount had a great location and we'd use it again.
We've stayed all over Bangkok through the course of about 30 visits. We've eaten everywhere, it's always exciting to try new foods in Bangkok so yes, we do recommend you try this food tour by night. You can book it here.
You can eat street food in Thailand for breakfast, lunch and dinner, but there will be far more street food stalls in the evenings. We think it's safe to eat most street food in Thailand that is popular and has a high turn over. We have never been sick in Bangkok from eating bad food.
If you'd like to hire a car during your stay, use this car rental comparison tool to find the best deal!

Please check out our Pinterest account for loads of food and recipes from around the world!