This post may contain affiliate links.
Port Douglas has plenty of breakfast options, including hotel buffet breakfasts open to non-guests, cafe and restaurant breakfasts, cheap eats, and takeaway food. As a Port Douglas resident and lover of a good breakfast, and former head chef in one of Port Douglas's best hotels, I'll break down your options, with photos and opening times, to help you find the best breakfast in Port Douglas, for you. I'll also give you a handy map so you can find breakfast near you, easily.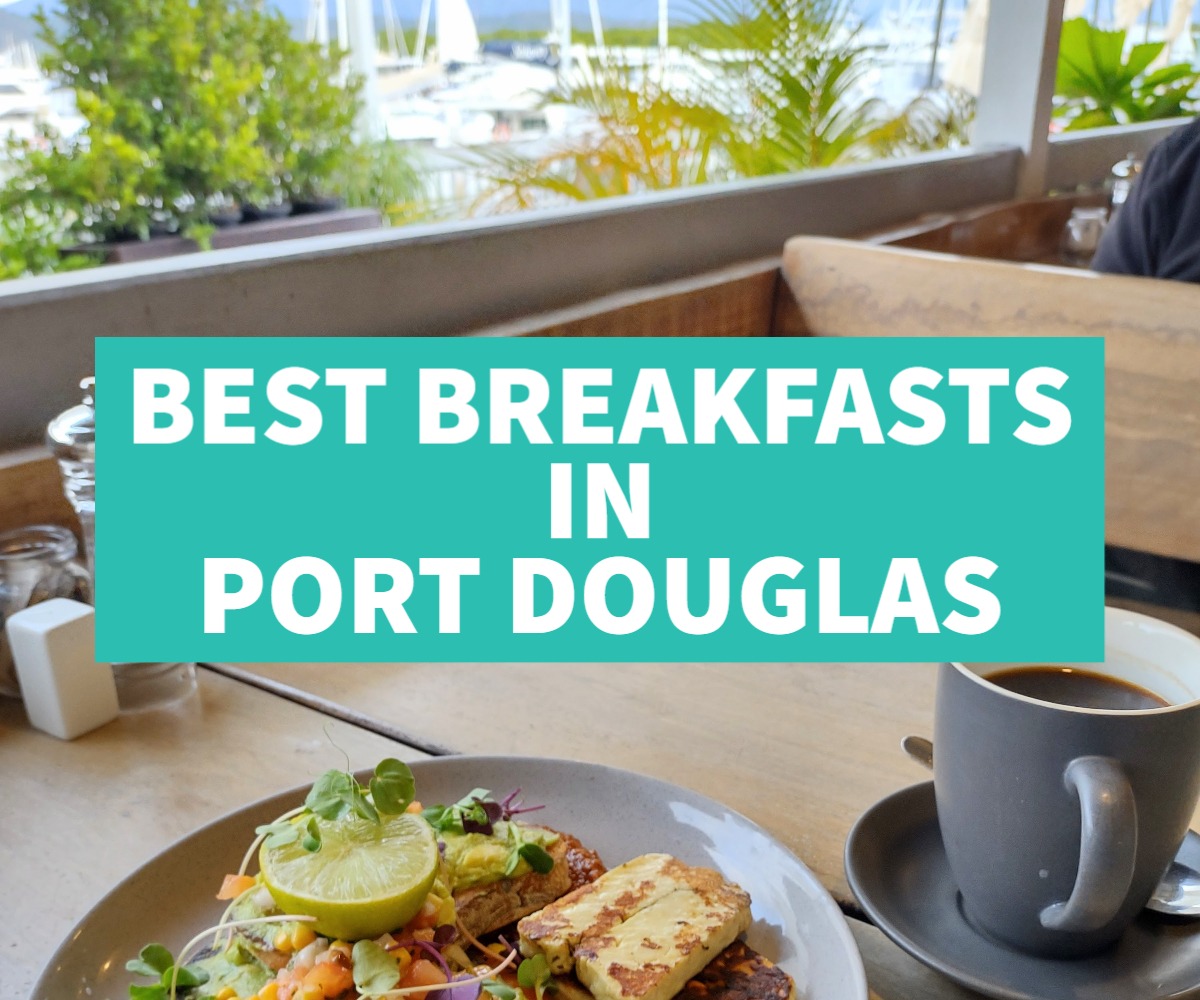 Please remember that menus, ownership, and Chefs change, every restaurant has good and bad days and staffing can be a real problem in Port Douglas, there aren't enough chefs. But hopefully, we can give you a reasonable guide to the best breakfasts to be had. We also have a guide to the best restaurants in Port Douglas.
Breakfast in Port Douglas
In Australian cuisine there really isn't a traditional or signature Australian breakfast, you'll find international breakfasts from all over the world, with some hotel buffet breakfasts including Asian dishes (Indian dal, miso soup, etc.)
You could go with the Aussie breakfast option of a pie, of course, for this try one of the two bakeries on Grant Street, Mockas Bakery, or Grant St. Bakery. I'm not going to say which is the best bakery in Port Douglas, the two are different and it depends on what you're looking for in your baked goods.
Mockas has a greater selection of flavours and pie fillings and usually has such delicacies as crocodile and kangaroo pies, Grant St has very big portions, it's up to you and down to personal taste. Both serve coffee, Mockas has Earl Grey tea in pots too.
A typical breakfast in Port Douglas could be eggs benedict, smashed avocado toast, a full English-type fry-up, or an American breakfast with pancakes or waffles, but you should be able to find something to suit you easily.
For bacon lovers, Australian bacon isn't the same as British bacon, it's hot cured rather than cold cured so you may find it different, but you'll find "British bacon" in the supermarket if you want to self-cater. For good sausages for breakfast visit Malone's butchery in Port Douglas, right opposite Coles supermarket.
Best Buffet Breakfast in Port Douglas
Breakfast with the Birds at the Port Douglas Wildlife Habitat always did a great buffet breakfast but now they serve a plated breakfast instead. Breakfast is an add-on to your Wildlife Habitat admission. You book your breakfast and admission here. There is also an option to get in the water with the crocodiles. Take a look at that in our crocodile experiences post, it's a cool thing to do, we've done it.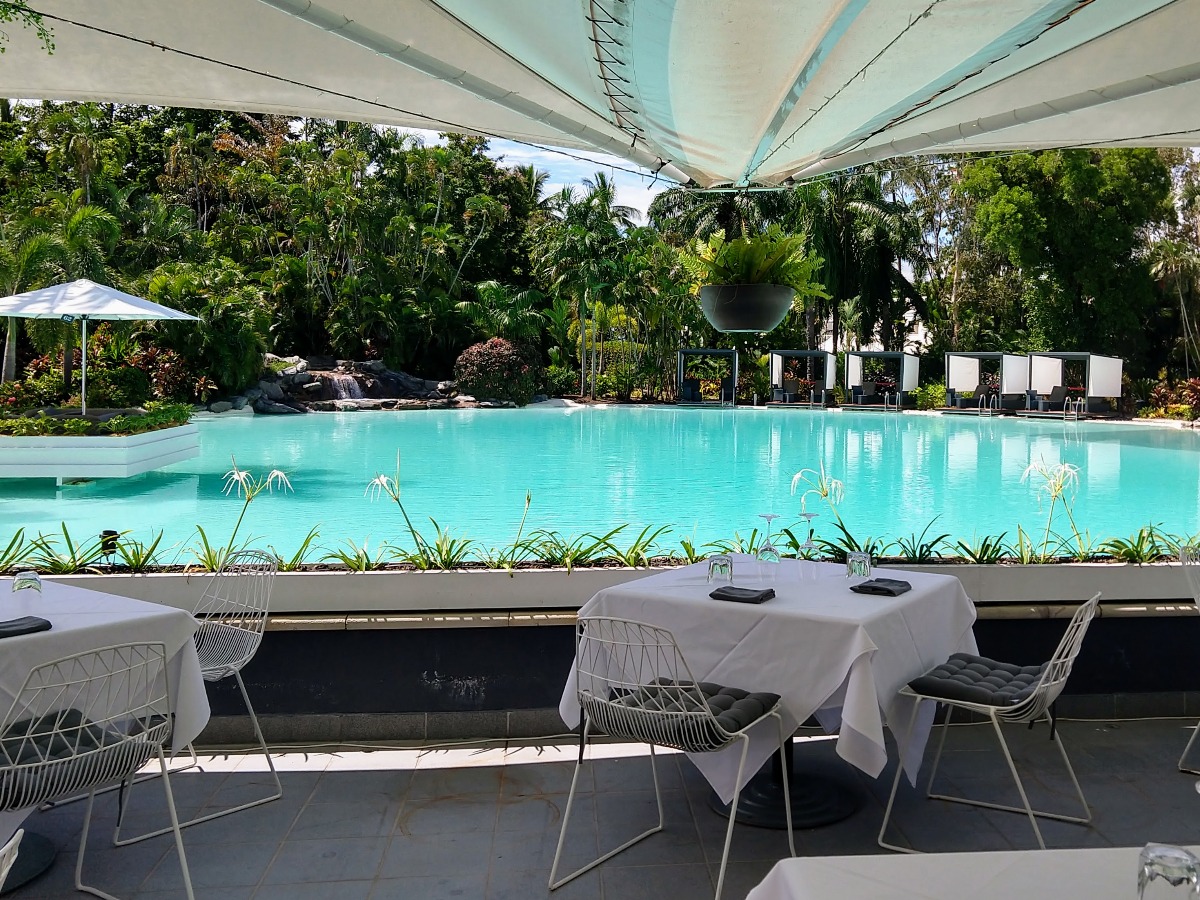 The Sheraton Hotel (Sheraton Grand Mirage) has been serving buffet breakfasts to guests and non-residents for decades and this is always the go-to for a buffet-style family breakfast. They also sometimes give a local discount if you live nearby, with proof, obviously.
We used to eat here with babies and toddlers often and they always had high chairs available for small children.
Sheraton's breakfast buffet is open from 6.30 am to 10.30 am daily and bookings aren't required but are recommended, especially during peak times such as school holidays. It will cost $48 per person from 12 years old and onwards and $25 for 5-11 year old children. (Prices and times may change, please check.)
The Sheraton is a fabulous hotel right behind the beach in Port Douglas. The pool is enormous and has sandy areas for kids and private cabanas which guests can reserve, it even has a wedding chapel, so if you book your hotel based on the quality of its buffet breakfast, book The Sheraton here.
I'm going to go out on a limb and say the Sheraton has the best buffet breakfast in Port Douglas, based on personal experience. Others may disagree. The dining areas are also very nice, overlooking the huge pools and the beach.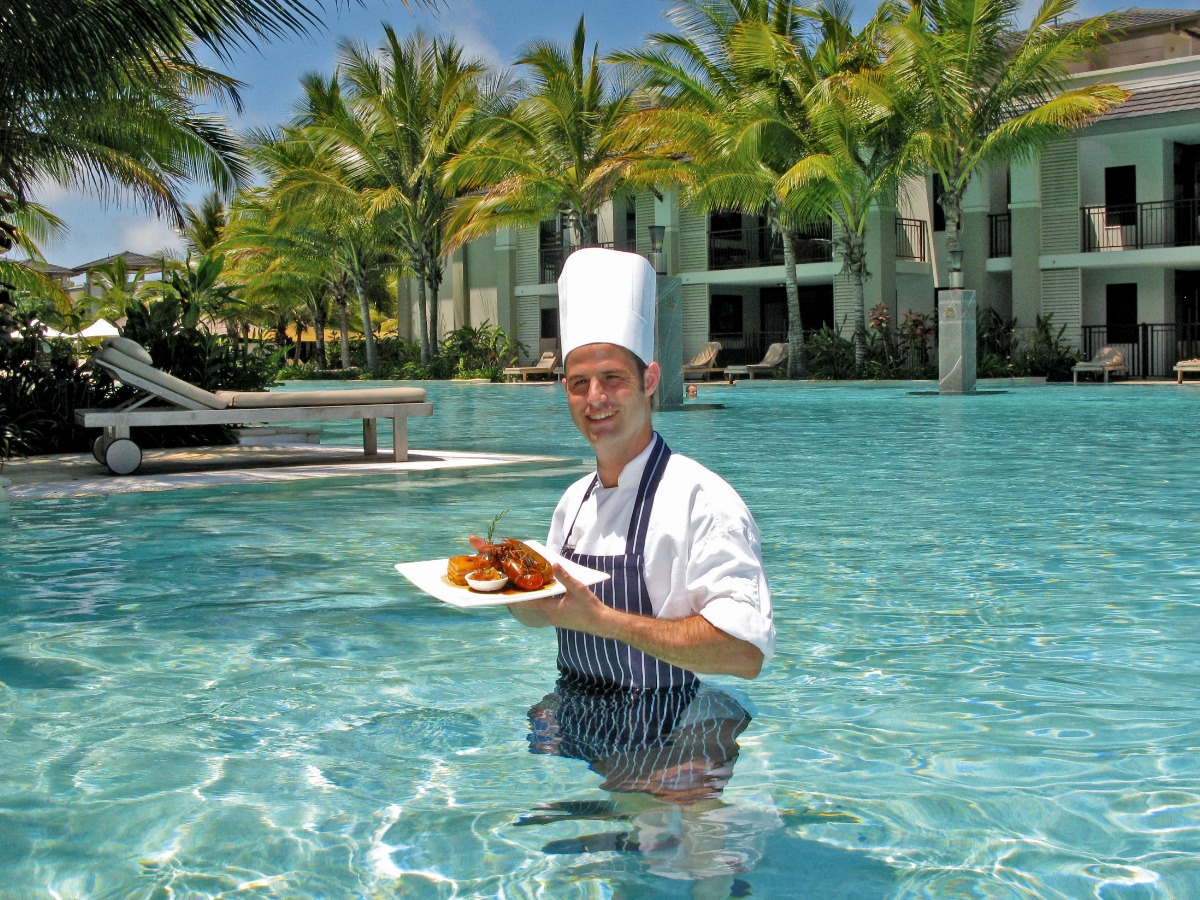 Sea Temple (Pullman Sea Temple Resort and Spa) also provides a buffet breakfast to guests and non-residents. This buffet isn't as vast as that offered by the Sheraton, but it's still pretty indulgent and a bit cheaper.
Sea Temple is towards the southern end of Four Mile Beach where everything is quieter and more unspoiled, there is no stinger net at this end of the beach, it is much more natural. This is a lovely hotel with private apartment-type accommodation with multiple bedrooms suitable for families. There are swim-out rooms or others with private plunge pools. You can check out Sea Temple, and book your stay here.
Pullman Port Douglas Sea Temple breakfast buffet is open daily from 7 am to 11 am. Bookings aren't required for breakfast. It will cost you $42 Au ($28 US) for an adult and kids ages 12 and under pay $19. This includes an omelette station and barista-made coffee. Prices may change.
Oaks Resort is another nice hotel in Port Douglas and they serve a buffet breakfast. Non-residents can eat at Oaks, the price is around $25 per person. Breakfast is served 7am to 10am. This is another resort hotel with a really good pool. Book your stay at Oaks Port Douglas here. We have eaten breakfast here and been able to use the hotel pool afterwards, but this isn't normally allowed for insurance reasons.
Best Breakfasts Near Port Douglas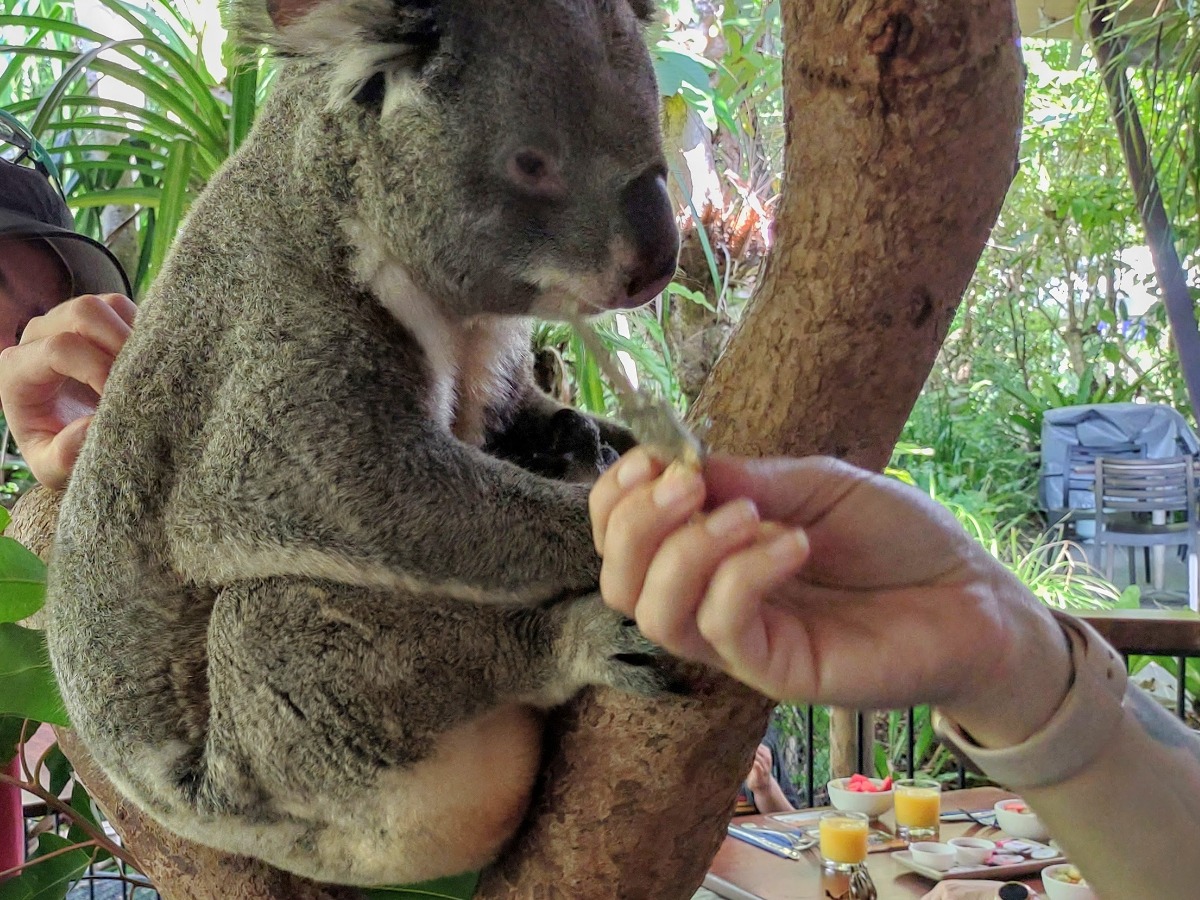 I'll just mention that Hartley's Crocodile Adventures, south of Port Douglas, offers Breakfast With the Koalas, so if you plan to visit Hartley's this is a great start to your day.
Breakfast guests get to enter the park early and enjoy dining next to the crocodile lake, with furry friends to touch. The food is average and it's not a buffet, but it's a fun thing to do. My family did this recently and really enjoyed our morning. Book breakfast with the koalas here.
It's a great treat for the kids or anyone who loves koalas, or indeed crocodiles. If you want to see crocodiles or swim with them, see our post on crocodile tours in Port Douglas.
You can book Breakfast with the Koalas here.
Best Breakfasts in Port Douglas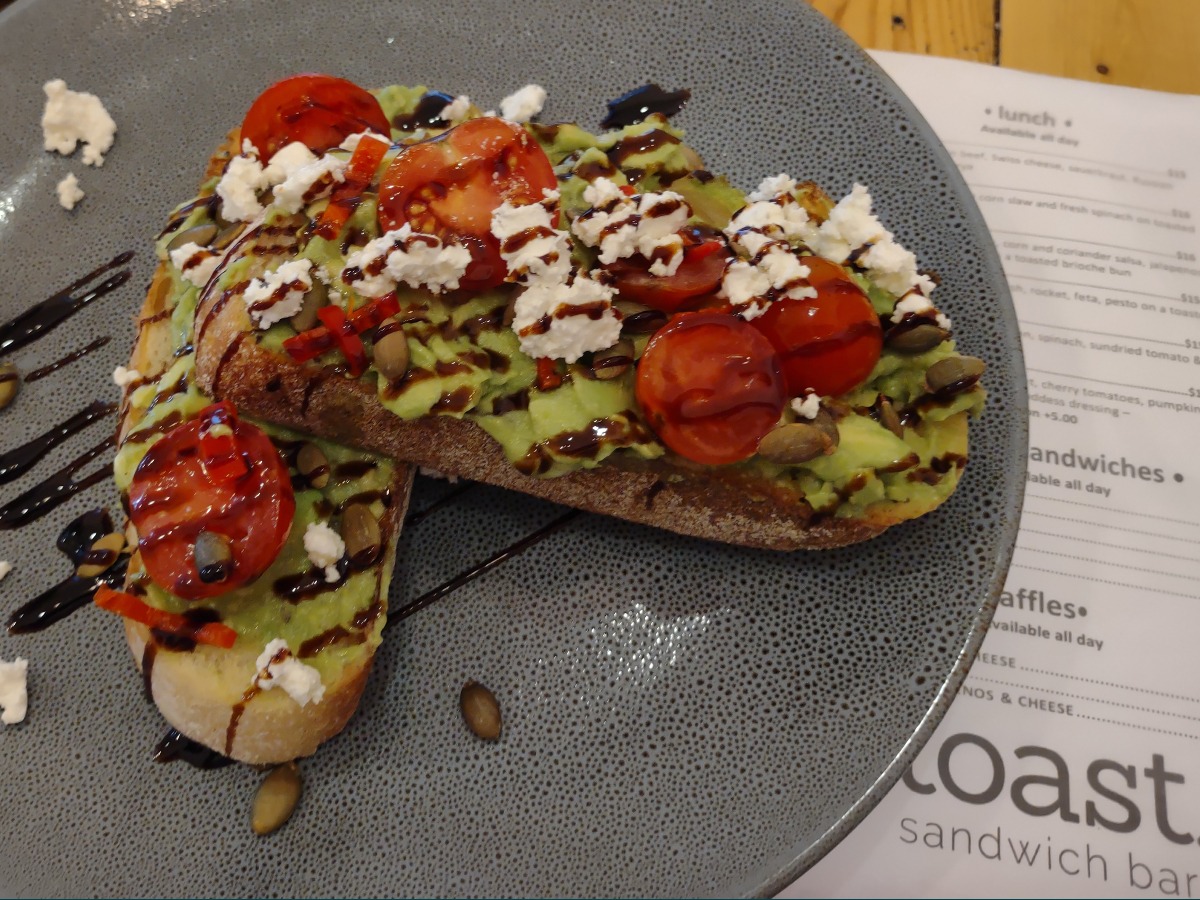 Now we'll get to the restaurant and cafe breakfasts in Port Douglas, most are on or near Macrossan St and the Marina, but one or two are at the south end of Port Douglas, towards the bottom of 4 Mile Beach or near the turn off to Port from the Highway. You'll find all of these places marked on our map here.
Map of Places to Eat Breakfast in Port Douglas
Most restaurants will have vegan, vegetarian, low-carb, and gluten-free options on their menus, or will adapt a dish to suit you. Just about everywhere will serve avo toast (smashed avocado) and eggs benny.
There are a lot of restaurants in Port Douglas, but only a handful open at breakfast time, or serving breakfast. I don't know of any pubs in Port Douglas serving an all-day breakfast currently.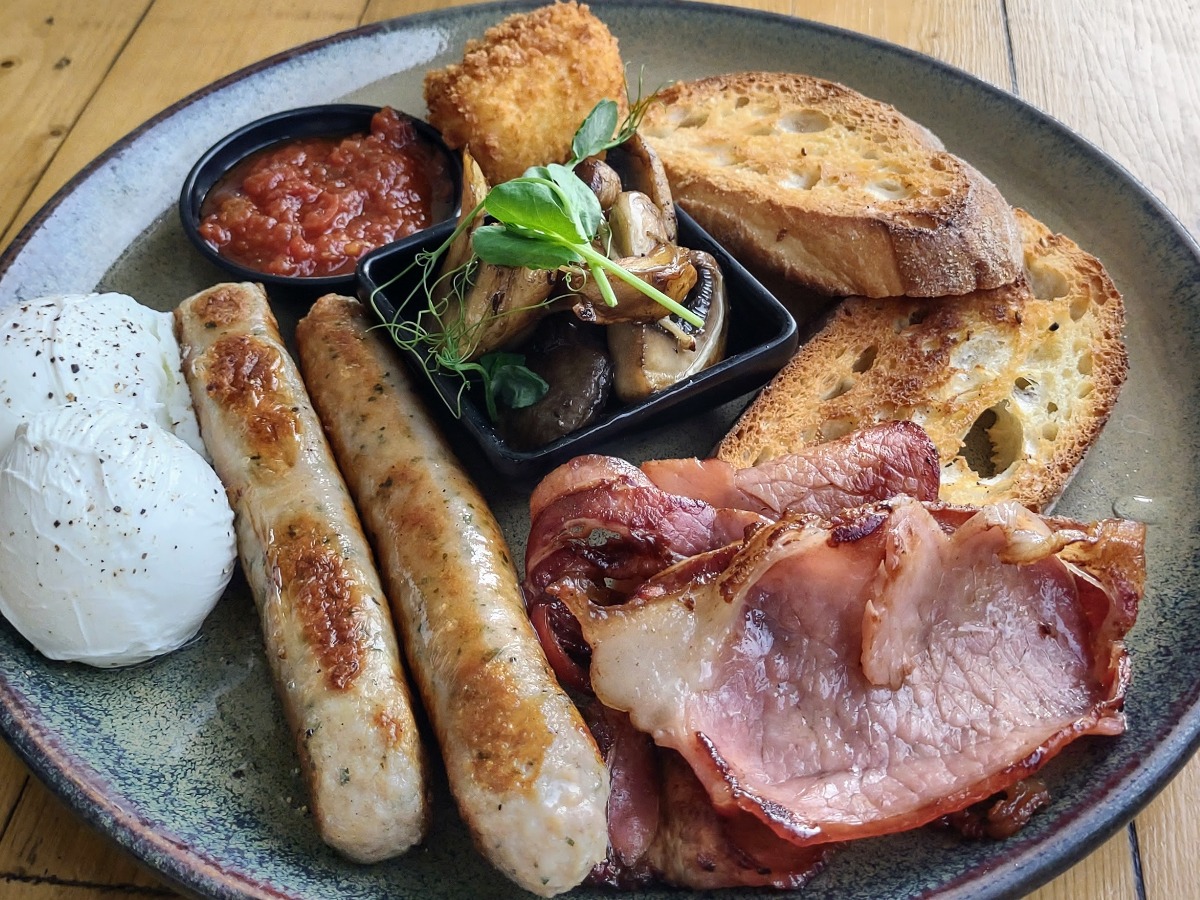 On Grant St, you will find the two bakeries mentioned above plus a pavement cafe (Fresq) that serves breakfast. There are also Asian restaurants on this street, but they don't serve breakfast, which is a shame as we love pho for breakfast. There is an Indian restaurant on Grant too.
There are a couple of places that serve breakfast on the Port Douglas Esplanade just back from the beach and a handful of coffee shops along Macrossan Street. High Tide on the corner with Macrossan (part of the Peninsula Hotel) does a good breakfast and there is a pavement cafe at the other end of the Esplanade.
This one has just changed hands, it's now ZanDer's Beach Cafe. It used to do good breakfast wraps, bacon sandwiches etc. The new owners may change things. This is possibly the cheapest place to get breakfast in Port Douglas, depending on what you order. It's right behind the stinger net and lifeguard station on Four Mile Beach. Zanders opens at 7am for breakfast 7 days per week.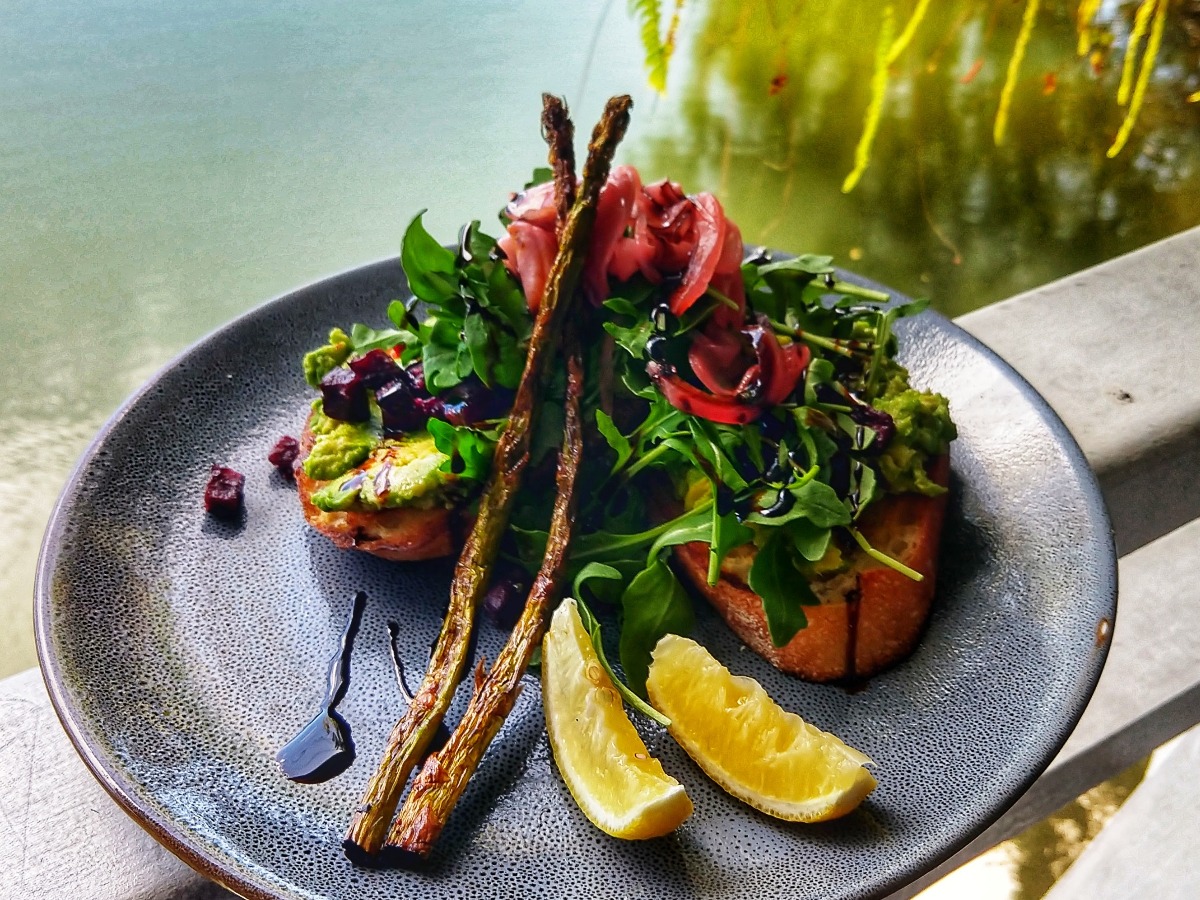 Cafe Ziva on Macrossan serves breakfast from 6.30 am (usually) and Cafe 4877, also on Macrossan also serves breakfast. 4877 is the Port Douglas postcode.
The Little Larder, in its new location on the south side of Macrossan St also serves breakfast from 7.30 am 7 days a week.
St Crispin's Cafe does a very good breakfast, but it's at the far end of Port Douglas and opens at 7.30 am, closed Sunday and Monday. You can enjoy views of the Sheraton Golf Course and part of The Inlet. They spot crocodiles here sometimes.
The Golf Club at Palmer Sea Reef does some breakfast items from 9 am. It's near Pullman Sea Temple.
Cafe Dolce opens at 6am on Macrossan St. This one is new so we haven't had a chance to try their breakfast food yet.
Kai at Four Mile serves breakfast from 7am, closed Mondays, again, this one is at the south end of Port Douglas, near the beach and kite surfing.
Breakfast With a View Port Douglas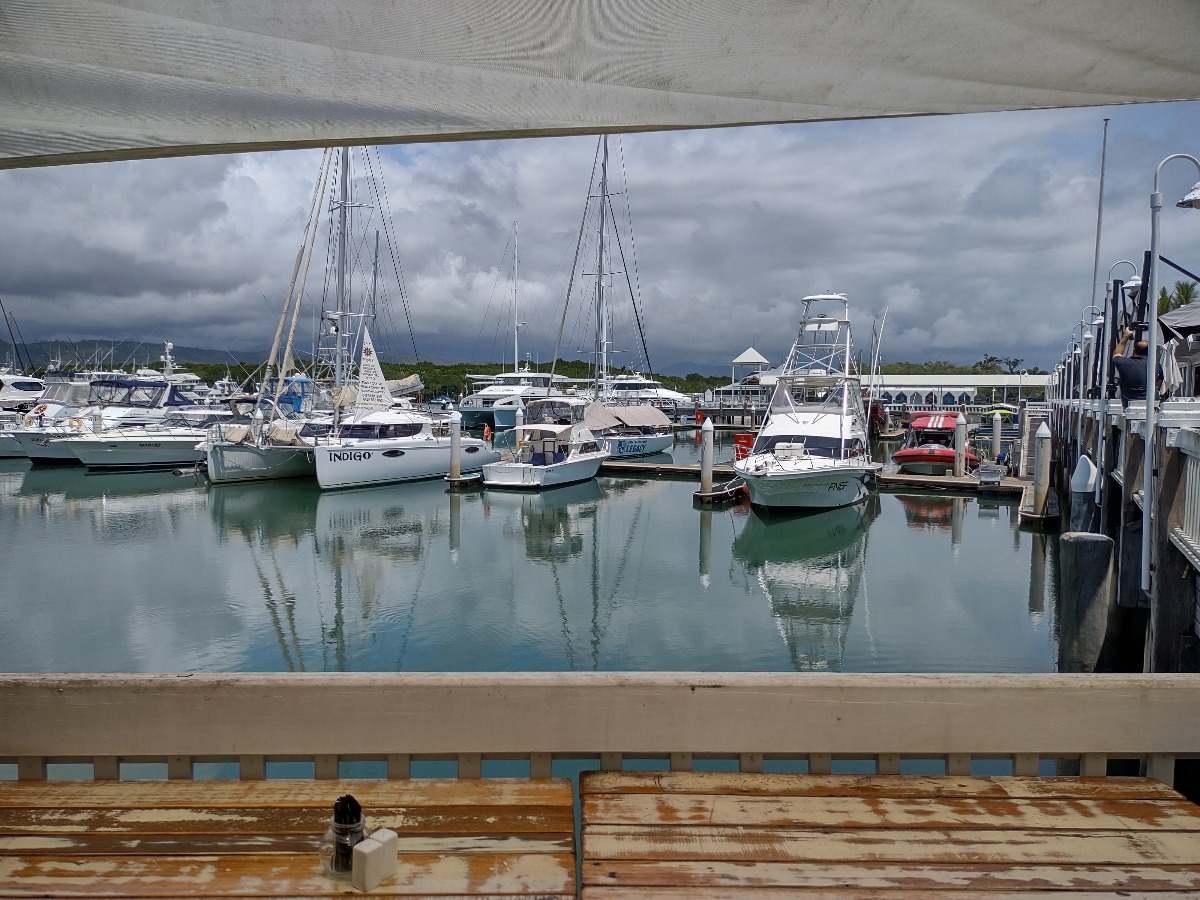 The marina restaurants in Port Douglas have lovely views of the mountains and boats in the Superyacht Marina. Choo Choos restaurant serves breakfast and is open from 7 am for breakfast. You should have time to eat your breakfast here before getting on your Great Barrier Reef cruise.
Lure, on the marina is also open at breakfast time, it opens at 7 am usually.
The other marina restaurants, Hemmingways, and Barbados, are not open for breakfast at the time of writing, but this could change of course.
If you'd like to hire a car during your stay, use this car rental comparison tool to find the best deal!

Please check out our Pinterest account for loads of food and recipes from around the world!