This post may contain affiliate links.
Greek food has some fantastic recipes that are easy to make at home. The cuisine of mainland Greece and the Greek islands includes fresh local ingredients, tomatoes, olives, citrus fruits, goat and sheep cheeses, fish, and seafood in the coastal regions.
Greece is maybe an unexpected player in the best food in the world game. Greek food is sometimes underrated but for me, it shines bright as a global cuisine and its rustic perfection comes down to quality produce.
Greek Food
What to eat in Greece or your local Greek restaurant? Anything Greek, prepared with love from the best ingredients your chef can find. Find out more on our Greek Food Blog.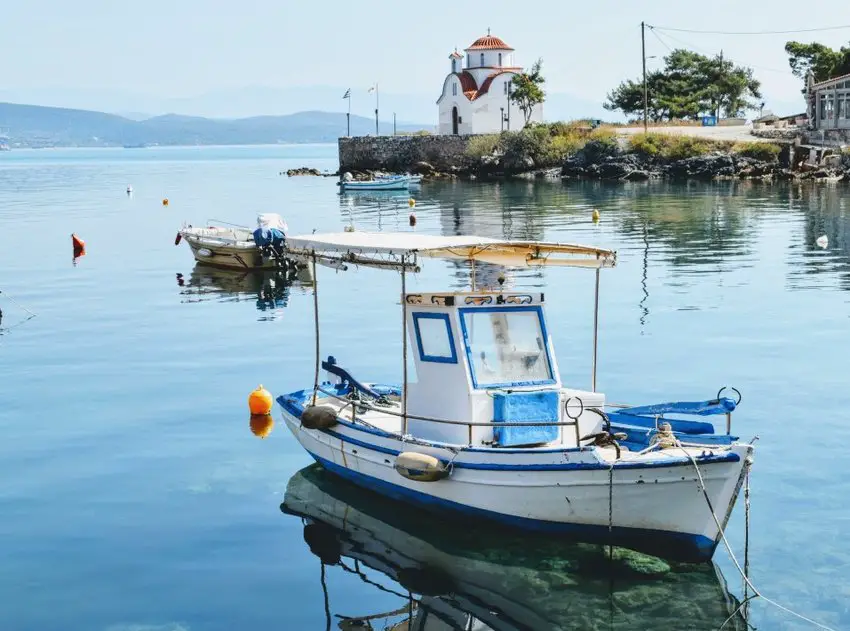 Like other nearby countries boasting a Mediterranean climate, in Greece you will find food containing olives, tomatoes, peppers, and citrus fruits. These fruits and vegetables grow well here and are absolutely the best things to eat in Greece, along with seafood, lamb, and cheeses. Hillsides are fragrant with herbs providing good pasture for grazing flocks.
Save this Greek Famous Food List To Pinterest – Click Here
---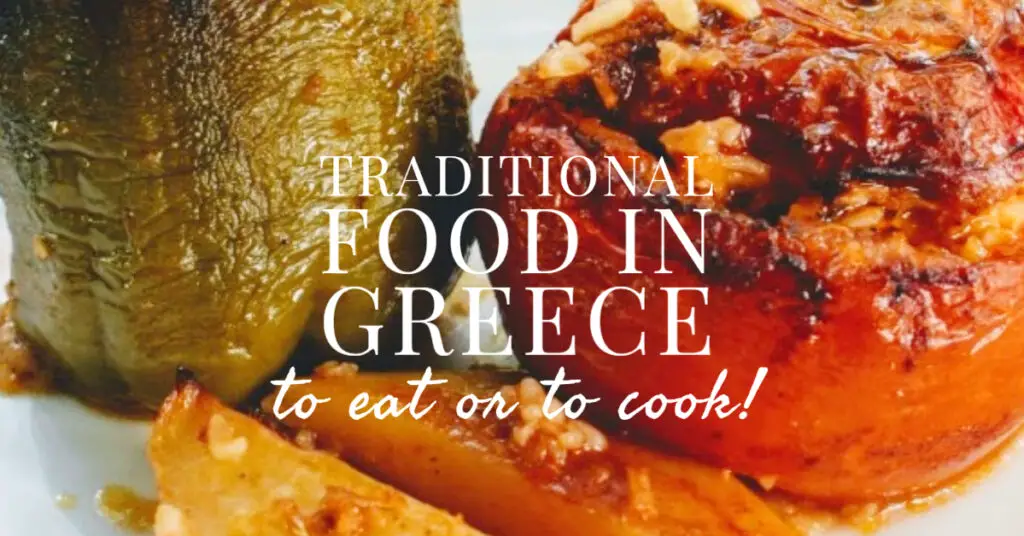 Expect sharp goat and sheep cheeses, abundant seafood, good honey and perfectly grown vegetables.
Where to Eat Greek Food
Don't just consider what to eat in Greece, also consider where to eat in Greece. A simple restaurant or pavement cafe can give you an amazing window on the world.
Dine on the street near the Acropolis in Athens. Marvel at the views from your table in Delphi or watch the fishing boats bobbing in the harbour in picture-perfect villages.
If you're lucky enough to have a Greek restaurant near you, try it, if not cook these Greek recipes at home. Stuffed peppers and home-made tzatziki are regulars for our dinners at home and we give you our recipes where we can in this post.
If you are in Greece be sure to take a Greek cookery class!
Travel Talk – My wife and I took our kids to Greece for a month most recently. We had visited before as a couple, this was our first time with the boys. We toured the mainland by car, visiting the boys' favourite ancient history and mythology destinations, Athens, Delphi, Sparta, Olympia, and more. It remains one of the kids' favourite trips and Greek cuisine, for them and us, is one of the best in the world. Everything we ate in Greece was good and extremely child-friendly. Prices were moderate, not Asia-cheap, but reasonable. We hope you find our post on Greek Food useful. You can read more about that tour of Greece and where we went here on my wife's travel site.
How To Order Greek Food
Don't be afraid to order a selection of salads and breads to create your own Greek meze. Share a huge Greek salad along with taramasalata, skordalia and tzatziki. If you're still hungry try a main course of fish or meat, but leave room for dessert!
List of Dishes to Eat in Greece
A list of Greek foods below. Be sure to try these traditional Greek foods on holiday in Greece, these are the basics for you to enjoy.
On this Greek food blog, I share recipes so that you can create world foods and favourite dishes from your travels at home. You'll find links in this Greek food guide.
Vegetarian and Vegan Greek Food – You'll notice that a lot of these dishes are vegetarian and vegan already or can easily be made in a meat-free version.
Greek Salad – Horiatiki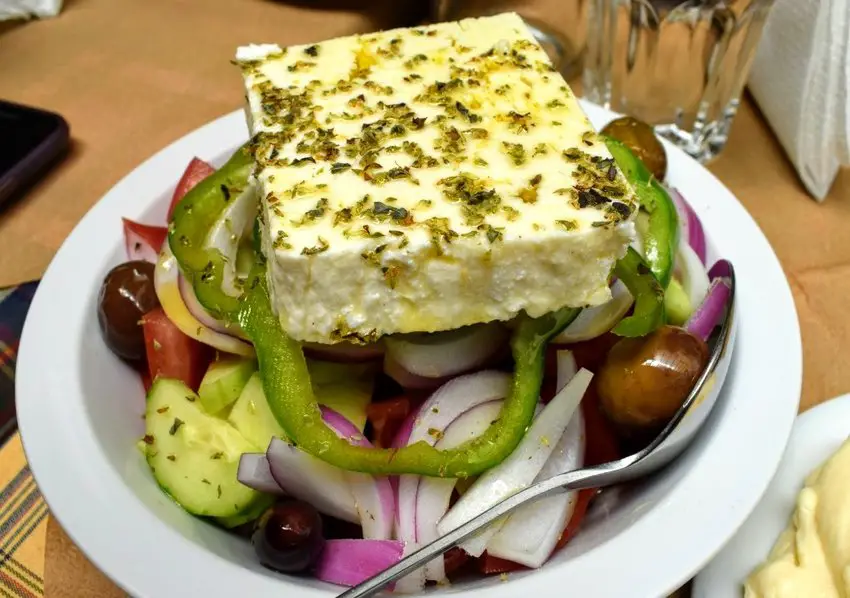 Greek salad has to be the most perfect and rustic salad in the world. It's a must at every meal time.
Quality of the ingredients will determine the outcome. Tomatoes must be grown with love, the olive oil must be the best and the brined feta cheese must be at once sharp and creamy.
Greek Salad or Horiatiki must contain cucumber, onion, tomatoes, feta cheese and olives. It is usually dressed simply with olive oil, salt and dried oregano or marjoram.
Always order a Greek Salad for the table to share, you'll be missing out if you don't.
Greek Dolmades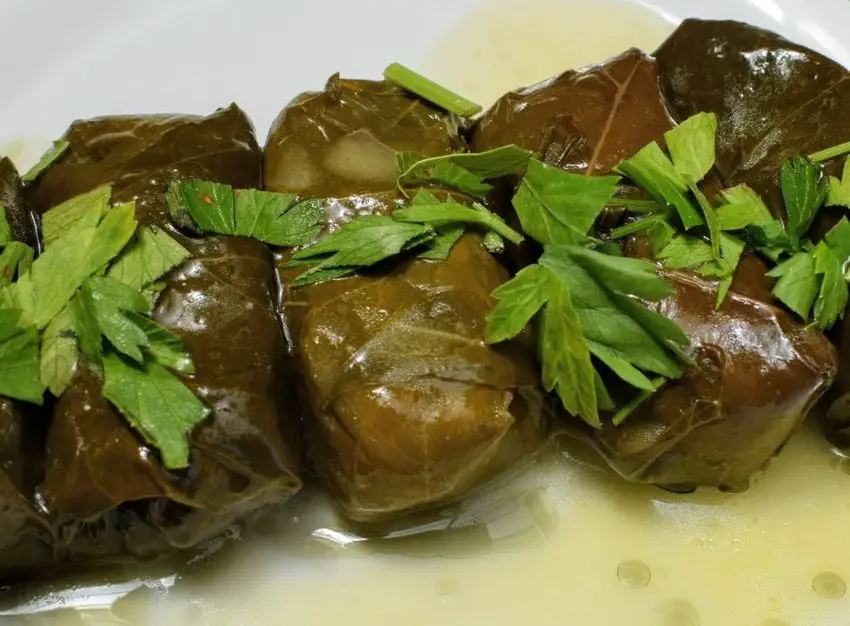 Vine leaves are commonly used to make rice stuffed rolls around the Mediterranean and Eastern Europe. Ingredients and names vary slightly but in Greece they are dolmades and they are superb.
Dolmades come in meat and vegetarian versions and both are delicious. Rice and herbs make up the bulk of the dish and the vine leaves themselves have a delicious flavour.
Sometimes avgolemono sauce ( Greek egg and lemon) comes with your serve of dolmades. Again, these can be a mezede, main course, or starter.
Stuffed Veg in Greece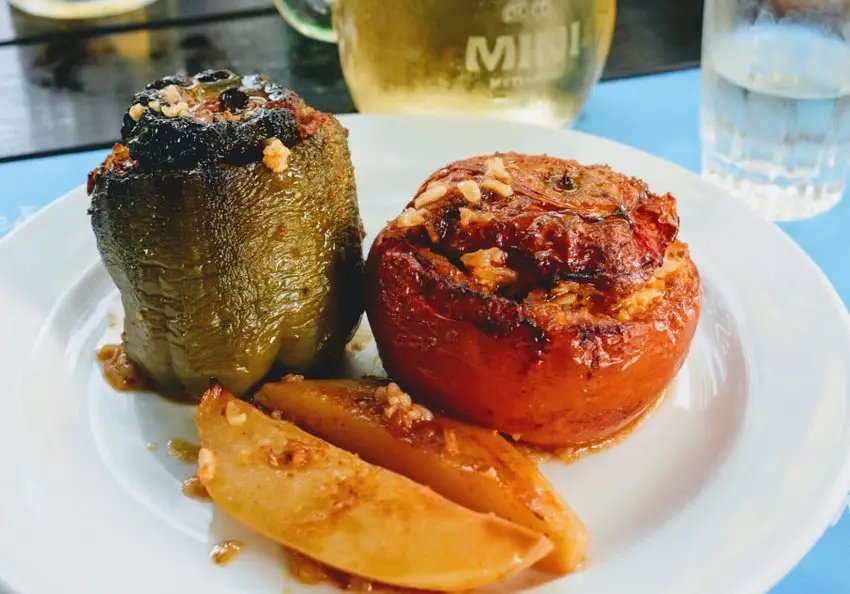 Greek stuffed tomatoes are called gemista or yemista and they are the best stuffed tomatoes you'll ever eat. I think it's the mint that really makes this dish. You also find mint in dolmades, it's a very special addition. Oregano and parsley are also key flavours but the olive oil is king.
The peppers are normally filled with rice, vegetables, lemon and plenty of good olive oil. They can sometimes contain a small amount of ground meat but vegetarian gemista are normal.
The stuffed veg needs long slow cooking in plenty of olive oil. A few potatoes can cook alongside the veg in the same pan to make a complete meal. If the stuffed veg still look crisp and shiny, they're not cooked enough.
You'll also find stuffed tomatoes, peppers, courgettes and aubergines in other cuisines from the Mediterranean, Eastern Europe and Middle East, including Egypt.
Stifado or Stifatho- Greek Beef Stew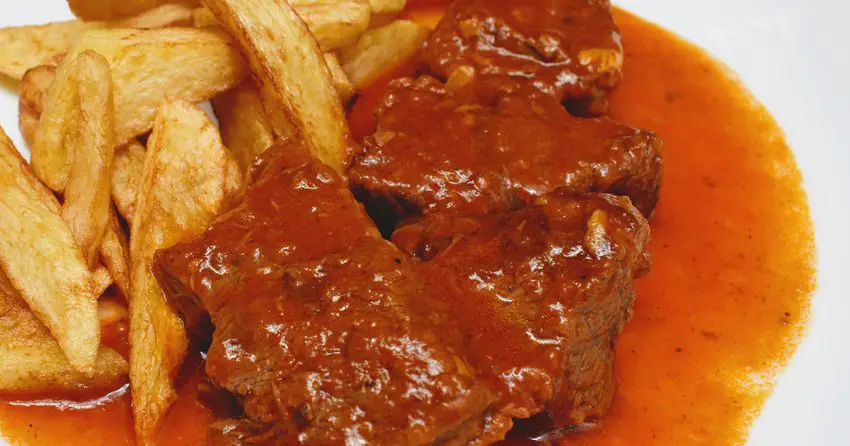 A stifado is a luxuriously large serve of slow cooked meat in a tomato based sauce. Beef stifado is most common.
First brown your meat then give it a long slow cook. The meat should be almost falling apart. Browned whole small onions are a usual addition to the cooking sauce.
Look out for rabbit stifado in Greece.
Melitzanosalata Greek Aubergine Salad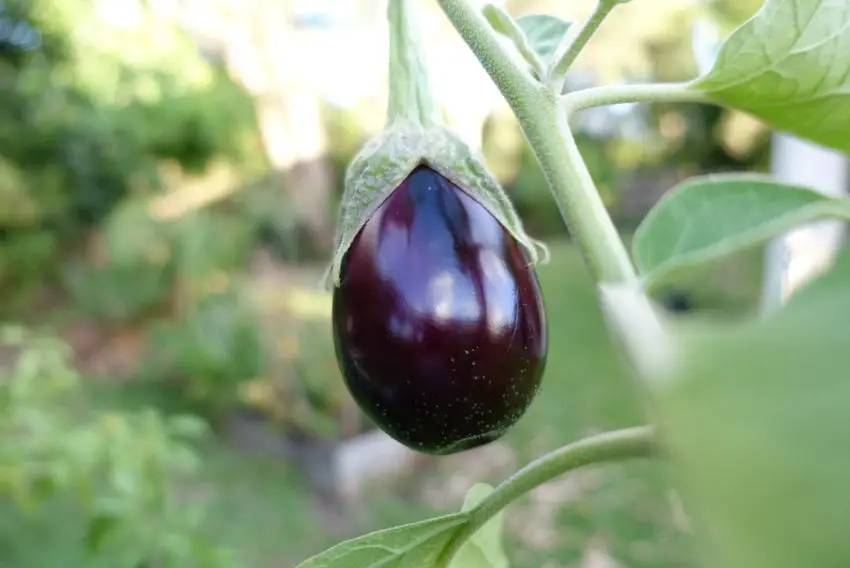 Melitzanosalata is an aubergine or eggplant salad very similar to babaghanoush. Again, salata means salad although this preparation of aubergines is often called a dip.
Simply roast your whole aubergines in the oven until soft on the inside, brown on the outside. You can then easily scoop out the soft centres and mix with good olive oil, garlic, lemon juice, and salt.
Order melitzanosalata as part of your meze or as a starter with breads.
Tzatziki Cucumber / Yogurt Dip from Greece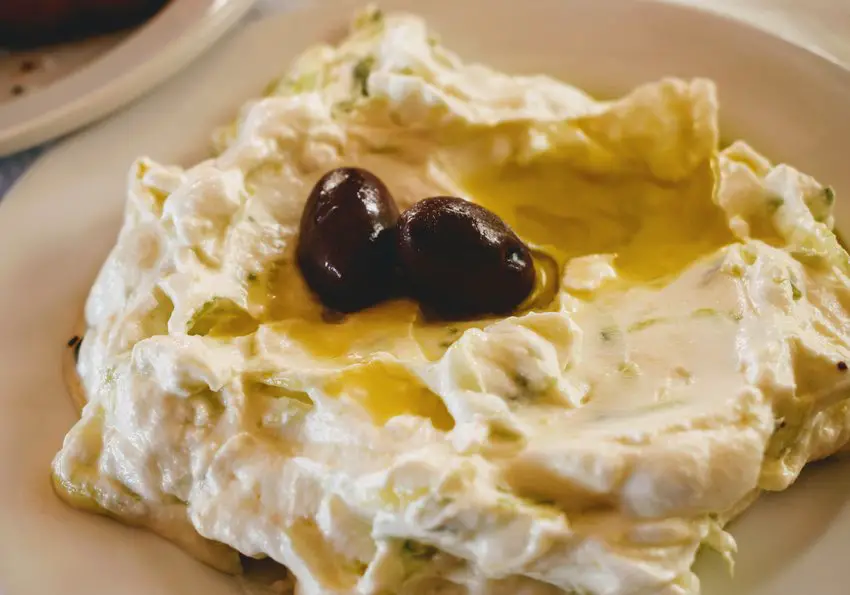 Real tzatziki is thick and dense without a trace of runniness. To achieve this the cucumbers need to be grated and dried and the silky Greek yoghurt must be strained, ideally overnight.
Tzatziki is a powerful, fresh, garlic, cucumber, and yogurt salad. Order it as part of your Greek meal. It's great with bread or is commonly served with grilled meats or various Greek fritters.
You'll almost always find tzatziki in Gyros. To make this at home see my tzatziki recipe. I explain how to get most of the liquid out of the cucumber and yoghurt. It's easy to make when you know how!
Kolokithokeftedes – Greek Zucchini Fritters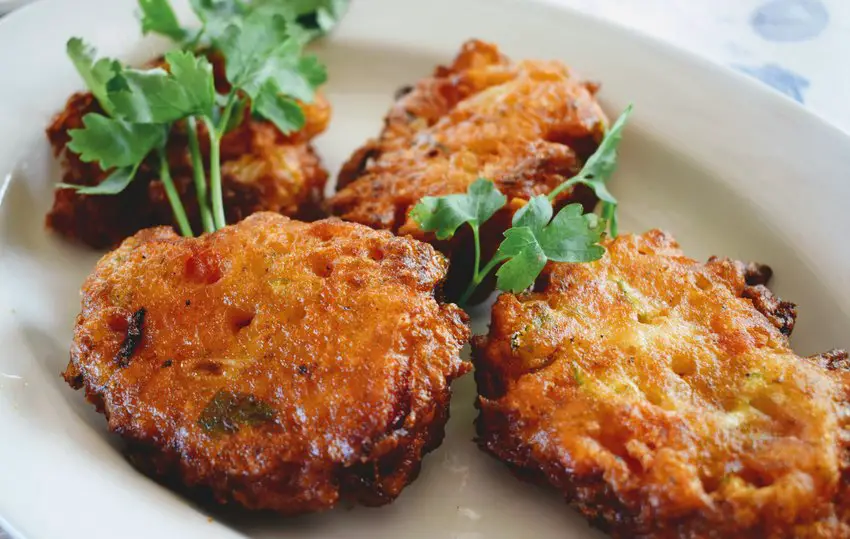 Kolokithokeftedes, I hope I spelled that right, are another vegetarian Greek mezede dish. You can enjoy a meal like this almost as you would tapas.
These fritters ( and similarly, fried balls) are super crispy on the outside and creamy inside. They contain feta and mint and go very well with tzatziki as a sauce.
Saganaki
Saganaki is a dish prepared in a small frying pan. The most well-known version being fried cheese. I've seen fried cheese listed as saganaki on other food blogs and you can buy cheese for saganaki, named as such, in supermarkets. You'll notice further down the page we include a prawn saganaki.
Greek Fried Cheese Saganaki
Fried cheese is the simplest of the saganaki dishes because it uses just two ingredients and the pan from which the word saganaki comes.
Fried cheese saganaki is very simple firm Greek cheese, floured, then seared in a pan. The outside is golden, the inside will melt slightly. Cheeses to use for saganaki include graviera, kefalograviera, kefalotyri or Cypriot halloumi. You can see saganaki cheese here.
Greek Spinach Pastries Spanakopita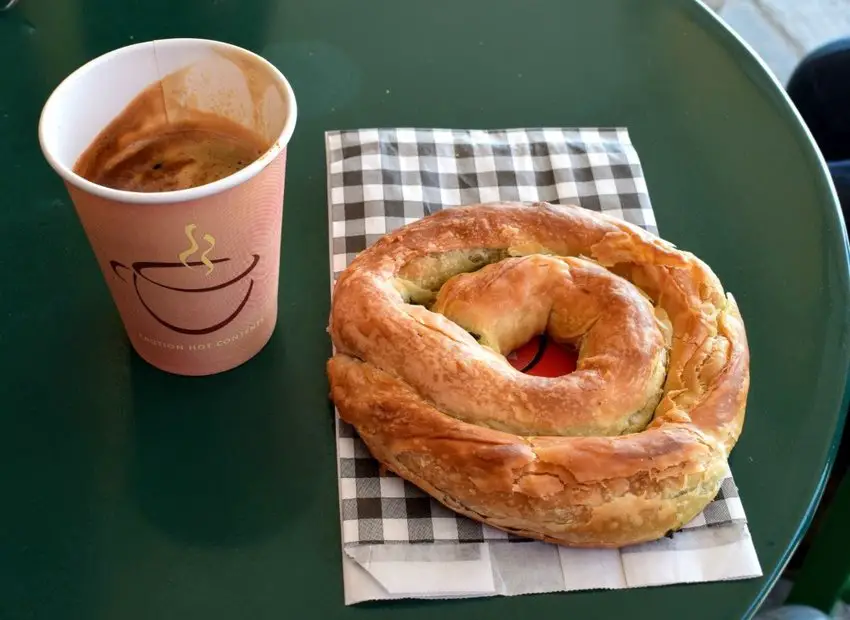 Spanakopita is normally a large filo pastry, spinach and cheese pie. It is cut into squares for serving.
The individual pie above is more like the spinach and cheese pies we often ate in Romania ( placinta), although this was bought at a bakery in Greece, near Kalamata.
Scordalia Greek Potato Salad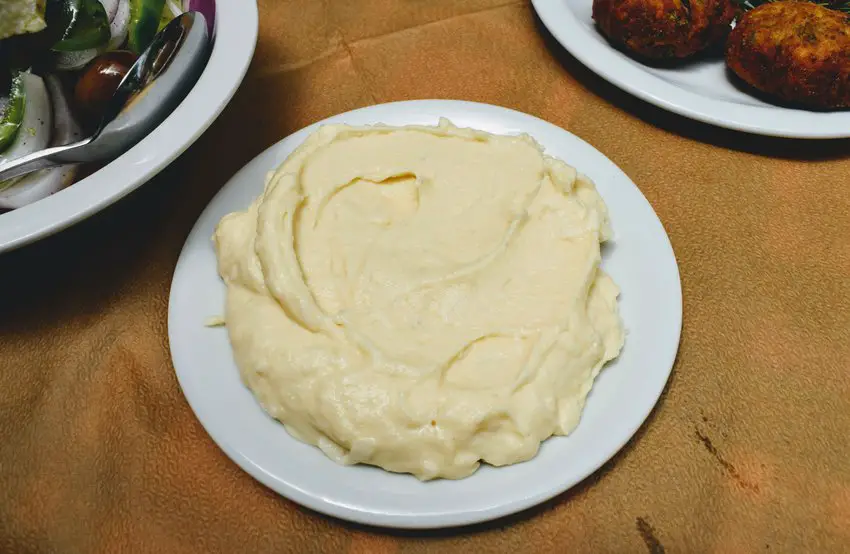 Scordalia is one of my favourite foods from Greek cuisine. Another blindingly simple dish to serve as a salad or part of a meze.
A good scordalia contains potato mash along with bread crumbs plus olive oil, garlic and lemon juice or vinegar. Our scordalia recipe is next in line to be published.
Taramasalata Greek Fish Egg Salad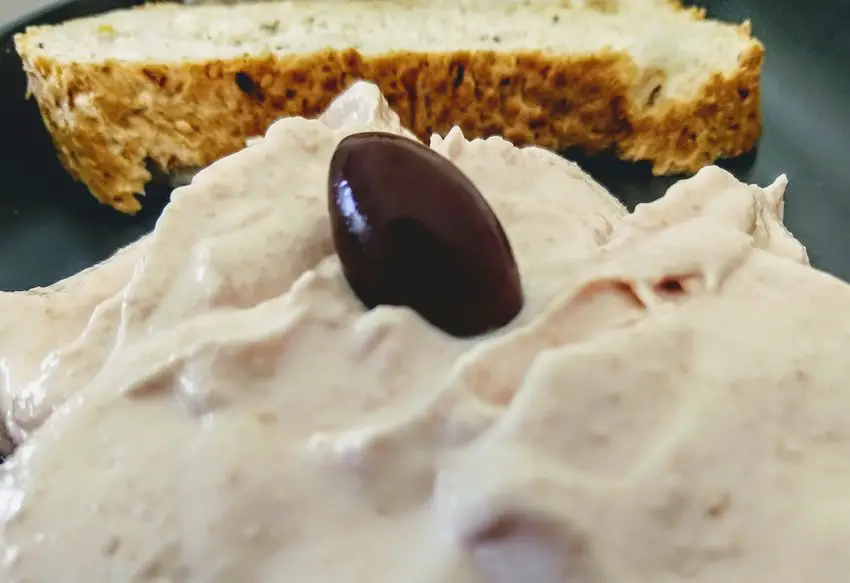 Greek taramasalata is a salad ( often called "a dip" ) made from taramas, which is fish roe. The second part of the name means "salad".
I'm sure everyone has tried lurid pink gloop from the supermarkets sometimes called taramasalata. The real deal is so much better! Don't be surprised if your real Greek taramasalata is almost pure white.
Taramasalata contains salted cured roe of cod, carp, or grey mullet along with with olive oil and lemon juice. The base of the dish can be bread crumbs or potatoes, or occasionally almonds. Sometimes garlic, vinegar or herbs are added. It's a dish to order as part of your Greek meze along with other delicious Greek salads and breads.
This dish is also common in Romania, under a different name. Parallels between cuisines and languages of this region are really interesting.
Gyros Greek Street Food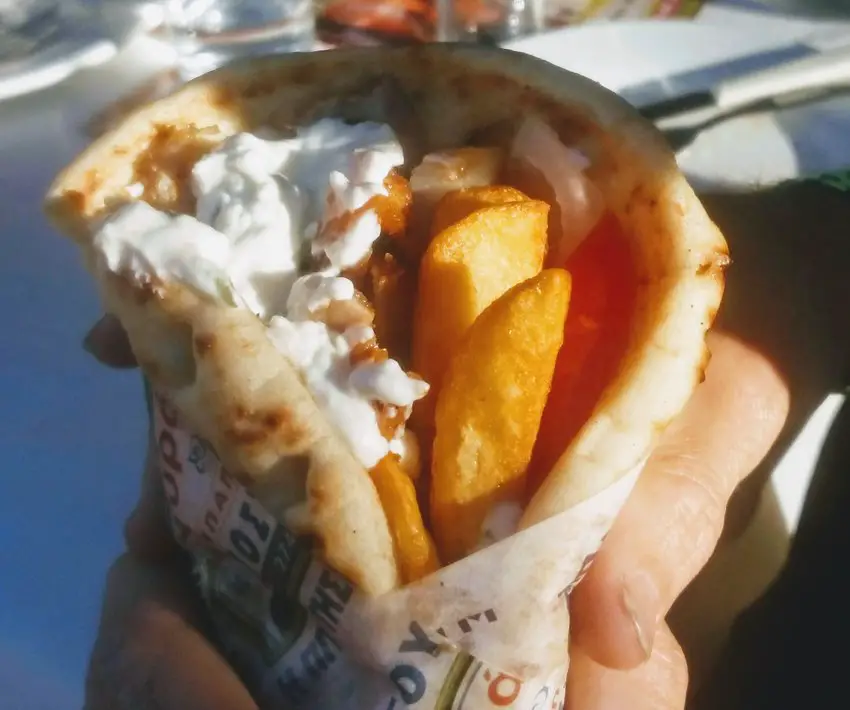 Gyros or gyro, the doner kebab of Greek food. This is the Greek street food we all know and mostly love, if it's done well.
Gyros can contain chicken, lamb, or any meat cooked on a vertical spit or rotisserie. Meat along with salad, tzatziki and fried potatoes rolled in a fluffy pitta bread make the perfect meal on the go.
Souvlaki, kalamaki and gyros are very similar and names can be interchanged depending on where in Greece you are.
Gigantes – Greek Beans in Tomato Sauce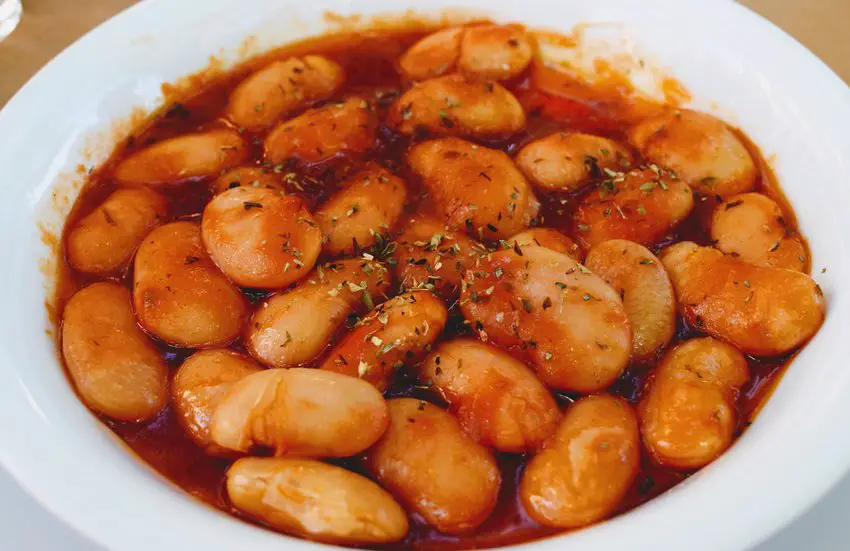 Gigantes are a tasty bean-based meal of beans in tomato sauce. This Greek dish is made from gigantes beans, a giant version of white runner beans. You can buy gigantes online, or substitute lima or butter beans.
The sauce contains tomato, onion and garlic plus the oregano that is ubiquitous in Greek food as well as a little bay and thyme.
Gigantes can be a side dish for meats, part of a meze meal or a main course in themselves with good Greek bread.
Chef's Tip – In Greece a tomato sauce or any tomato-based dish will often contain powdered cinnamon. If you want to make something taste Greek, just add cinnamon.
Moussaka, The National Food of Greece!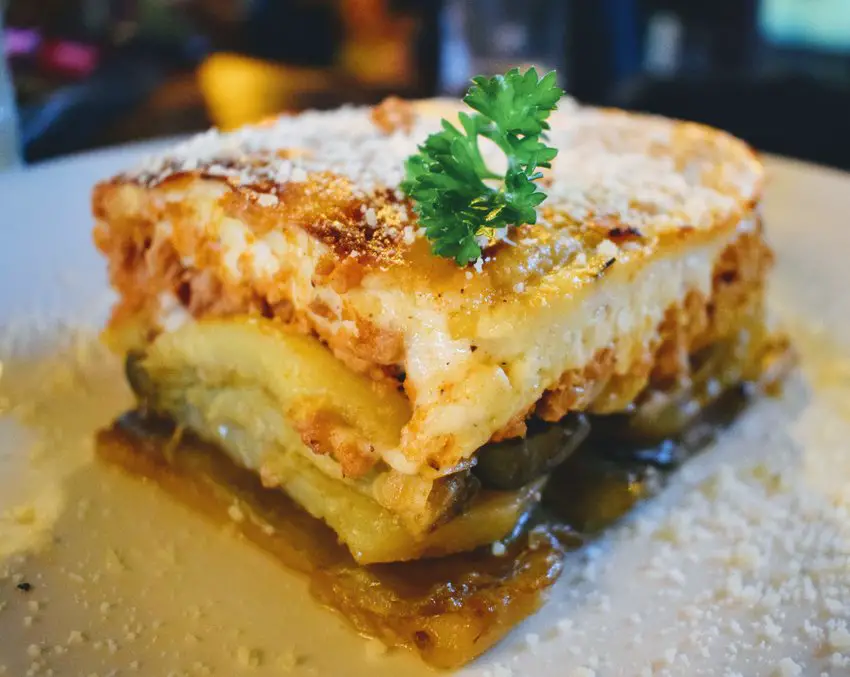 Moussaka, possibly the most famous of Greek meat dishes is loved by millions. This lasagna-like dish teams layers of aubergine ( eggplant), meat and white sauce to create a hearty, filling dish.
Lamb is commonly used in Greek moussaka but variations on this dish exist. The aubergine can be replaced with potato and the white bechamel on the top should contain egg. Don't forget the cinnamon in you meat and tomato sauce.
Vegan versions of moussaka exist for fasting days. In this case the dish contains no meat or dairy just vegetables and bread soaked in sauce.
A Greek moussaka-like pasta dish also exists, pastitsio. Pastitsio is more likely to contain a pasta shape such as penne than lasagna sheets.
Souvlaki Street Food in Greece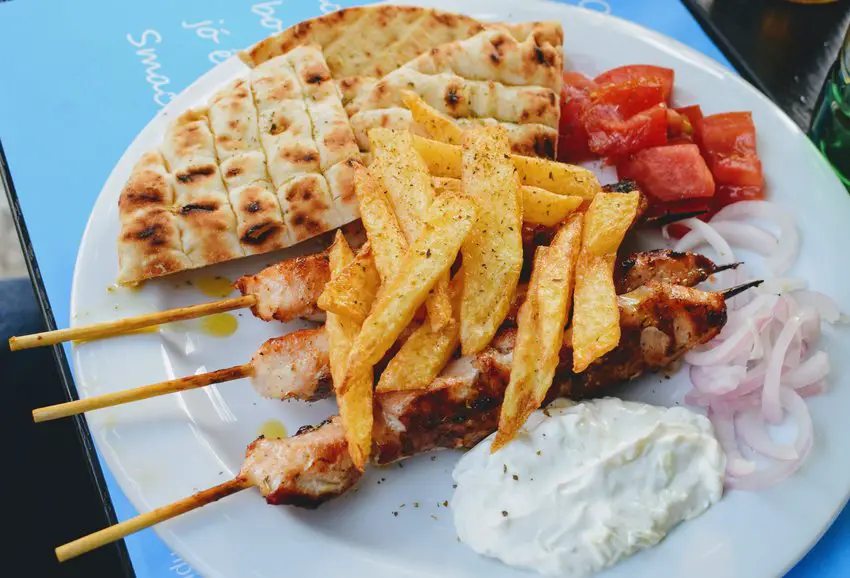 Souvlaki is meat on a stick. Your skewers can also include roast vegetables and it's normal to eat your souvlaki with pitta bread, salads, chips and maybe some tzatziki.
Pork is often used for souvlaki in Greece but you will also find chicken, lamb and even fish versions.
Baklava Greek Sweet Pastry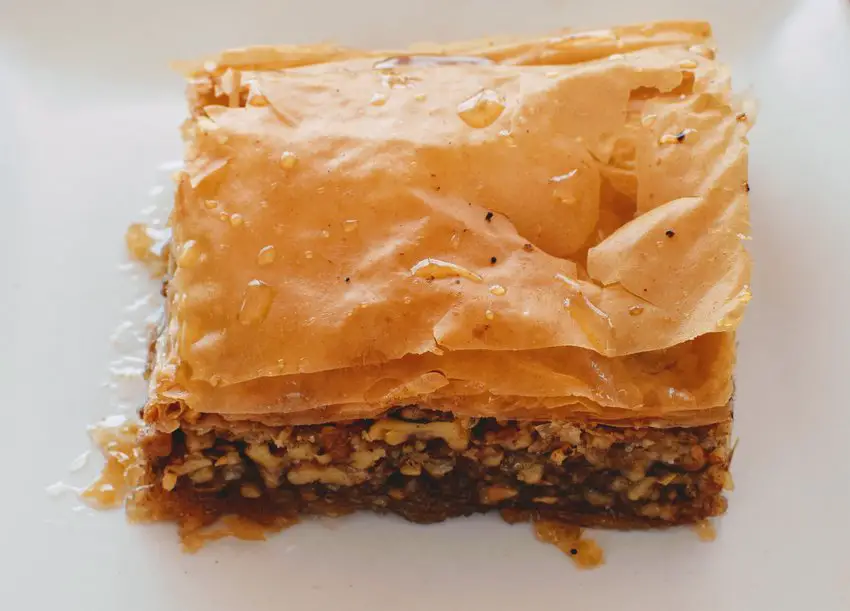 Baklava, from the Ottoman Empire, is finger stickingly sweet pastry containing nuts, filo, and lots of syrup or honey.
Greek Shredded Wheat Desert – Kataifi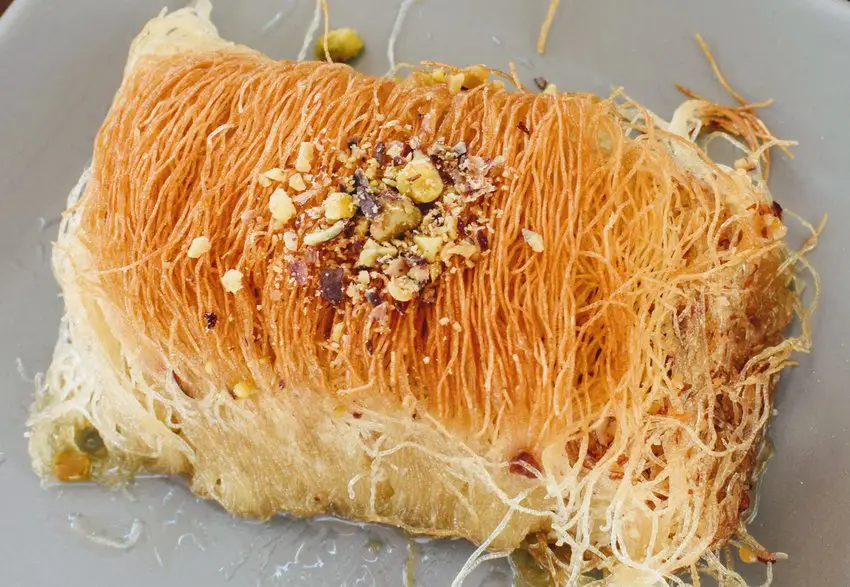 Kataifi is very similar to baklava, but using kataifi pastry instead of filo. Kataifi usually contains walnuts, sometimes almonds or other nuts, cloves and lemon-infused sugar syrup.
When I was working as a chef we bought our kataifi pastry ready-made and I've only ever used it for this dish and for a savoury duck ball dish we served as a canapé.
Olives in Greece and Greek Olive Oil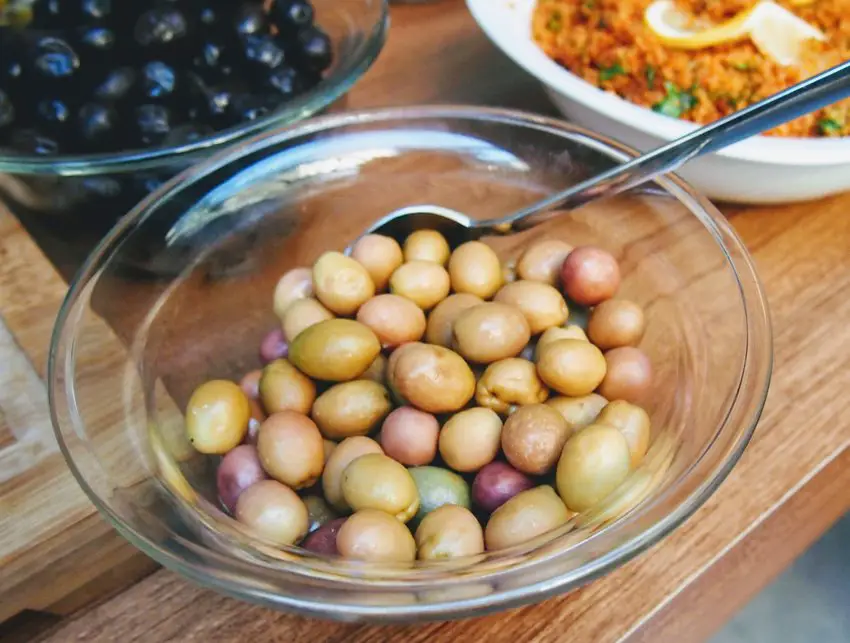 Greek Kalamata olives are probably the only olive most of us know by name. Kalamata is actually a place in the region of Messinia in the southwestern Peloponnese. The region also produces Kalamata olive oil.
No meal in Greece is complete without a few olives and almost every dish contains or is dressed with good Greek olive oil. Most Greek olive oil is extra virgin and different olives and regions produce slightly different flavours. Taste is determined by variety, soil type, and water availability.
Which country produces the best olive oil? Well, largely that comes down to personal preference but Greek olive oil is considered to be particularly fine. Try to find authentic extra virgin olive oils.
Greek Prawns with Cheese and Tomatoes – Prawn Saganaki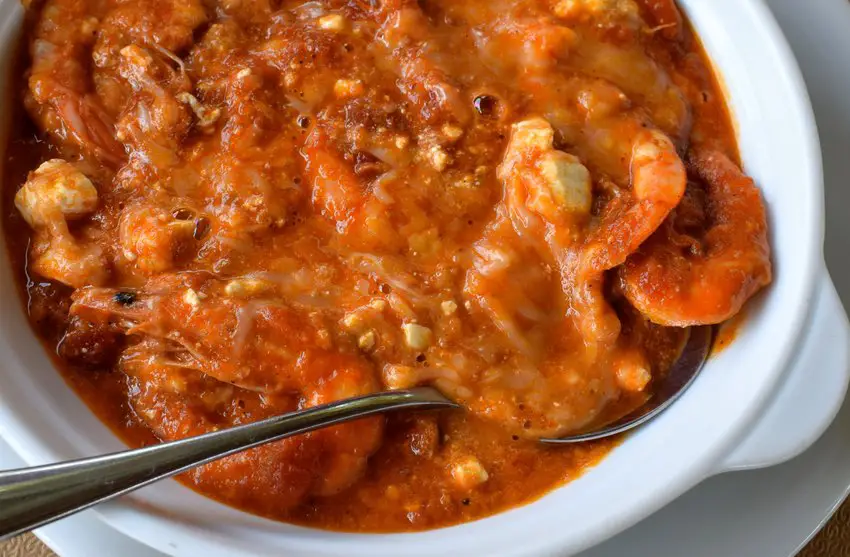 As mentioned above, a saganaki is any dish prepared in a small saganaki pan. In this case, the saganaki contains tomatoes and cheese. Mussel saganaki is another version to look out for.
The prawn saganaki above, studded with sharp feta cheese, was an absolutely sensational dish. This one was served to us at our hotel near Olympia.
Greek Seafood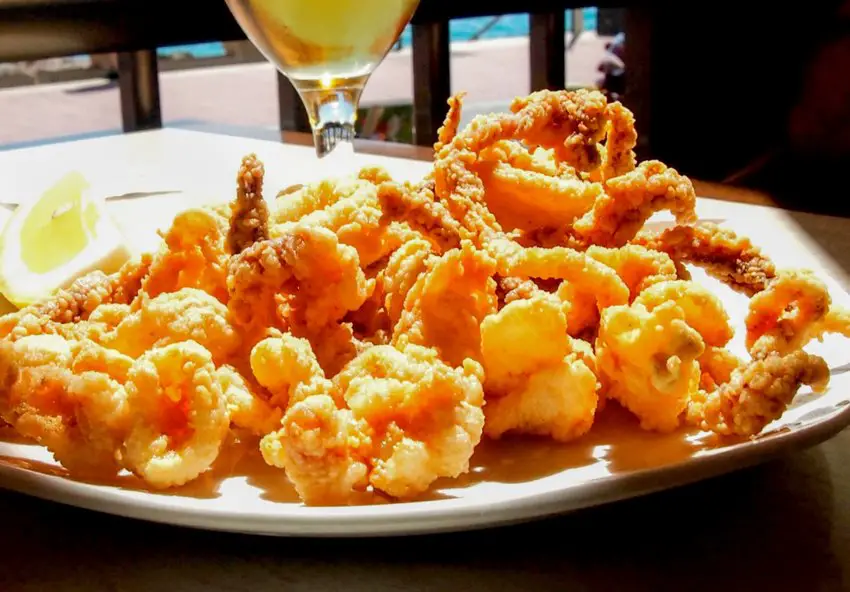 Greece has around 6000 Mediterranean islands and endless picturesque fishing villages. You will find good, fresh seafood in abundance in Greece. A favourite of ours is a simple serve of deep-fried squid – kalamari in Greek. Kalamari has a k, not a c in Greek, Calamari with a c comes from the Italian.
Octopus is another Greek favourite, look out for it drying in the sun at harbourside restaurants.
---
Use our affiliate links to book, at no extra cost to you!
---
Greek Food Round-Up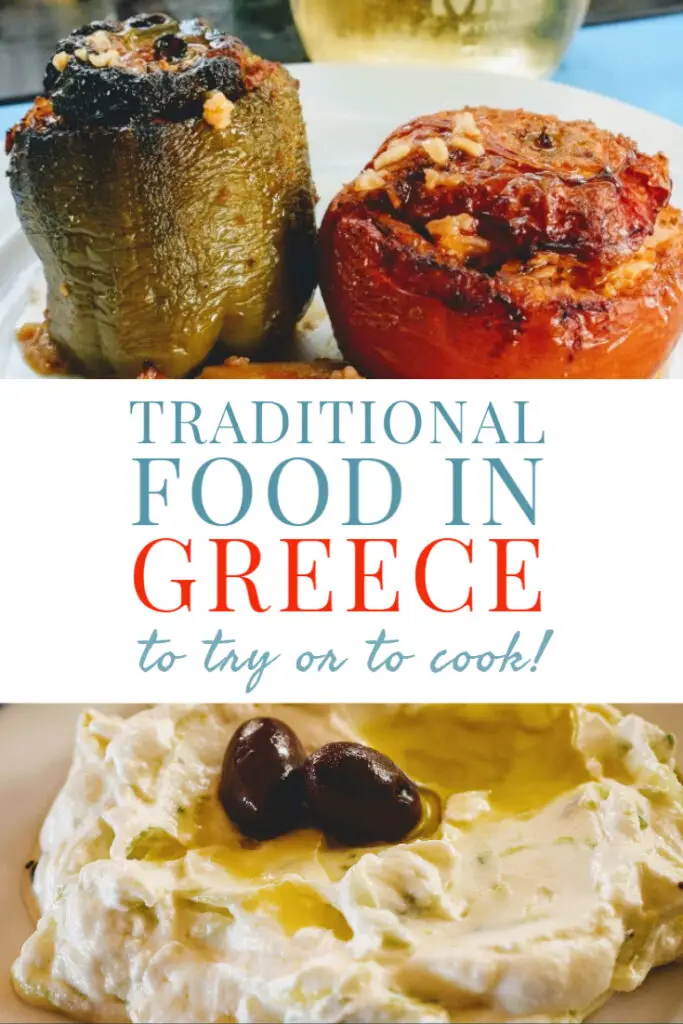 Are you longing to sit in a taverna and order a selection of mezede? I know I am. In coming weeks, maybe days, we will be adding recipes for stuffed vegetables, skordalia, and more. The current travel pause has given us, and I hope you, time to relive our travel memories in our kitchens. You'll see above that our tzatziki recipe is already published. If you'd like to sign up to receive notifications of coming food posts and recipes.
If you'd like to hire a car during your stay, use this car rental comparison tool to find the best deal!

Please check out our Pinterest account for loads of food and recipes from around the world!