This post may contain affiliate links.
Pho is a Vietnamese rice noodle soup found throughout Vietnam and in Vietnamese restaurants all over the world. It is possibly the most well-known Vietnamese food today. The popularity of pho lies in how good it is. Pho is a delicious meal for any time of the day, it is often served at breakfast time in Vietnam.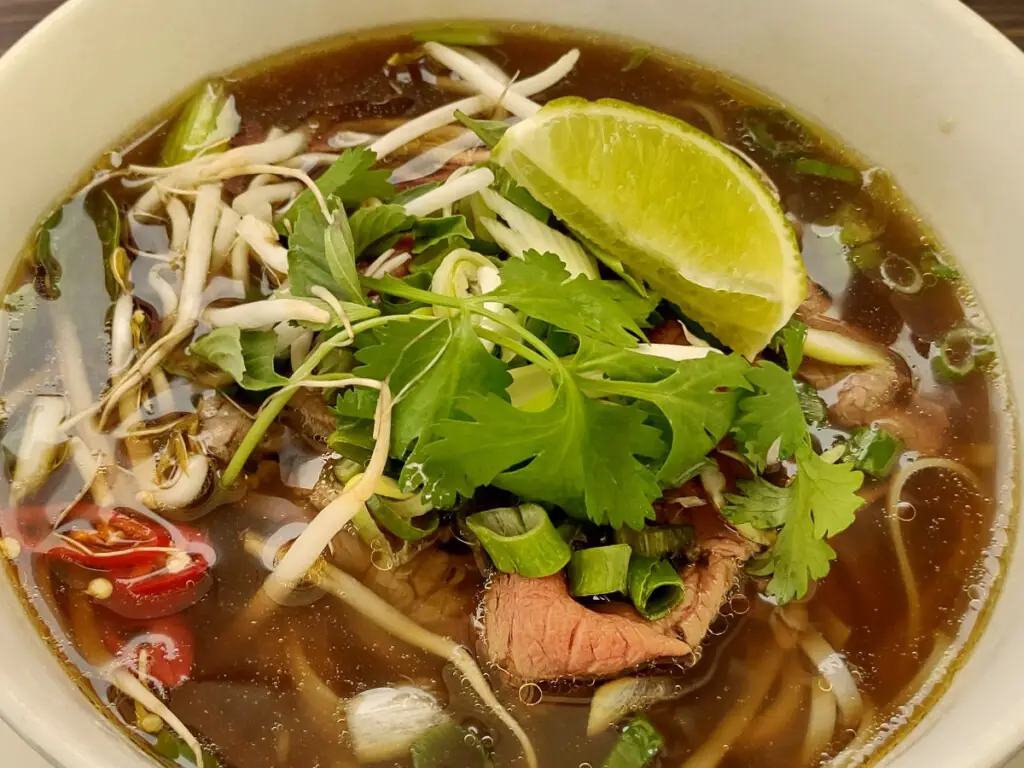 How to Pronounce Pho?
Pho, otherwise known as phở, with phở meaning rice noodles, is pronounced like "fuuh." Pho also has several variations, such as phở bò, which is a beef rice noodle soup, or phở ga which is chicken pho.
You will also find vegetarian and vegan versions of pho in Vietnam at speciality restaurants.
In Hoi An we found a very good vegan restaurant serving vegan pho (pho chay) near the Old Town.
When we lived in Hoi An the best pho shop near our home was in Cam An. In London you can get excellent pho near Leicester Square and Chinatown, if you're in Port Douglas Australia, the best restaurant for pho is near Macrossan St on Grant St.
What's in Pho?
Pho has several major variations, with 3 being pho bo, pho chay and pho ga, beef, vegetarian and chicken pho respectively.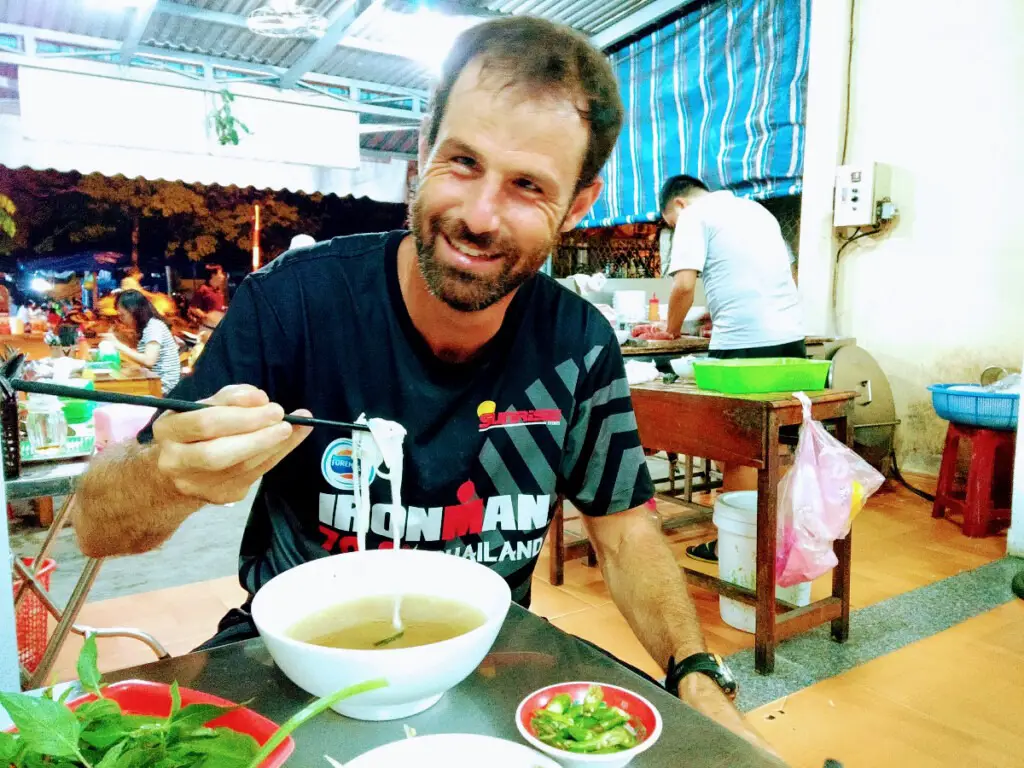 Most pho typically has a stock made up from boiling the main ingredient, and assorted herbs, plants and spices, like ginger, cinnamon, peppercorns, and coriander. as well as ingredients like salt, fish sauce, and lime to further enhance flavour.
The stock is then used with meat or vegetable slices and rice noodles, and topped with herbs like Thai basil, Vietnamese mint or bean sprouts.
Different Types of Pho
There are many types of pho available, some more common than others, here's a list of the ones we know about.
1. Phở bò, perhaps the most common type of pho available, beef pho is a staple of Vietnamese cuisine.
2. Phở gà, Pho ga is the chicken variation of pho, a delicious meal for anyone who loves pho.
3. Phở hải sản, meaning seafood pho, is another mouthwatering dish, often featuring the use of shrimp or clams as the main ingredient.
4. Pho Chay, is an easily varied version of pho, simply meaning vegetarian pho, this meal can feature a wide variation of ingredients, from mushrooms and bean stalks to tofu.
5. Pho Saigon, this kind of pho is a regional dish that is primarily found in the south of the country near Saigon.
How To Eat Pho?
You usually eat pho using chopsticks and a spoon for the broth, though for those who can't use chopsticks you can always use a fork and a spoon.
Diners add fresh herbs, leaves, lime, pickles, peanuts and chili pastes to their individual bowl of pho, to taste.
Pho Vs Ramen, Difference
Pho and ramen are two totally different meals, though they do share some similarities, with both being noodle based dishes. Though whereas pho means rice noodles, and is a relatively light dish, ramen is a more filling meal that uses wheat based noodles to fill you up.
Ramen is a Japanese noodle soup dish using quick cooking Chinese-style noodles, usually containing wheat. Pho is a Vietnames noodle soup, using rice noodles.
Herbs Used in Pho
The herbs used in pho can vary greatly from meal to meal, however there are no herbs used in the pho broth directly. Herbs used in pho are typically used as toppings and accompaniments for the dish including Thai basil, fish mint, Vietnamese mint, cilantro (coriander) or Asian saw toothed coriander, culantro (Mexican coriander.)
Spices Used in Pho
There are many spices used in pho, both in the stock and as a condiment.
Here's a list of those spices used in the broth. Dried cloves, dried coriander, dried cardamom, cinnamon, peppercorns, ginger are all spices that can be used in pho. When we took an excellent Vietnamese cooking class in Hoi An, our instructor added chicken stock powder, which contained MSG. We would not use this at home.
This isn't an exhaustive list however, and there might be further spices that can be added to your taste.
Accompaniments to Pho
There are plenty of available accompaniments for pho, here's a list of some we've seen, eaten or heard of.
Almost all of the pho joints we have been to have offered a plate of beansprouts, Thai basil, mint, chilli slices, and lime slices, to be added to your taste. You can also add other flavours, such as Ớt Sa Tế, which means chilli paste, and is a great addition to your noodles.
Another great addition is dấm tỏi otherwise known as garlic vinegar, which is pickled garlic in vinegar.
How Long Does Pho Take To Make?
Making pho takes a long time. Pho is a fairly lengthy recipe, usually taking upwards of 2 hours to make, this is mostly due to the time taken making stock, as boiling down the beef bones takes a large amount of time. Once the stock is complete though it doesn't take quite so long to turn it into a workable soup
If you'd like to hire a car during your stay, use this car rental comparison tool to find the best deal!

Please check out our Pinterest account for loads of food and recipes from around the world!