This post may contain affiliate links.
London is renowned as a food destination, supplying everything from Michelin star restaurants, street food markets and an over-abundance of chain restaurants. With so much choice, where to eat in London is a question I get asked often when people find out I work as a chef in the city. Often London has so many choices that it's easy to fall into the trap of getting an overpriced meal of debatable quality. Here I'll go through the different options and price points and give you a few tips to get the best out of your London dining experience.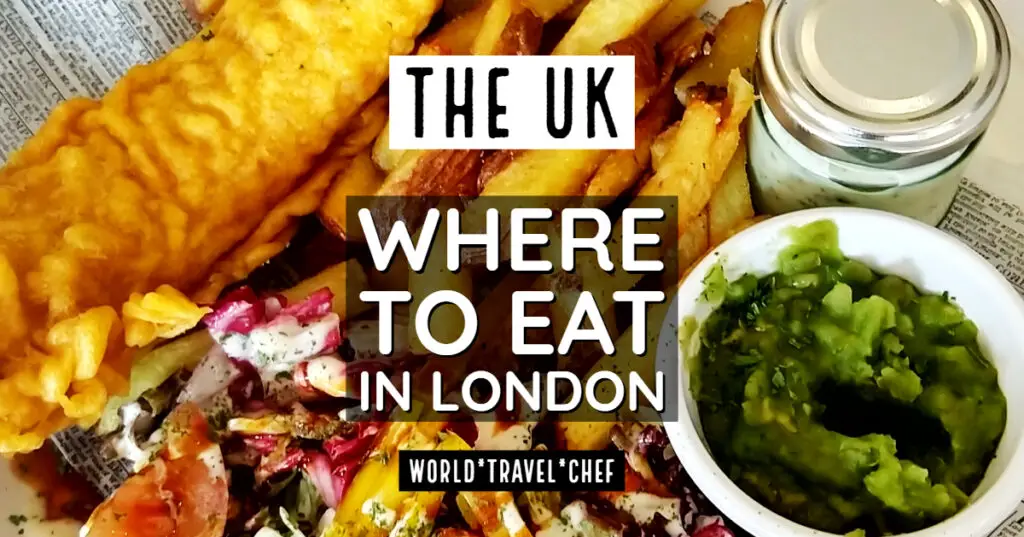 Where to Eat in London
Top End London Restaurants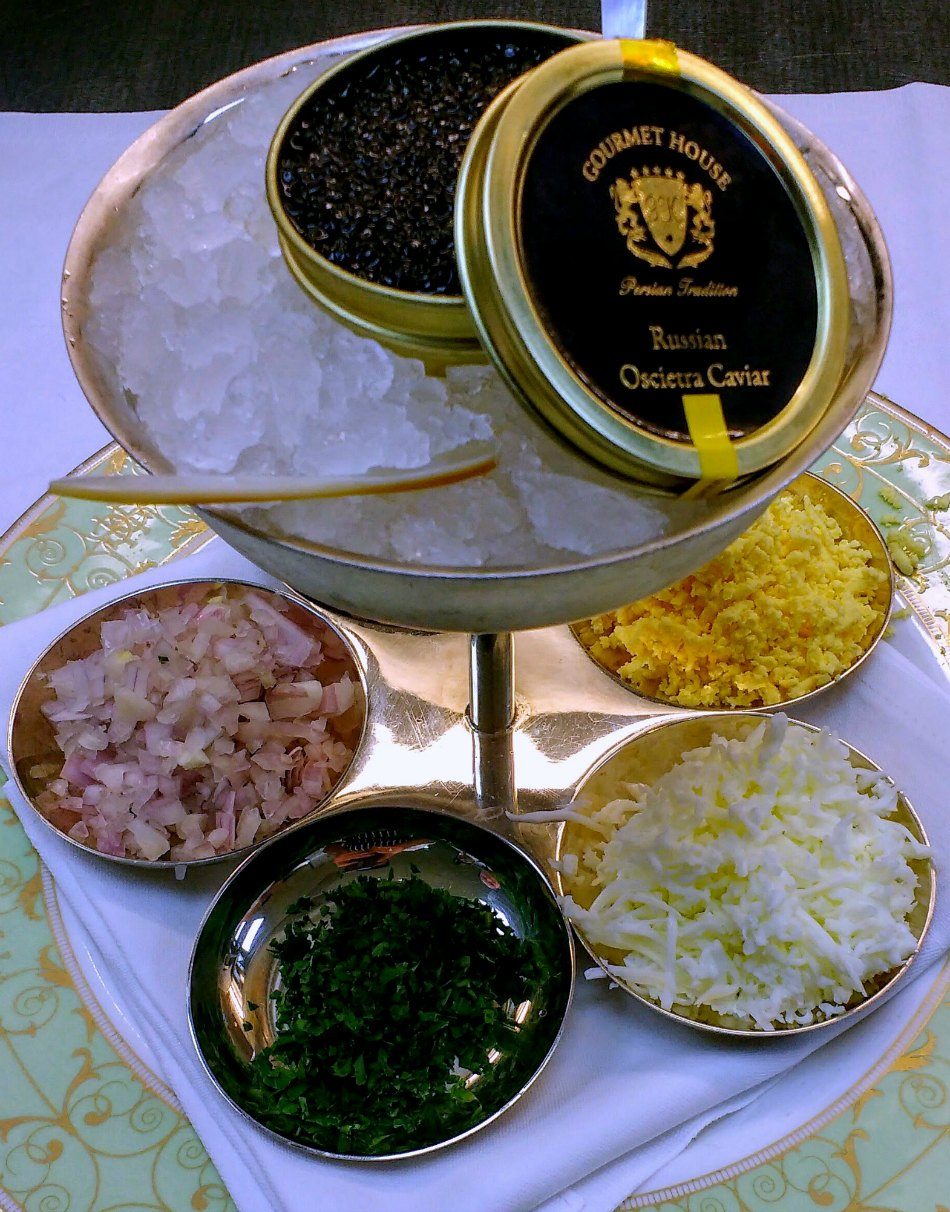 Michelin star restaurants are the pinnacle of fine dining producing dishes resembling art works on a plate. With a grading scale of one to three stars the level and cost will increase with the stars. A lot of the big name chef's restaurants are to be found in 5 star hotels. From Heston at the Mandarin Oriental to Alan Ducasse at the Dorchester hotels they have partnered with signature chefs to lift dining standards to new levels.
Gordon Ramsay still stand alone with his own restaurant in Chelsea, the aptly named Gordon Ramsay. although Clare Smyth is the patron chef overseeing the food. With three stars she is clearly nailing the food much as Gordon did in his early days.
The one big tip for restaurants of this calibre is to have lunch instead of dinner. These establishments offer huge savings on set lunch meals which make this a more affordable option. Three courses at Gordon's restaurant is £65 for lunch or £145 or £175 at dinner depending on choices. That doesn't include wine or the 12.5% service charge that is standard in almost all restaurants in London.
Stand Alone London Restaurants
London has some real gems of restaurants tucked away on the back streets from Kensington to Bank and beyond. I could create an endless list here but I'm going to list the two favourites that I've both eaten and worked in.
OXO Tower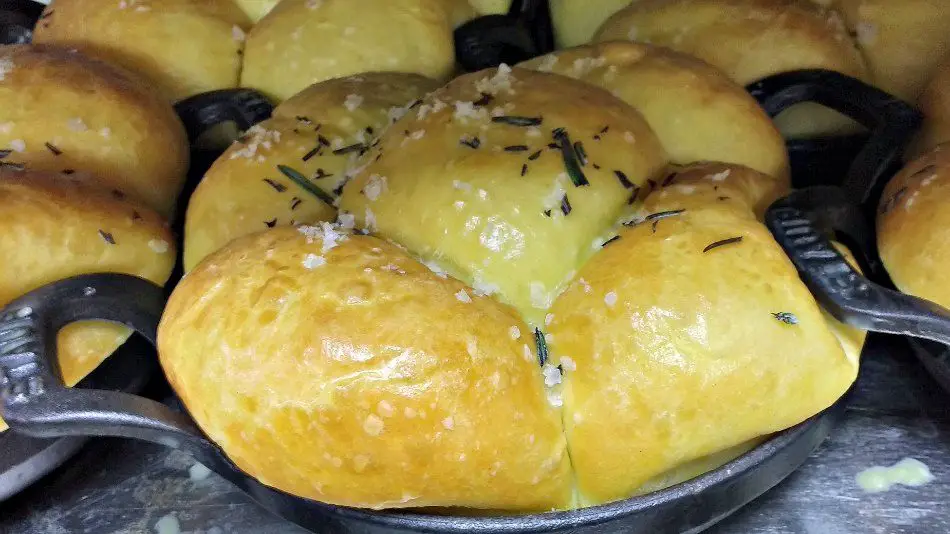 This restaurant which stands on the 8th floor of the Oxo Tower on The South Bank near Blackfriars. With views across London from Big Ben to St Paul's Cathedral, the restaurant boasts one of the best views in London. Actually split into a brassiere and fine dining restaurant you have the choice of two destinations with great views at different price points. The chef in charge of the restaurant is Jeremy Bloor who is an exceptional chef and produces high quality meals whatever the season.
I'd recommend the restaurant for a special meal for either lunch or dinner and make sure you ask for a window seat or balcony seat if the weather allows. The brasserie is a great place for a relaxed lunch or if the mood takes you why not have their afternoon tea while you watch Thames life 8 stories below.
Gilgamesh Bar and Restaurant
Editors Note: Gilgamesh has closed. New restaurants to follow.
My personal favourite restaurant Gilgamesh in London is a huge multi story restaurant in the Stables, Camden Market, serving Pan Asian cuisine. With 40ft ceilings in the restaurant with retractable roof and floor to ceiling windows, this is a beautiful space to enjoy the great food. It's sister property Shaka Zulu underneath is another story altogether but also worth visiting if you get the chance.
The food includes everything from fresh sushi stations, curries, robata, tempura and wok cooked dishes. All food is prepared fresh in the kitchens here including the vast dim sum menu that delivers in both flavour and selection.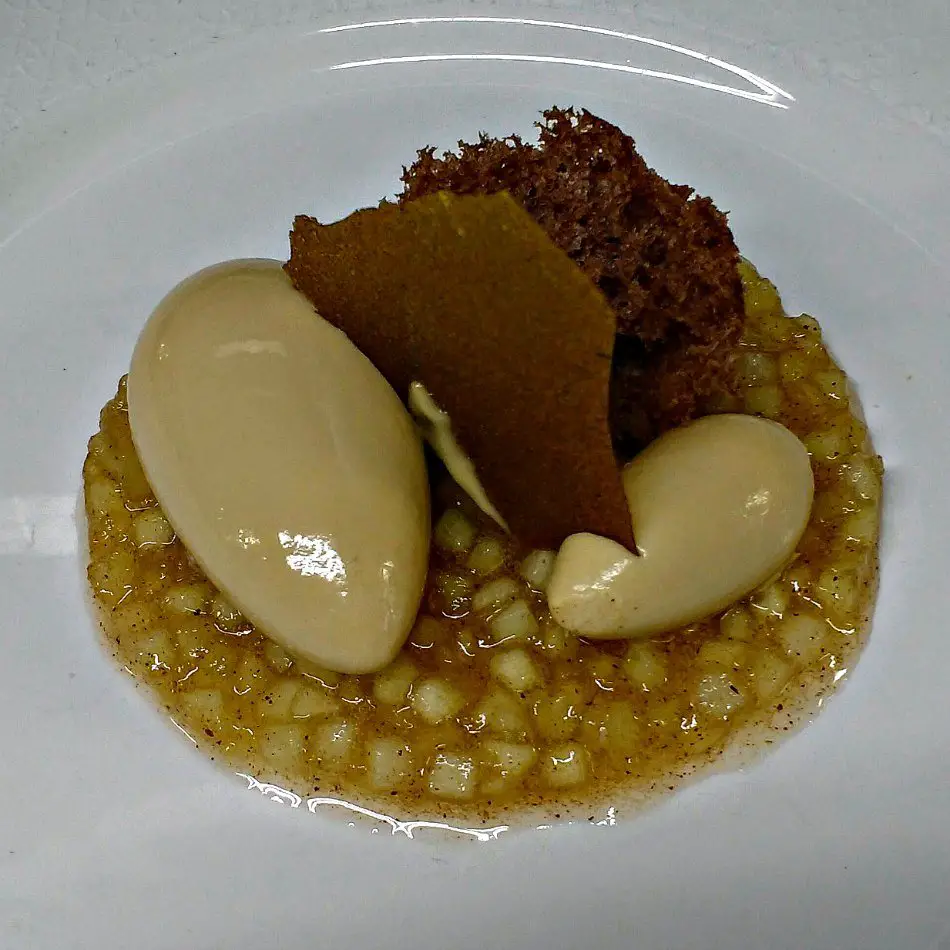 The bar is a great place to start a meal or even while away an entire evening as you snack on the finger foods they offer. At 5 pages long the drinks menu covers all that you could want. From traditional cocktails and champagnes to more modern twists that will leave you impressed. As you'd expect they have an impressive list of sake on offer. This sake is a favourite but comes with a hefty price tag. Tamagawa "Time Machine" 360ml at £46.00 From Kyoto. Sweet, savoury and full of umami goodness.
Other great restaurants to try in London
Dinner by Heston Blumenthal at Mandarin Oriental, Hyde Park. Chef Heston Blumenthal.
Marcus at the Berkeley, Belgravia. Chef Mark Froydenlund.
Le Gavroche, Mayfair. Chef Albert Roux.
Fera at Claridge's, Mayfair. Chef Simon Rogan.
Which Markets to Eat at in London
Farmers' markets are appearing all across London as their popularity soars. People are supporting them and in turn they are becoming bigger and more established as they thrive.
My two favourites are the traditional Borough Market and the newer addition the South Bank seasonal market. Both very big bustling markets are well worth the visit.
Borough Market
This long-established market has really gone from strength to strength in the last 15 years. Being located just to the south of London Bridge (since 1016 AD) it has had many rebirths over the last millennium.
More recently in the 1960s it was a huge wholesaler of London's fruit and vegetable produce. This continued until both the supermarkets changed how they did their buying and the New Covent Garden market was built at Vauxhall in the 70s. This led to its demise and by the 90s it was all but abandoned with a few of the unique food stores like Neal's Yard Dairy and Brindisa operating out of the empty warehouses. They started to hold tasting nights which caught the attention of both the media and the culinary eyes of London.
Borough Market shot to fame in 1998 when 50 of the biggest food producers in the UK held a 3 day event as part of the Southwark annual festival. Nearly all producers sold out in hours and the market was reborn. It went from the 3rd Saturday each month to weekly and top British producers were now joined by their European counterparts. Soon it was open 6 days a week, every week, and renowned as the premier food market in the UK.
Wandering through the market now it has almost everything you could imagine, from pig foraged truffles to hand shucked oysters. Just try and avoid coming on the weekend as it becomes quite packed which does diminish the experience somewhat. The market is shut on Sundays and on Monday and Tuesdays fewer traders are present. Around Christmas  Borough Market is open 7 days. Make sure you're hungry as there is so much to try. Bring plenty of cash as items don't tend to be cheap which is reflected in the quality.
SC Food Market
This much smaller and seasonal market on London's South Bank is a great place to grab a bite to eat and drink. Located behind the Festival Hall, a short walk from Waterloo station or the London Eye, it is easily reached from almost anywhere.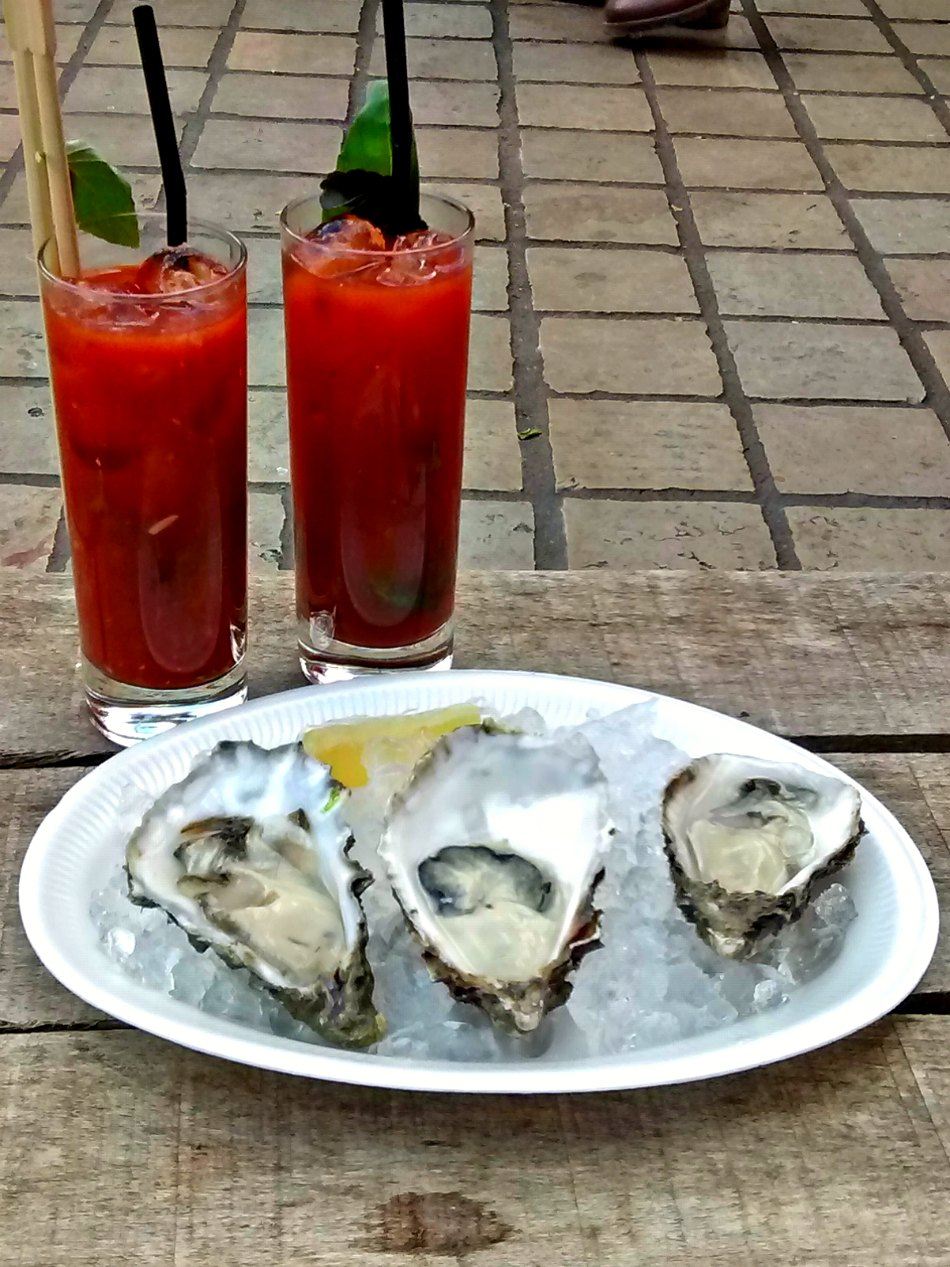 It is only open Friday to Sunday plus any Bank holidays from noon till either 6pm or 8pm depending on the day. The summer months are best to experience the full flavours in glorious weather. They do run a winter version through early November to early January which offers a different perspective with heavy European influence.
Key here is to bring money as stalls mostly only accept cash and the nearest cashpoint/ATM is back at Waterloo station. Not close when you're hungry.
I would recommend the oyster bus which does brilliant bloody marys with freshly shucked oysters to match.
Other London Street Food Markets to Try:
Greenwich Market
Alexandria Palace Market
Brockley Market
Where Not to Eat in London
Like anywhere in the world London has its share of terrible places to eat. In fact, in certain parts of London, there are scant few restaurants I'd trust or give my money to. I can't possibly list them all here but a few pointers should keep you eating well.
The area around Leicester Square and Piccadilly Circus has an over-abundance of chain restaurants such as Angus Steakhouse and Spaghetti House. There are some gems to be found around here but most of the stuff is overpriced, poor quality and made by untrained staff.
London has a lot of chain restaurants and the majority rely on cheap untrained labour. After all who is going to work for £7.50 making burgers after doing an apprenticeship? So tread with care. Sure, labelling all the places isn't fair but the quality in some of the more successful chains has noticeably gone down in recent years. Not to mention a certain Mexican food chain closing several London outlets after over 200 staff and customers became seriously sick. Nope won't catch me there!
Also avoid some street traders, questionable sausages and heated, coated nuts are a recipe for disaster. London's street food is superb but usually housed in markets.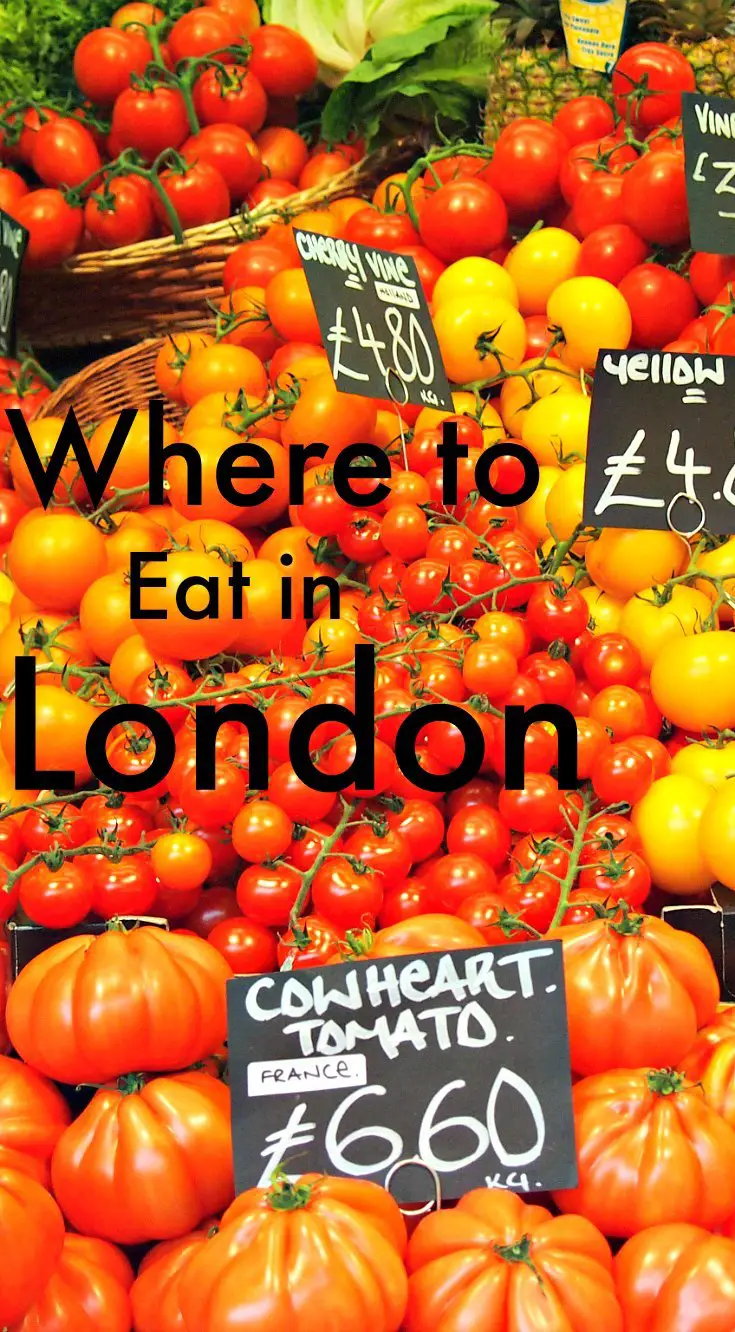 Most of All Enjoy Eating in London
London has so many options and outlets across all price points and multiple cuisines that you can't possibly taste them all. Still have a great go at it and enjoy this magical culinary city. I know I do.
If you have anything to add or any recommendations please share in the comments below.
If you'd like to hire a car during your stay, use this car rental comparison tool to find the best deal!

Please check out our Pinterest account for loads of food and recipes from around the world!