This post may contain affiliate links.
Every family travel blogger writes list posts about the best places to take travelling kids. I bet you've seen a few. Well, what about us dads? It's our trip too and we deserve to have a great time. Below I've detailed how I rank travel destinations for travelling dads.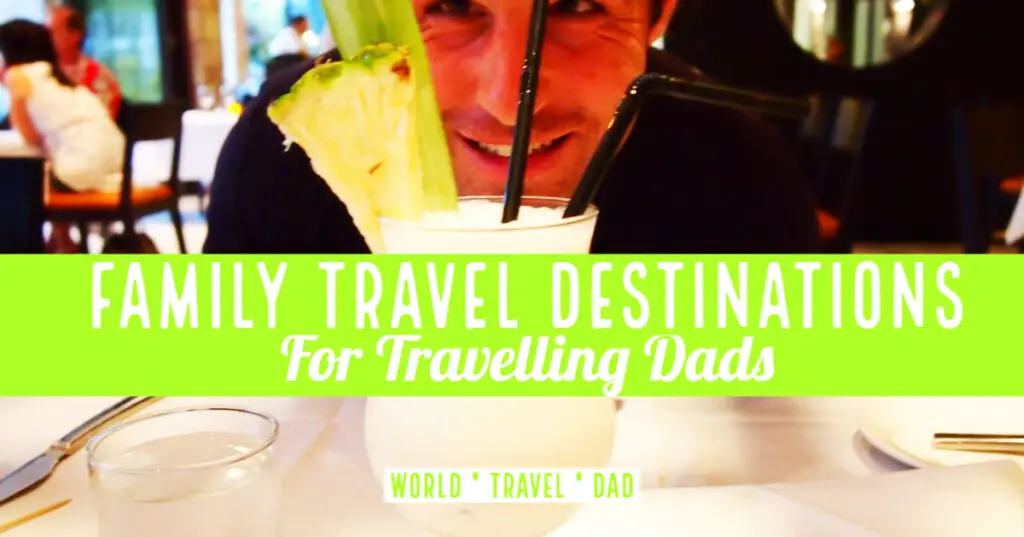 My wife loves to travel, not least because of her insatiable wanderlust and fascination with far off places, but because she spends a lot less time on housework when we're on the road.
I don't want to sound sexist here, but that's just the way our life is, she's at home, so the burden of cooking, cleaning and laundry fall squarely on her shoulders.
I'm rarely ever in the building. It's a chef thing.
When I travel I get time off work, which is wonderful  (in fact, in the last 4 years I've spent a lot more time not- working than I have worked) and I get to hang out with my 3 favourite people on the planet, my wife and kids.
Those 3 are always having fun without me so not only do I get to have fun, I get to see them having fun, which is priceless.
But back to the best places to take the travelling dad in your family.
I told you a few days ago how I manage to work just a few weeks a year while travelling the rest, today let's talk about where I, as a dad, like to go.
For any other dads out there, what do you think? Anything or anywhere you'd like to add?
Best Travel Destinations for Travelling Dads
Any Travel Destination That Makes My Wife Happy
You know the saying, "Happy wife, happy life". Well, it's true. Keep her sweet and everything just ticks along nicely.
With my wife that can be India, the Himalayas, Sri Lanka, just about anywhere in Asia really.  And London, she has to have a London fix fairly regularly.
If she's not into a place, for instance, New York. She really wasn't into that. I was more than happy for her to stay at the hotel and I went off exploring by myself. We're grown-ups, we can do things without each other now and then.
Anywhere That Makes the Kids Happy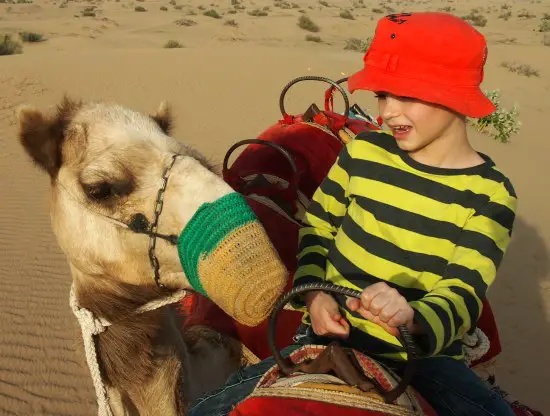 Unhappy, bored, miserable kids can spoil everyone's day, so we do everything we can to keep smiles on their faces. We put their needs before ours most of the time, so we spend a lot of time hanging around playgrounds or waiting at swimming pools.
There's a whole heap of taking them to theme parks, zoos, and other kid-friendly places too. Nothing beats taking your kids to Disney and seeing their faces, it has to be the top bucket list destination for families. Well, maybe taking them to Harry Potter Studio Tours or the Doctor Who Experience does, but Disney is still awesome.
Anywhere With Great Food and Beer
Yes, I'm a chef, I love my food. I'm also an Iron Man, I need to eat a lot and often. So somewhere with cheap good food and beer is even better.
My top picks here would be Vietnam and Thailand where I can eat street food as many times a day as I like and not worry about the budget.
I think we found the cheapest beer in Laos, but the food wasn't as great as in those two countries. See my post on Lao food here, my guide to Vietnamese food here. I also really love junk food sometimes, so the USA wins hands down on that front.
Anywhere With Cheap Rum and Coke
I love rum and coke, it's my favourite drink. It's an Australian thing I think, do you know it's normal to have rum and coke on draft in Aussie pubs?
I'm hanging out for a trip to the Caribbean, I hear Cuba has some good rum. I particularly enjoy airlines that free-pour glasses of rum, that's always a good start to the trip. I'm also very partial to a pina collada.
Anywhere With a Physical Challenge
I like a challenge, a lot of dads doo, so trekking, climbing, running, biking, they all make my trip great. My favourite destination here has to be the Himalayas, my wife and I have completed the Annapurna Circuit and trekked up to Everest Base Camp.
Of course, with the kids now the pace is slower, but it's a great challenge for them too and did wonders for their self-confidence.
Even something as simple as dashing up the steps of a Mayan pyramid in Guatemala can get my blood pumping and the feel-good hormones flowing.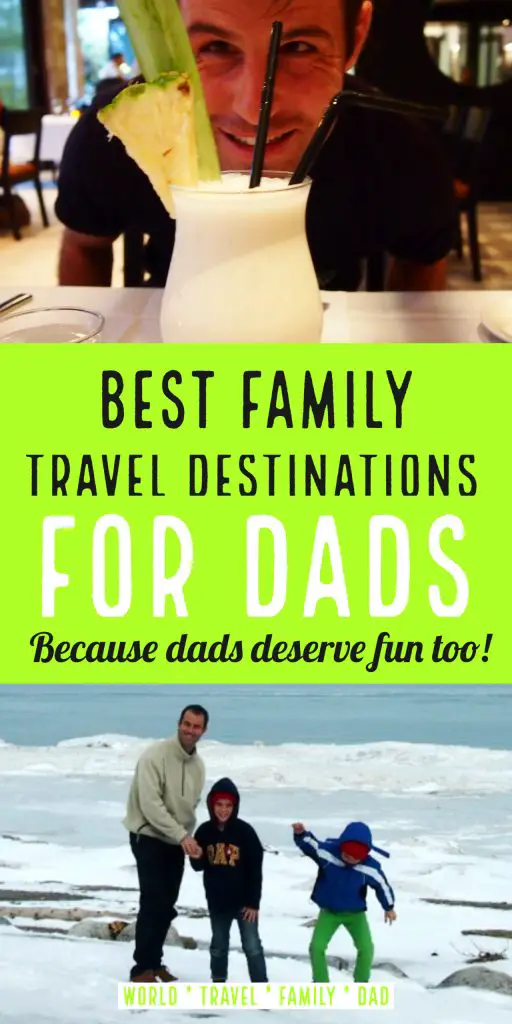 Travel Destinations For Travelling Dads Is Anywhere I Can Indulge My Hobbies
I guess my hobbies are scuba diving and IronMan events. Scuba diving has taken us from Australia to the Maldives to South Africa to Thailand.
These days I sometimes dive without my wife, somebody has to stay with the kids. She's cool with that but I don't do it often, it wouldn't be fair. She loves to dive as much as I do.
My other hobby, IronMan events is trickier to indulge. An event takes almost a full year of training and it's a big time commitment.
I'm about to compete in IronMan Wales, luckily, Wales is another place that makes my wife happy or I don't think I would have gotten away with signing up for that one.
I hear Kona, is great for wives and kids, I wonder if they'd like to go there?
So my number 1 tip for travelling dads would know what makes your family happy and make them happy regularly. That way, you collect enough Brownie points to indulge yourself sometimes.
So tell me, dads, where do you like to go?
If you'd like to hire a car during your stay, use this car rental comparison tool to find the best deal!

Please check out our Pinterest account for loads of food and recipes from around the world!