This post may contain affiliate links.
The traditional Khmer dish, fish amok, is widely served in Cambodia. The first stage in making this dish is to make a kroeung, a kroeung, a curry paste. Curry pastes do vary in Cambodia, they can be red, green, or yellow, depending on the colour of the chillies and the amount of turmeric used.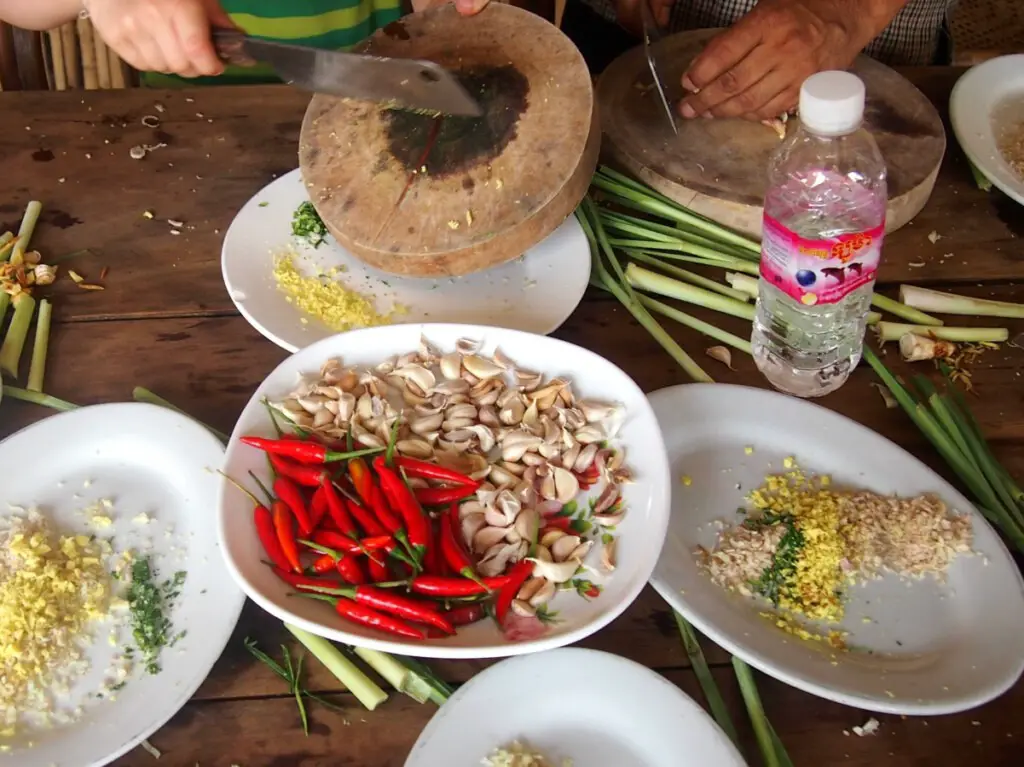 This kroeung recipe was given to me in Cambodia as the correct kroeung for fish amok. I trust that it is fully authentic as it was given to me by a Cambodian cookery instructor and he said this was his family's traditional curry paste recipe for amok.
This is very easy to make at home, if you can access the correct fresh tropical ingredients. If not, you can actually buy a Cambodian curry paste or substitute a Thai curry paste for a similar result.
However, if you can't access the fresh ingredients you're very unlikely to be able to find fresh banana leaves to steam your amok!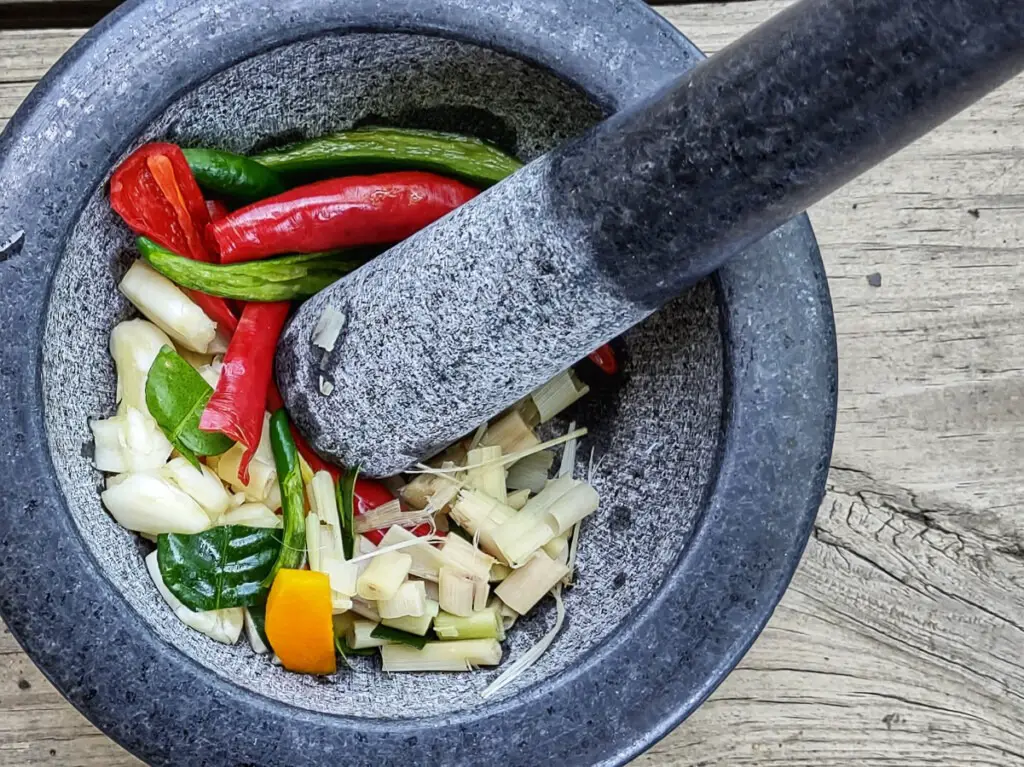 As we live in the tropics, in a climate very similar to that of Cambodia, all of these ingredients come fresh from our garden. It's not difficult at all for us to make a fresh Cambodian kroeung for fish amok (amok trey).
Cambodian food is very similar to Thai food, or food in Laos, and the curry pastes and basic ingredients are broadly identical. However, Cambodian amok is unique to Cambodia. It's a difficult dish to make as you need to master fording banana leaves in which to steam the amok.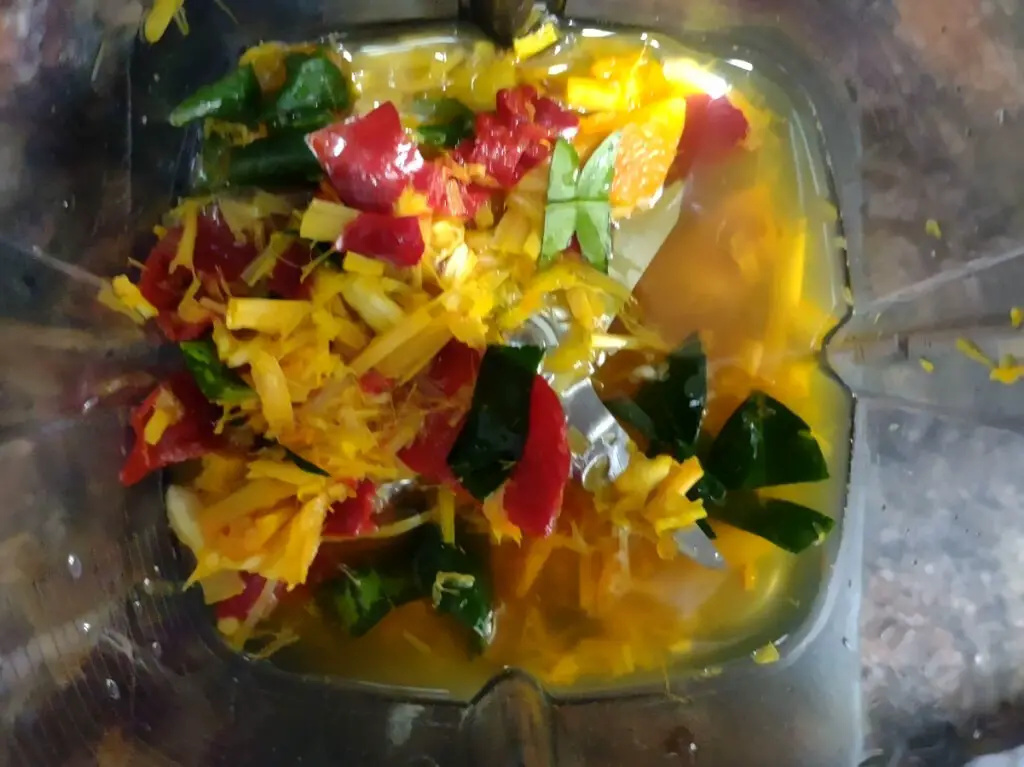 Amok is traditionally made with fish, but we have also seen chicken, prawn (shrimp) and vegetarian versions with tofu. Our Cambodian recipe book states that amok can also be made with pork and beef. The fish used in Cambodia was snakehead fish, but you could use any white fish.
Amok has to be steamed, that is what makes amok unique.
Ingredients for Kroeung
Our Cambodian kreung uses all fresh ingredients
lemongrass, salt, kaffir lime leaves, turmeric, ginger, garlic, red and green chillies.
Cambodian Kroeung Curry Paste for Amok
Ingredients
20g lemongrass stalks, cleaned and chopped
2 thin slices of ginger
2 thin slices of fresh turmeric
2 kaffir lime leaves
7 cloves of peeled garlic
3 red chillies seeds removed
1/2 tsp salt
2 green chillies seeds removed
Instructions
place all fresh ingredients in a pestle and mortar and grind to a coarse paste.
Alternatively, place all ingredients in a blender or liquidiser, add enough liquid (water ) to cover the blades, blend until the ingredients are coarsely blended. If using a good blender, don't blend until the mixture is fully a liquid.
Cook the curry paste in coconut milk or oil before adding other ingredients.
If you'd like to hire a car during your stay, use this car rental comparison tool to find the best deal!

Please check out our Pinterest account for loads of food and recipes from around the world!